The days seem to be passing by a lot faster lately.
Maybe it's because my teens are about to be in high school. Or maybe it's because I have been a full time working mom, while being married, raising three kids and trying to manage a house. Working 40 hours a week- dealing with THAT stress, eventually it takes a toll. Maybe it's because I spend the weeks "chasing Friday".
Maybe, i'm just not 20 years old anymore! Once upon a time, I held three jobs and went to school. Those days, I didn't NEED eight or more hours of sleep. Back then, I took care of my son by myself for the first three years of his life, worked, and got my Bachelor's Degree. But it didn't feel like this.
Maybe, it's running around- from work, to picking up kids, to grocery stores, Dr's appointments, to cleaning and cooking and not sitting down until I am ready to fall over most nights.
Maybe, it's because my kids are getting older and I decided to have a life, as a woman, not just a MOM, or a working mom. Maybe because I decided to start writing again, and volunteering with groups and organizations that I am passionate about. Maybe, cramming more into my busy life is my fault, because even fun, GREAT activities, are still adding more to my plate.
Maybe, it's juggling growing kids, who are smart and independent and not as easy to manage as the younger years. Maybe, it's because they spend more time in their rooms and have their own interests and activities.
Maybe, it's trying to hold together a marriage when the moments we have to spend together, get filled with other things since we are busy. We are both exhausted.
Maybe it's work? Maybe, it's because I spend my days as pseudo "parenting" adults. Maybe I feel overwhelmed and underappreciated, like the rest of working America. And maybe, it's because I don't have a choice; I have to work.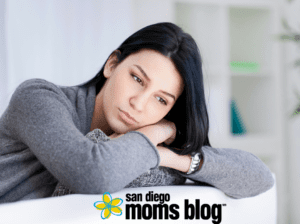 Whatever it is, I know it needs to slow down. Too often these days, I am feeling like I need to escape. Feeling like I am pulled too many ways. And I am starting to accept, that I cannot do it all and THAT IS OKAY. I am learning to space out my calendar. I am working on making sure I ask for help. I am dividing up the household chores, amongst the other eight hands that are perfectly capable. It is time, probably WAY past time, to accept that I cannot do all of this alone. Not anymore.
But I am also learning, that sometimes you do have to run away and escape. And that is okay. Time passes whether you make time for yourself or not. And I don't want to wake up and my kids are grown up and gone away. I don't want to wake up and not know my husband anymore or myself for that matter.
So, to all of us moms out there, take tomorrow off. And just breathe, maybe it's just your turn to take a break.