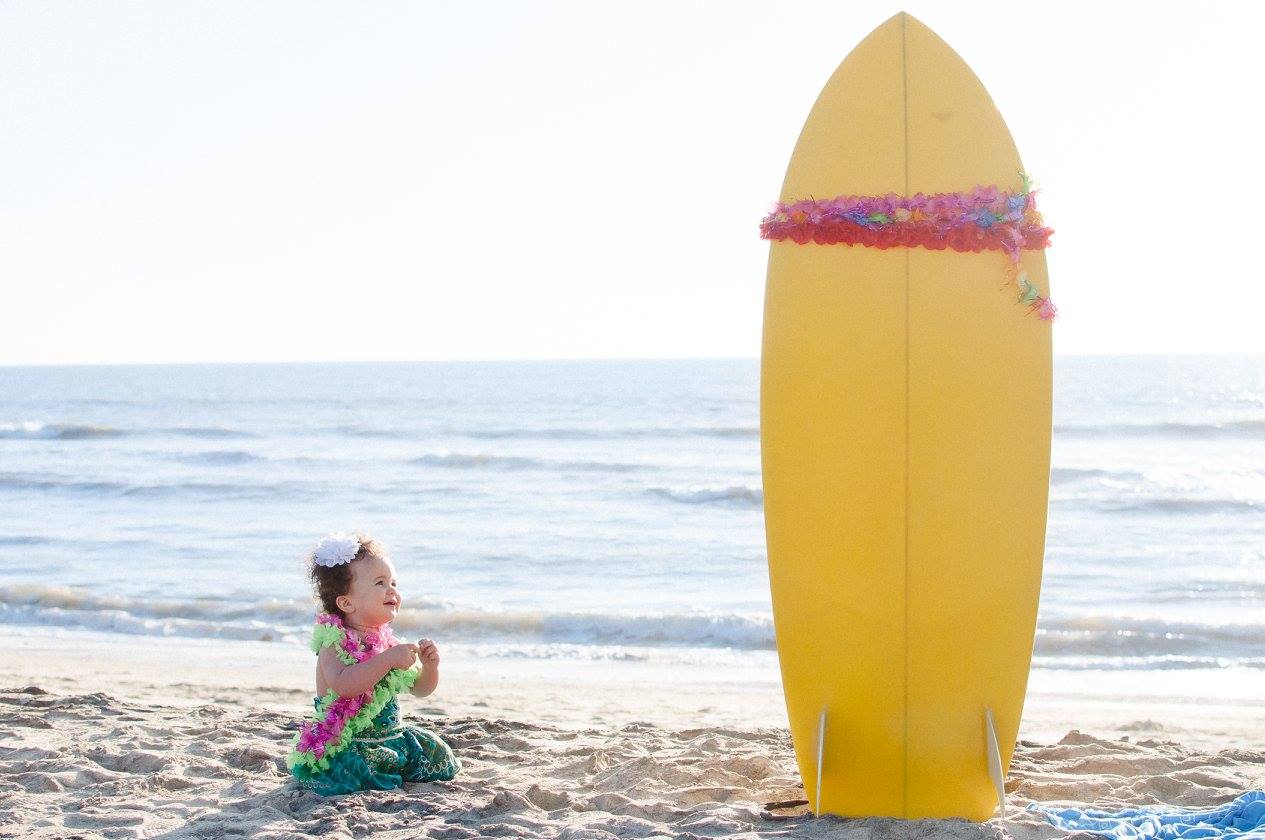 Being from Hawaii, I thought it was only right to host a "Baby Luau" for my daughter Kaialani's 1st birthday. Being an event planner by trade, there was no way for me to just throw her a simple party. So I did it right, and I am going to share with you all the details, vendors and plans of how I put together the best Baby Luau for my sweet baby girl's First Birthday (too bad she won't remember it).
Historically, the lū'au was customary for Hawai'i's families, regardless of ethnicity, to hold ato celebrate a child's first birthday. The MOST important thing you must have in order to successfully host a Luau event is to have traditional Hawaiian food either catered (as I did) or host a potluck style event and BBQ your own Hawaiian food. I am no chef, so I went the catering route and I have tried almost every Hawaiian food spot in Southern California and hands down Chris' Ono Grinds takes the cake. So if you haven't had the opportunity to try their food, please go now – you will thank me later.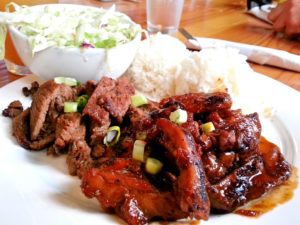 Chris' Ono Grinds offers full-service catering with on-site serving or grilling, and they also have pick up / delivery options depending on the size of your party. From start to finish they were on time, professional and oh my goodness the food was just absolutely amazing. We had over 60 people at my daughters birthday and literally didn't have on complaint, which is some pretty good statistics.
On the Menu at Kaialani's 1st Birthday was Kalua Pork, Huli Huli Chicken and Teriyaki Steak. We had all the traditional sides, rice, mac salad, pineapple salsa, sweet rolls and coleslaw. We also ordered the wings for an appetizer and got a combination of Guava BBQ, Huli Huli or Lava sauces–I don't even really like wings and they were amazing.
They also offer Haupia, which is a traditional Hawaiian dessert made of a thick coconut pudding on a macadamia nut crust. We had this and a 1st Hawaiian-themed Hula Girl cake made, which was also a hit.
Besides the food, the best part of a luau-themed event is the decor and opportunity to have everyone dress in Aloha attire (which we made mandatory). Everyone received a Hawaiian lei when they arrived, we played my favorite Hawaiian style band Three Plus on Pandora and to be honest there wasn't much more that needed to be done. Decorations included hula skirts around the tables, flower leis, ukulele's, Hawaiian flowers and colors sprinkled throughout our home. (FYI I just went to Party City for the decor, they had a good amount in their Luau section.)
How do you not have a good time with a Mai Tai in your hand, a lei around your neck and some amazing food? Also, it is your daughters FIRST birthday so the memories and photos that were captured were honestly priceless. I also did a "Surfer Girl" themed first birthday photo shoot with Oh Happy Photography and shared some of the prints of the photos on the tables. It was such a perfect first birthday, and everyone enjoyed themselves from the kids to adults.
If I happen to have another daughter and plan another baby luau, the only thing I would add is the Islander Princess from The Storybook Character Company. We recently had her perform at an SDMB event and my daughter Kaialani was just mesmerized. She looked like Moana, she sounded like Moana and they are just incredibly professional and the kids are entertained from start to finish.
So are you ready to plan your first Luau or Hawaiian-themed event?? What are some other party themes that have gone over well for you?