Making a Holiday Tree Craft was one of the things my mom friends and I did on a getaway weekend recently. We meet monthly to craft together, alternating among us who will host the meetup and provide the crafting materials.
The Holiday Tree idea came about when I was visiting a friend of mine in the Bay Area who is a high-end crafter, making jewelry and other items from vintage and costume jewelry pieces. I noticed a Holiday Tree at her house and asked about how she made it.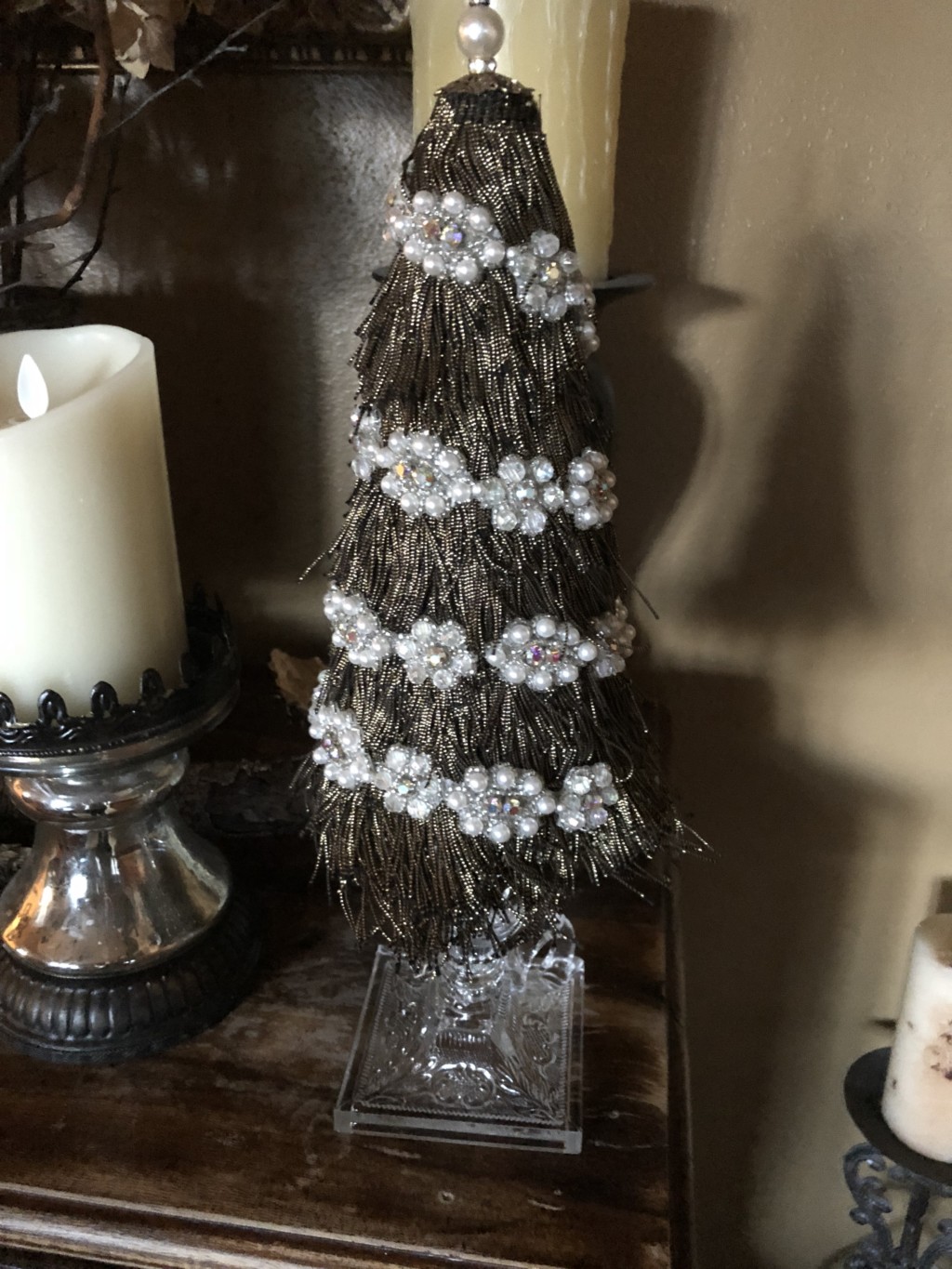 It was so freaking easy!!!!! Yet, she gets big bucks for her creations at the shows she participates in. Of course, I co-opted the idea for my crafty girls… why wouldn't I?!?!?! I even added battery-powered mini lights to our project, an element that she did not think to do!
Supplies You Will Need to Make Your Holiday Tree
The Base
I picked up a selection of candlesticks at a local thrift store, paying no more than $2 each. One friends used a thick-stemmed goblet for her base. Make sure to look at your base both ways, right side up and upside down. Some look more interesting or work better upside down.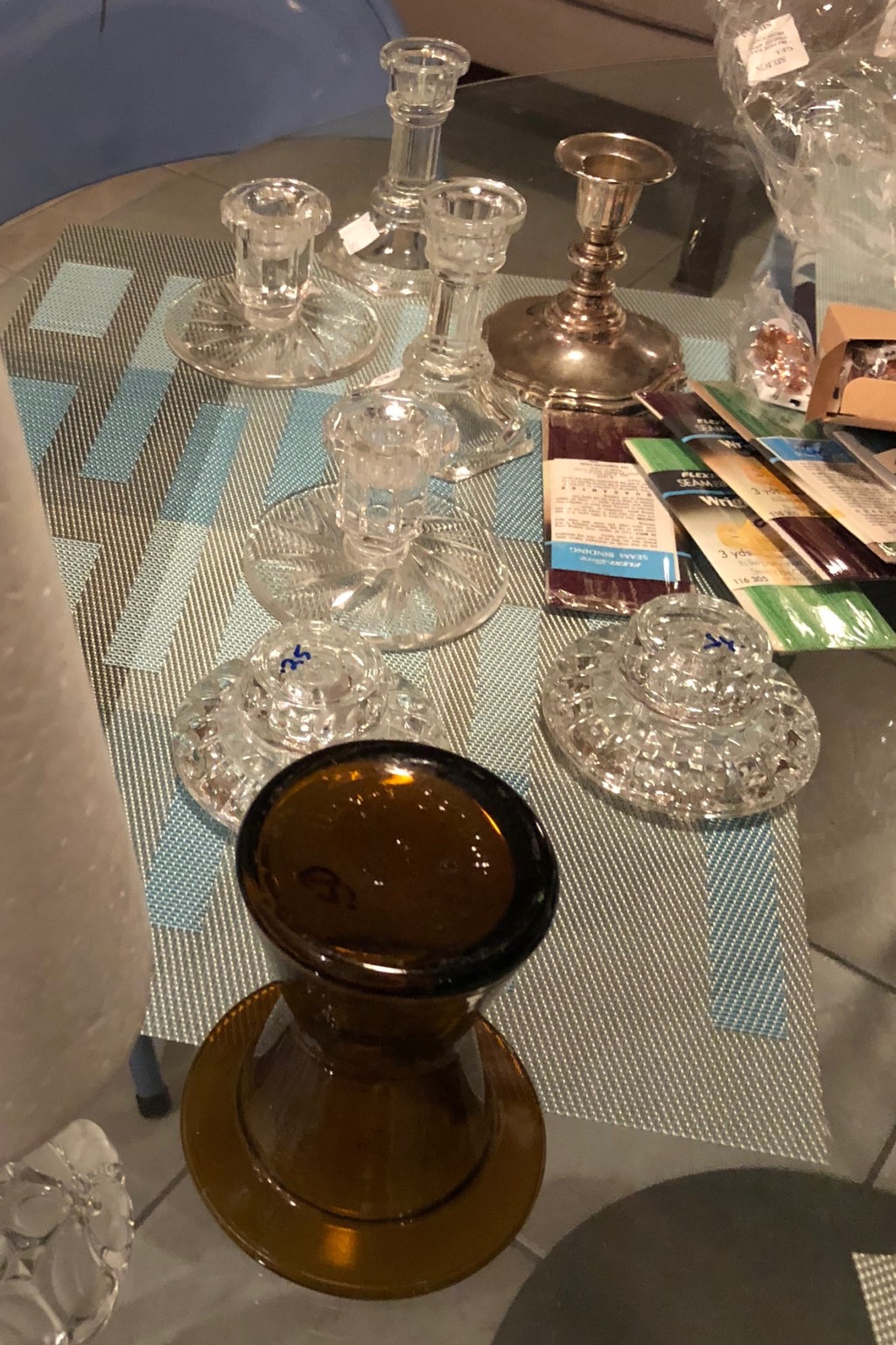 The Tree
I ordered Stryofoam cones in bulk here. There are many sizes to choose from, but the 9″ height seemed to work with most regular size candle holders. I picked up material scraps, scarves and interesting patterned clothing at the thrift store to choose from to cover the trees.
The Lights
I ordered battery-powered mini lights here. I chose the ones which are warm in tone, because I dislike the bright white ones personally.

The Decorations
We each brought our crafting assortment of little things to share and use as decorations. We had old jewelry pieces, sewing items, ribbon, stick-on bling, wine corks, etc. to choose from.


Other Supplies
Stick pins to hold things in place until final gluing, E6000 glue for the base, glue guns and refills for everything else, scissors, and needle-nose pliers.
Steps to Make your Holiday Tree Craft
Step 1 – Pick your base and glue it to the styrofoam cone using the E6000
It is super important to let it dry fully before proceeding.
Step 2 – Pick your covering material and adhere it to the tree form
You can cut material into a long strip and wrap the tree top to bottom or bottom to top, short strips to wrap level by level, or even cut the material into leaf-like shapes like one friend did. Another friend brought wine corks and covered her tree in corks instead of material. Adhere the material to the styrofoam using either stick pins and/or a glue gun.

Step 3 – Wrap your tree with lights
Begin at the top and finish by adhering the part containing the on/off switch and battery underneath the styrofoam out of sight.


Step 4 – Decorate your tree and base!
Stick pin or adhere decorations and wrap some ribbon around. Create a unique topper. Once you are happy with the placement of your ribbon and decorations, glue gun your decorations down and remove the stick pins (or leave them in).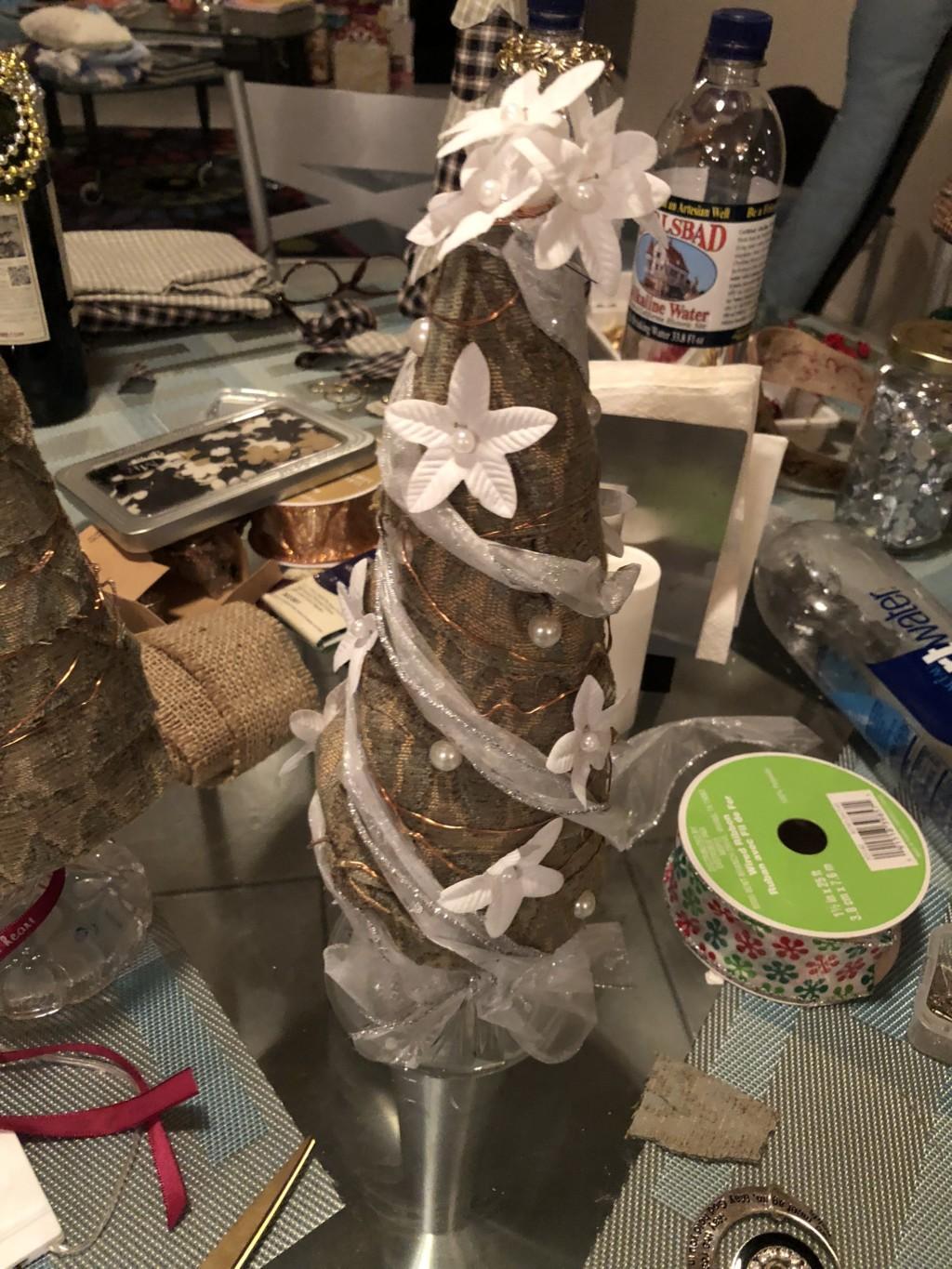 You can see how you can make a tree for every holiday just by changing up the decorations!
Holiday Tree Craft BIG REVEAL!!!!
The little frame stand displays in the reveal are the second craft out of three we did on our crafty girls getaway.
The trees, even though we used the same-sized styrofoam, are all different sizes because of the thickness of material used to cover the tree and the height of the bases. No two look even remotely close to each other!!!!
We had a great time crafting together and we all love our unique Holiday Tree crafts.
If you give it a go, let me know in the comments how your Holiday Tree turned out!
Happy Crafting!!!
Some of the links in this post are affiliate links, meaning at no additional cost to you, the San Diego Moms Blog will earn commission if you click through and make a purchase.