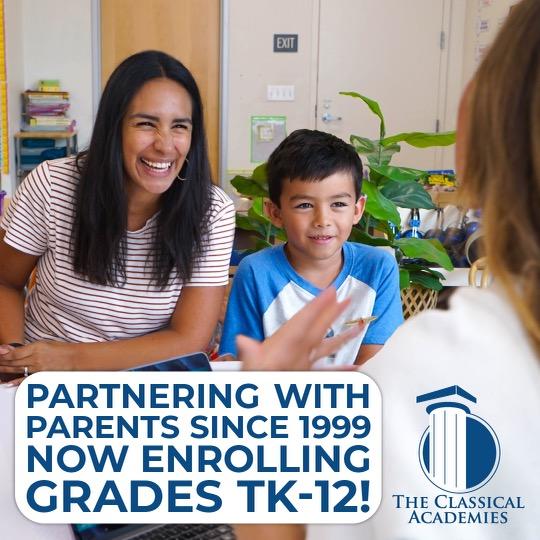 The benefits that homeschooling provides are tremendous. As a mom who honestly never imagined being able to homeschool my daughter, for many reasons, that changed after living through the pandemic.
Being a single mother and business owner, I've never considered homeschooling as an option, but with schools like the Classical Academies, it's actually a viable opportunity!
Here FIVE reasons to attend one of Classical Academies upcoming Open House events to learn about making the transition next school year.
Hybrid Learning Options
Homeschooling isn't what it used to be. It isn't a one-person job anymore. The Classical Academies has been partnering with parents for student success since 1999. Each campus offers a flexible, personalized educational environment that blends the best of independent study and the traditional classroom experience.
Safe Physical and Mental Learning Environment
By transitioning your child's education to a home environment, you reduce the stress associated with school safety concerns, drug use, and bullying (online and in person). Your child's mental health is naturally supported and strengthened by eliminating anxiety triggers like continuous testing and overwhelming homework.
Classical Academies offers children the freedom to explore and learn without worrying about their physical safety providing emotional freedom for students, which boosts their self-esteem and independence.
Flexible Schedule
Classical Academies flexible schedule allows students to learn when, where, and how they learn best. A one size fits all approach doesn't work when it comes to learning. Some students learn best in the morning, some at night, and kinesthetic learners may learn best jumping on a small indoor trampoline.
Being able to adjust learning environments to match each student creates more impactful learning. Plus, a flexible schedule allows families to take educational day trips, have longer weekends, and the opportunity to capture better pricing to travel destinations. Learning can continue outside the classroom, while bringing your family closer together.
Self-Paced, Higher Quality Education
In addition to being able to make school fit your schedule, students have the freedom to learn at their own pace versus having to keep up with a class in a traditional school setting.
Classical Academies students have the opportunity to work a grade or two ahead in a subject they excel in, or take more time to work on a subject they find challenging; eliminating the pressure to move ahead if mastery is not achieved. While students can move past material they understand to tackle deeper topics and areas of greater interest.
Customized Education Strategies and Curriculum
In a homeschool setting each academic program can be personalized so that students think more in depth, communicate better, and achieve their highest potential. This allows parents, who know their children best, to be at the forefront of guiding their educational journey in a relevant and personalized way that can be missed in most academic models of education.
---
Upcoming Open House Events
Classical Academies is hosting six open houses at their campuses for families to meet the teachers, view the curriculum, tour the campus, and learn more about 2023-2024 enrollment! So whether you have been wanting to make the switch, or are like me, go see how and why this could be an option for your family! No registration needed!
Classical Academy High School (9-12) January 31, 2023, from 5:30 – 7:00 pm
207 E. Pennsylvania Ave., Escondido 92025
Classical Academy High School PLC (9-12) January 31, 2023, from 5:30 – 7:00 pm 130 Woodward Ave., Escondido 92025
Coastal Academy High School (9-12) February 1, 2023, from 5:30 – 7:00 pm
4183 Avenida de la Plata, Oceanside 92025
Classical Academy Vista (TK-8) February 2, 2023, from 5:30 – 7:00 pm
4010 Mystra Way, Oceanside 92056
Coastal Academy (TK-8) February 9, 2023, from 5:30 – 7:00 pm
4096 Calle Platino, Oceanside 92025
The Classical Academy (TK-8) February 9, 2023, from 5:30 – 7:00 pm
2950 S. Bear Valley Parkway, Escondido 92025
Classical Academies is an award-winning, tuition-free, public charter school that has been providing homeschooling support to families like yours for 20+ years.
For those interested in enrolling in the current school year, please contact the campus of your choice for availability. More information can be found at www.classicalacademy.com.