When I found out Dr. Hoss, DDS, MS– founder of The Super Dentists was writing a book, I knew it would be great, but that's simply an understatement. In his new book, If Your Mouth Could Talk, Dr. Hoss connects the dots between oral health and its impact on your entire life. Trust me, you won't want to put this book down.
My daughter Kaia, is a huge fan of The Super Dentists' and a big part of why I read this book. Their Augmented Reality App and Super Toothbrush were instrumental in changing the way she viewed brushing her teeth (pictured to the left).
"The mouth is the gateway to your body and is the most critical organ for improving your health, from childhood onward," said Dr. Kami Hoss.
If Your Mouth Could Talk is the result of more than 20 years of first-hand experience and research, with health advice that's right under your nose. It offers practices that when put into place, can add 10-to-15 years to your life.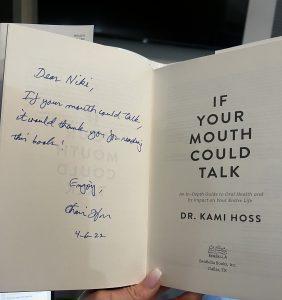 Key Takeaways
Poor oral health increases your chances of Alzheimer's, Asthma, Cancer, Diabetes, Endocarditis, Erectile Disfunction, stroke, and many other diseases.
Everything in the human life cycle is related to the mouth – fertility, childbirth, sleeping soundly, success in school, getting a job, mental well-being, avoiding chronic disease, and aging well.
We need to be vigilant, when it comes to our children's oral health. According to the Centers for Disease Control and Prevention (CDC), one out of every five children has rampant decay on seven or more teeth, by the 3rd grade, and 50% have cavities. And five-year-old's only brush 25% of their mouth, and 11-year-old's only brush 50%!
This isn't a book about brushing and flossing—or any of the other standard advice you get from your dentist. Instead, you'll hear about how to protect your mouth's microbiome, the effect of diet, the relationship between oral structure and sleep problems, how to breathe better, and more. This is an in-depth guide for people who want to take control of their health to the fullest extent possible—who want to understand how their mouth contributes to their overall health and quality of life, and what they can do to better care for it.
"If Your Mouth Could Talk, It would say: "Care for me like your life depends on it. . . because it does."
Thank you, Dr. Hoss for your passion and commitment to our children, to us and to this community!
If Your Mouth Could Talk has already achieved the much-coveted bestseller status by USA Today (May 25, 2022) and Wall Street Journal (May 26, 2022). Additionally, the book was already named a "#1 New Release" in the dental hygiene category on Amazon and #1 National Medical Book by Bookscan.
If Your Mouth Could Talk can be purchased for $26.95 (hardcover) at any bookstore, Amazon, or DrKamiHoss.com.