Kid-friendly restaurants are sometimes hard to find, so here is my go-to list for a family-friendly meal in North County, San Diego!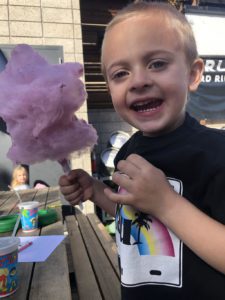 1. The Crack Shack – Encinitas
The Crack Shack is my most favorite place to go with the kids. They have a sandbox with toys, a chalk board easel, giant connect four and plenty of outdoor space for kids to run around. Not to mention, the food is excellent and their craft cocktails are a real treat. They have a great craft beer selection and amazing ice cream flavors too.
2. Draft Republic – Carlsbad
Draft Republic is a great place for beer-loving moms and dads who need a place where their kids can have fun too. They have the largest beer selection, awesome food and happy hour options, as well as arcade games, ping pong tables and a huge tv screen.
3. Pizza Port – all locations
Pizza Port is the ultimate kid-friendly restaurant. I have been to all of the locations, but my favorite is in Bressi Ranch, tucked away in an industrial area. It is always easy for us to find a parking spot and a table here, especially right next to the arcade games and prizes. Who doesn't love pizza and beer?
4. Dave & Busters – Carlsbad
Dave & Busters is a fun place for both kids and adults alike! With food, drinks and so many games, it is an endless day of fun all in one spot. We like to go for lunch when they open so that we have plenty of time for games before it's time to head home for nap time.
5. Stone Brewery World Bistro & Gardens – Escondido
Who doesn't love Stone Brewery? Sitting outside in the gardens and letting the kids run around while drinking an ice cold craft brew is simply the best! If you order at the bar, you can bring your food out to the gardens, so there is no waiting for a table!
6. Park 101 – Carlsbad
Park 101 has a nice grassy area and a giant connect four game for the kids. They also have a cotton candy machine and every kids meal comes with a cotton candy token! My kids love watching them make their cotton candy. They also host a lot of cool events throughout the week. "Moms Who Mimosa" is a must!
7. Belching Beaver Brewery Tavern & Grill – Vista
I love taking my kids to breweries and Belching Beaver is definitely a kid-friendly place. They have plenty of food options and outdoor space. They also have a great happy hour!
8. Campfire – Carlsbad
Campire is the perfect place for eclectic food and drinks lovers. Make sure you sit outside so the kids can play in the teepee! Conveniently located in Carlsbad Village, you can walk around before or after your meal.
9. Crackheads – Carlsbad
Crackheads reminds me of Park 101 – with picnic tables outside and plenty of space for the kids to play. They offer breakfast/brunch food and delicious cocktails. It is conveniently located in the heart of Carlsbad Village.
10. Landon's Gourmet Kitchen – San Marcos
Landon's is known for their on-site childcare facility. I haven't been here yet, but I know you can pay to have your kids in the supervised play area while you enjoy your dinner in peace. In some cases, this might be a cheaper option than hiring a babysitter for a date night.
11. Betty's Pie Whole – Encinitas
The reason I love Betty's Pie Whole is because it is located right next to Sunshine Gardens! I love bringing my kids to Sunshine Gardens to play, visit with the goats, fish, tortoise, chickens and birds. It is free to visit and Santa makes an appearance every year. When we get hungry, we just pop into Betty's Pie Whole for a yummy lunch afterwards.
12. Bagby Beer Company – Oceanside
I like Bagby Beer Company because they have great food and they make their own craft beer. They are both kid and dog-friendly with plenty of outdoor space.
What are your favorite kid-friendly restaurants in North County? Let us know in the comments below.
Originally published on January 1, 2019