Did you know that the American Dental Association now recommends that kids see a dentist for the first time by their first birthday? Your first impulse may be to take your child to your own dentist, but this is not a good idea, unless a sizable part of their practice is children.
The first dental visit for a child can be a scary proposition. Strange instruments, loud noises, and new faces can upset even the most nonchalant child. But Dr. Najmeh founded Little Star Pediatric Dentistry to make that experience a welcoming, relaxed and fun one!
"When I opened my office, I wanted to do something that was different that the surrounding dental offices. Something that made us stand out to the patients and to our community. From day one, we took the position that the patient needs and patient experience is more important than anything else. As such, we strive to treat each patient as unique individuals and not just another personal walking in through the doors. This foundation has helped create a great culture for our practice. We treat the person and the family, not just the teeth.

Because we start seeing patients at such a young age, we have the ability to influence their oral heath in a positive manner and set the groundwork for a lifetime of dental success. As a pediatric dentist, I have the opportunity to use my skills to make each child feel secure and comfortable at their dental home. My practice philosophy is to provide the same care that I would want my own child to receive. I believe patient and parent education and anticipatory guidance to be of the utmost importance." – Dr. Najmeh
What makes this office unique? Little Star Pediatric Dentistry is an office that fully caters to every child that walks in through their doors. At Little Star, they give exceptional care that entails:
Innovative, comprehensive, compassionate dental care for children of all ages and abilities
Experienced, friendly staff in a relaxed, fun atmosphere
Help build healthy dental habits that last a lifetime
State-of-the-art equipment & advanced digital technology
Maintaining the highest standards of care set forth by the American Academy of Pediatric Dentistry
A full range of services that are unique and specific to our practice: general dental care, dental emergencies and surgeries, laser lip and tongue tie revisions (Dr. Najmeh is a nationally recognized preferred provider for this procedure), oral conscious sedation, general anesthesia options, silver-diamine fluoride, SMART restorative options, injection-free treatment options, specialized treatment for patients with special health care needs, mercury-free and bio-compatible materials, and more.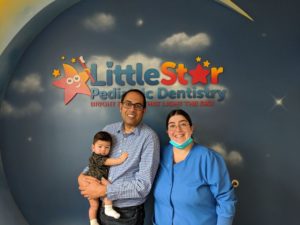 Patients have even more to say when it comes to Little Star Pediatric Dentistry and how it made such a difference in their child's minds.
"I cannot emphasize enough how wonderful Dr. Najmeh and her staff are! First of all, she has the friendliest staff I have ever encountered in a medical office. The hygienist who did the cleaning was such a sweetheart to my 4yo son! Dr. Najmeh is kind and very easy to talk to. She is knowledgeable, and so patient with my spirited kiddo. They spoke directly to him and were so kind even when he was uncooperative! They played his favorite movie, Toy Story, which he can watch while he gets his cleaning! And then he got a cool bag of "treats"!

I'm so jealous! Fun stickers and sunglasses and a mickey toothbrush! How did they know we love Mickey? She also performed a Frenectomy on my 10mo baby and he is doing AMAZING! She is so so sweet and took great care of him…he didn't even cry. I'm so grateful that I found this place. Dr. Najmeh is such a pro. This place is a dream! Tv's on the ceiling, you guys! It's clean, it's fun, it's PEACEFUL!! I drive all the way from Hemet…it's worth every mile! Go go go! I wish she was my dentist!"- Sydney Y
To learn more about Little Star Pediatric Dentistry and their amazing team and services, visit their website by clicking here. Or call 619-630-4000 to schedule an oral wellness examination. At Little Star, your child is more than just a patient, they are a Shining Star!