This year we'll be celebrating our baby's first Christmas and I want it to be special but at the same time I don't want to put a lot of effort into something he won't remember or care about. Our little guy doesn't need much right now and family has already sent a few gifts, so I decided to start a tradition of giving an experience for the year ahead at Christmas. Experiential gifts keep us entertained, encourage us to make new friends, explore, learn, stay active and spend quality time together, but having less toy clutter and fewer things to clean up is what I love most.
Whether this is your baby's first Christmas or not, here are a few ideas for giving your little ones an experience you both can enjoy.
Zoo Passes – An annual membership to the San Diego Zoo will allow for exploring, walking and killing off some extra energy for a whole year. Pick out a stuffed animal or one of the many zoo themed children's books if you want to have something to be opened Christmas morning.
Swim Lessons – Not only are swim lessons incredibly practical in a city where beaches and pools abound, but it's likely to be fun teaching your baby water skills. Wrap up a swim diaper or pool toy for your little one to open.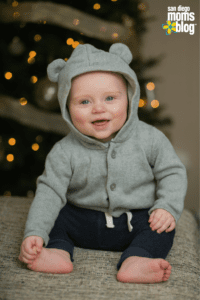 Professional Photos – You won't regret getting professional quality photos to capture your baby's cute features and your family during this time in your lives. A picture frame ornament or wooden toy camera are fun gifts to go along with a photo session. If you need help finding a photographer you can check out our guide.
Mommy & Me Fitness Classes – This is likely more of a gift for you than for baby but it leads to time together. Stroller Strides, yoga and dance classes are great options.
Infant Massage – Benefits of infant massage include less crying, better sleep, relief from teething pain, better digestion, bonding and the list goes on. All of these are reasons enough to sign up for a class but it's also unbelievably cute to see a baby getting a massage.
Sporting Events – Tickets to see the Padres, Gulls, Chargers or Sockers play makes for a great family date night. A team onesie or noise reducing headphones are good gifts to go along with tickets.
Museum Passes – Spend a day at The New Children's Museum or one of the several museums in Balboa Park. Depending on your child's age it may be worthwhile to buy a membership. San Diego residents can check out the museums in Balboa Park at no cost on Resident Free Days.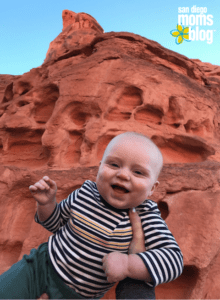 Take a Trip – Road trip to a nearby national park, take the Pacific Surfliner up the coast, plan a camping trip, or take advantage of free lap child airline rates and fly to another city!
What are your experiential plans together in 2017? Our son is getting swim lessons and I'm quite excited for them to start.
Merry Christmas from my family to yours!