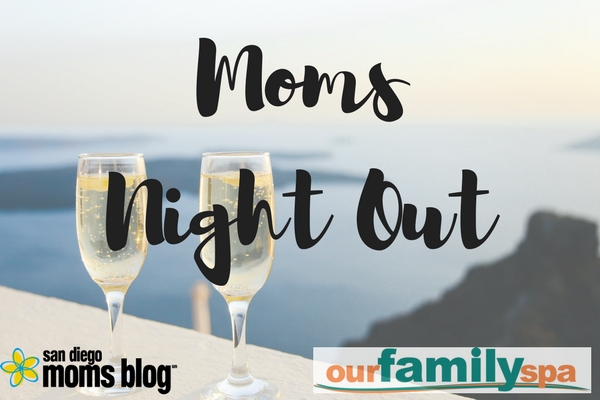 We are so excited to bring you a fun and pampered moms night out with our partners at Our Family Spa. We told you that our mission in 2017 was to make sure that us mamas focused a little a little more on self care (#SDMBselfcare2017), and we really mean it!
Our Family Spa is centrally located in the La Mesa area, and they offer many options to get your spa on. Massages, facials, pedicures, everything you could want + CHILD CARE!
In case you didn't read that right the first time, I will write it again. They have CHILD CARE! Now you have no excuse to have some time to yourself, because you can bring the kiddos while treating yourself to something nice!
With ticket purchase: Enjoy some snacks, and a glass of champagne while you get a 5 minute massage, mini manis, AND some makeup tips and tricks from local makeup artist, Meridith Andrée. We had her at Mom Prom, and she was awesome! You will need a sitter for this event because we will be taking up the space where the child care normally is, so make sure to arrange that when you get your tickets.
Grab the girl friends for a much needed night out to relax and have some fun!
You can take our word in trusting Our Family Spa. Not only did they give amazing 5 minute massages at our Mom Prom event, but they also gave 5 min massages AND set up a kids play area at our Santa event. They are an amazing partner and we can't wait to show you what a great business they are.