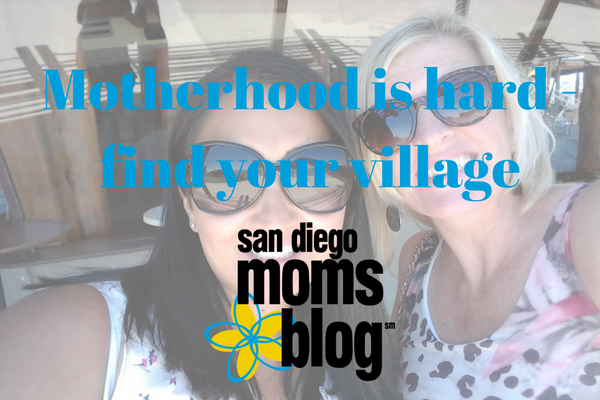 People say it takes a village to raise a child. Having moved over 8,000 kilometers away from my family and friends, I now understand how true this is! You NEED a support network, that is more than just your partner. You NEED it for yourself and for your child.
For the first 2 years of my daughter's life, I was surrounded by all of my family, all of my husband's family and all of my lifelong friends. My support network was vast and all within a 20-mile radius. My daughter enjoyed fun-filled weekends shared with cousins, grandparents, and her little friends. And I had the opportunity to take a break from her, for some well-needed me time – a coffee and chat in my sister's house while my daughter played with her cousins, a night out with my husband while Granny babysat, or a fun-filled day out with my girlfriends while Daddy stayed at home with our girl. My village was huge, and this Mama was soooooo lucky!
Being new to San Diego, I lost my village… I needed to find my support network and fast, for my own sanity! So I put myself out there, and 2 years later I have a wonderful network of friends – some are moms, and others aren't. I can call on them for playdates, coffee mornings, wine nights, to lend me a shoulder to cry on and to support me in this season of life! They are my San Diego people, and I would be lost without them in this journey of motherhood in a new city!
Are you in the same position?
Are you struggling to find your village?
It won't happen overnight, but it doesn't have to be hard. Here is my advice:
Put yourself out there. You won't make new friends sitting at home or keeping to yourself.
Go somewhere new – toddler time at the library, playtime at a different playground, a new workout session at the gym.
Do something new – I always wanted to explore my creative side, so I immersed myself in art workshops and I met so many new, fun, like-minded people.
Be confident in being yourself! Don't try to be someone you aren't. You won't meet your people pretending to be someone else.
Remember that you won't gel with everyone – you won't like everyone you meet and they may not like you. That's ok! Don't take it personally!
Follow your gut instinct – don't waste time and energy on someone you aren't sure about. Chances are, they aren't your type of person if you don't feel it initially.
Make an effort to invest in those sparks of friendship with people you click with. That really enjoyable morning of snatched conversations while running to opposite sides of the playground chasing toddlers can develop into so much more.
Step out of your comfort zone and go to an organized meetup. You can find so many different meetups for pretty much everything using social media. Search out your local Mom group – there seems to be one for every neighborhood! And if you can't find one for your location –

why not start one yourself?

Or if you enjoy coffee or beer, join us at our monthly coffee Moms meetups or Beer Moms meetups. We would love to hang out with you!
So what are you waiting for? Brush your hair (or not!), straighten your shirt and take your best step forward, and be YOU!!!