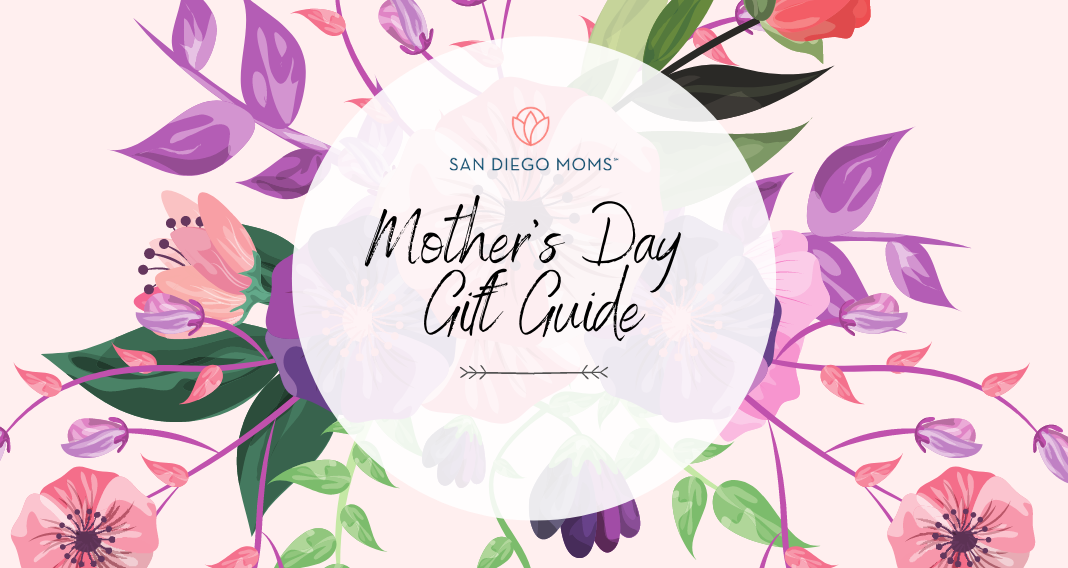 Mother's Day is just around the corner and although we know MAMAS should be celebrated every day, we have put together some of our favorite gift ideas.
Think of this Mother's Day Gift guide as a gift in itself as it has been crafted for San Diego Moms, by San Diego Moms.
Whether you are looking for a gift for your mom, a mom friend, yourself, or want to send this to your partner, we hope you love this guide. Please let us know some of your favorite gifts and what YOU want to receive this Mother's Day. Head to the link at the bottom to submit your business or recommend a product or service to be included.
---
Wild at Heart Boutique
This is your one stop shop for everything you need to gift yourself, a loved one or tell your significant other to get on it now. I spent hours curating this box with all woman in mind. There are so many types of mamas out there, dog moms, cat moms, Grammies, Aunties, just about every woman is a mom in one way or another. I hope you love this box as much as I do.
20% off the website (excludes boxes) CODE: MAMA
---
Pocket Chefs
Give the gift of a Pocket Chef this Mother's Day, we assure you EVERY mom will swoon over this unique gift. Pocket Chefs provides you with a professional chef who can prepare home cooked meals for the week. They do the cooking and cleaning! You can save time and money with the help of a personal chef cooking healthy affordable meals for the week and they also offer weekly meal planning. Service plans start at $179.
Mothers Day Special: $50 off a session OR Buy One Give One
---

San Diego Secret Food Tour With Drinks
Take mom out for a night out on the town and embrace the spirit of Downtown San Diego's exceptional culinary scene on this Dining and Drinks Tour! You'll be in great hands with this TripAdvisor Travelers' Choice Award Winner, Secret Food Tours. Experienced local food guides share an insider's view of San Diego's diverse food culture and you will visit 5 unique Downtown stops where you'll taste mouth-watering flavors and specially selected signature drinks. Prices start at $150.
---
Legacy Children Services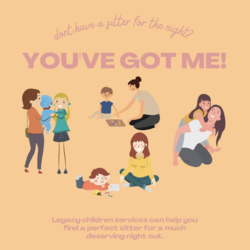 Legacy Children Services offer flexible babysitter services to give parents the opportunity to take a well-deserved night out. Their babysitter services are flexible and designed to fairly adjust to your day to day schedule. You can go out for a night on the town, feeling confident and at peace that one of our professional sitters is taking absolute care of your child. They understand that your family is important to you, which is why they make them important too, in every possible aspect. Price Varies.
---
Awaken Family Chiropractic
Chiropractic care helps you move, feel and function your best. Dr Maddie is offering a full examination, consultation and adjustment at her beautiful practice in La Jolla for only $55, typically $140. Her goal is to help you live with less limitations and more life expression.
---
Beaute Noveau
The Beaute Nouveau signature gift set is a San Diego Moms favorite, which features all of their must have products! Beaute Nouveau Botanical Beauty is a truly botanical beauty brand of skin care products, founded in 2012 by Lacey Haegen. All of their products are hand-made in small batches, with the finest botanical ingredients. They make their products with their customers needs, desires, lifestyles, and health in mind.
Signature Gift Set Price: $75. Use code SDMoms for 10% OFF
---
Populum's Lavender + CBD Face Oil+ Cold Therapy Rub
Populum's Lavender + CBD Face Oil is the perfect way to help mom look and feel her best. The face oil helps lock-in moisture, fight acne, and reduce fine lines (you may just be tempted to grab a bottle for yourself). Their Cold Therapy Rub provides fast-acting CBD and aloe-infused cooling relief for your muscles and joints. It's paraben-free, non-GMO, cruelty-free, and vegan so it's just as good for the planet as it is for the person using it. Price $124.
Use code sdmom15 for 15% OFF
---
Outdoor Together Co.
Surprise the mom in your life with a beautiful outdoor picnic. With various packages including charcuterie boards, sweets, and decorations everything is set up for you to enjoy and embrace your time together!
Price Varies.
---
LovePray Jewelry
Gemstone necklaces perfect for layering. Made with genuine gemstones and hand-made African trade beads. Lightweight and super comfortable these necklaces are everyone's favorite! Made by LovePray Jewelry in San Diego.
Use code SDMOM15 for 15% OFF
---
Wine Down with Niki
Nothing says thank you, more than a bottle of good wine! San Diego Moms owner, Niki started her journey with Clean Crafted Wine about 8 months. They source Clean-Crafted™ wine from all over the world, creating and bottling wildly delicious wines with an authentic sense of place, working directly with growers and producers. So if you LOVE wine, but not the headache or hangover. Try this wine today!!
---
LeahJessica Jewelry
LeahJessica Jewelry's LJ Hand Cut Name Necklaces will become your style signature! Can be worn alone or layer it with other necklaces. Available in sterling silver, 14k yellow, white or rose gold and is approximately 7mm. Don't forget about LeahJessica Jewelry's LJ Gold Filled Bead Bracelets are beautiful. They can be worn alone or add them to any arm stack.
-Bead sizes 2mm, 3mm, 4mm, 5mm
-Elastic stretch
-Very lightweight
-Available in yellow, rose or white gold
Price: LJ Hand Cut Name Necklace $175.00 – $365.00
Price: LeahJessica Jewelry's LJ Gold Filled Bead Bracelet $40.00 – $50.00
---
MexiKrafts
Mexican designer house Carlota brings us this amazing Flor de Pitaya mini hobo. Detachable shoulder and hand held strap. Rich lush lime green suede interior. Dust cover included.
Price: $195.00
---
Black + Decker Corded Vacuum + Steam Mop (Model #BDXSMV190G)
The Black + Decker Steam N' Vac meets user demands with its 2-in-1 versatility for quickly cleaning everyday messes on multiple surfaces. This powerful steam mop plus vacuum will keep your home sparkling killing up to 99% of germs without chemicals while removing tough dirt and grime with just water and the included microfiber pad.
The Black + Decker Steam N' Vac kills up to 99% of germs and removes tough dirt and grime just using water and the microfiber pad. Mop as you vacuum for one step cleaning of hard surfaces! It is safe to use on all sealed surfaces around the home including sealed hardwood, tile, stone, grout, wood, laminate and granite. The powerful 1,000-Watt steam boiler and 500-Watt vacuum can be operated simultaneously, continuously and reliably with plug in power. Controls easily switch functions so you can vacuum and steam at same time or separately.
Price: $229.99
---
The Stronghold – Stronghold Ladies Jiu Jitsu & Self-Defense
Gift yourself or your favorite mom the gift of Self-Defense or Jiu Jitsu! The Stronghold offers group classes and private training for Adults and Kids. Mom & Me options also available.
Price: $60-$175
All San Diego moms will receive $28 off any Ladies' Private Lesson or Package of Classes when you mention San Diego Moms!
---

The Dinner Detective Interactive Mystery Show
Do you know a mom who has the "Crime Junkie"
podcasts playing nonstop? Visit America's largest interactive comedy murder mystery dinner theatre show! Solve a hilarious mystery while you feast on a fantastic dinner. Price: $69.95/ticket
---
Aqua Vie
Take pampering to the next level and schedule a spa day for the mother in your life. The best bonus: anyone receiving a spa treatment can also turn their visit into a full day of relaxation with all-day access to the rooftop heated pool, relaxation room, steam room and sauna at AquaVie Fitness + Wellness Club. Price Varies
---
Thread & Seed
Shop local this year and create a custom gift basket with hand chosen items from Thread & Seed! Choose from a variety of candles, sprays, journals, etc. to spoil the mother in your life! Price Varies
---
Native Poppy
You can't never go wrong with flowers! Whether it be a one time purchase or subscription, brighten their day with a beautiful floral arrangement like you've never seen before. Price Varies.
---
Communal Coffee
The atmosphere at Communal Coffee is like no other. Purchase a gift card and encourage the mother in your life to take a morning to herself here. Relax, sip a coffee, and look around the shop! Price Varies.
---
Pigment
Pigment has so many options that you are bound to take a good gift home this year! Whether it be a one of a kind card or another plant to add to the jungle. Pop into Pigment and check out their amazing selection! Price Varies.
---
The Perfect Pineapple
This year you can go for a real surprise for everyone! When you purchase a mystery box of happiness from The Perfect Pineapple. They have options for tweens, teens, and adults so everyone can be spoiled this year. Price: $30.00
---
Eclipse Chocolate
Just like flowers and coffee, you also can't go wrong with sweets. This year stray away from the usual grocery store treats, and indulge the mom in your life with a local favorite. While the name includes chocolate, this shop has everything for mother's day: sweets, candles, brunch boxes and more! Price Varies
---
Want to feature your business, product or service?