I firmly believe that the foods I choose today for my family, directly impacts our health and well-being now and in the future. There are so many choices when it comes to diet and nutrition and honestly a lot of misinformation. My daughter consumes 2-3 servings of milk a day, so I want to make sure the quality is the best.

I trust and choose Organic Valley Milk because at the end of the day "You are what you eat" and I feel good knowing the dairy we consume daily comes from cows that are healthy, happy and treated like family.
Organic Valley understands that happy cows make better milk!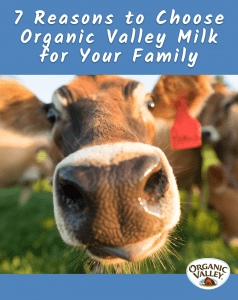 Here are SEVEN reasons why we ALWAYS will choose Organic Valley Milk in our home. (Although there are likely more!)
Happy Cows Make Better Milk
Organic Valley cows spend their days grazing in green pastures, which helps them produce quality milk that is rich in calcium and protein, helping to strengthen bones and muscles!
When cows are able to live and eat what nature intended them to eat, we reap the health benefits in more ways than one.
Their products contain NO antibiotics, synthetic hormones, toxic pesticides or GMO's.
Synthetic hormones and antibiotics are frequently given to non-organic farm animals to change their reproductive cycles and speed up their growth. Organic Valley believes cows are healthiest and happiest when they're allowed to live without being pumped full of chemicals and it helps them produce the highest quality milk.
They roll out the red carpet for their cows and are committed to having the highest-quality animal care standards.
Organic Valley cows are outside 50 percent more than the USDA organic standard require.

Being outside more allows them to consume lots of delicious grasses in their diet. Think of it as a salad bar for cows

Organic Valley farmers work hard to create an environment where animals can freely express their natural behaviors – like grazing, roaming, and playing on pasture.
They dedicate a lot of time and effort to creating a healthy environment for their cows, so they produce the highest quality milk.
Organic Valley is a business I can get behind. They operate differently, mirroring a lot of our core family values.
Organic Valley is a co-op owned by organic farmers that are as passionate about their work, as we are about raising our children. In a lot of ways they operate just like a strong family unit, working together for a common goal and greater good.
When you purchase Organic Valley you are supporting local farmers and the environment.
When you choose Organic Valley products, you are supporting farmers in our nearby communities, who put their all into providing you the highest quality milk to give to your family! They have kept 440 million pounds of toxic pesticides and fertilizers out of the environment.
Whether it's milk to top off a bowl of cereal or an ingredient in a special dish, it's important you are getting the best quality.
Give Organic Valley Milk a try, trust me you won't be disappointed.
Bonus: Organic Valley Homemade Mac & Cheese Recipe!
My daughter absolutely loves this homemade mac and cheese using all Organic Valley milk, butter and cheese! She doesn't even notice that she is eating broccoli when I make it. I love that I know she is getting the added benefits (Vitamins, Nutrients) that healthy, happy cows produce. And I can feel good about the choice too. The full recipe can be found on the Organic Valley website.
Find Organic Valley Products Near You
Did you know Organic Valley has a whole lineup of dairy products? From milk to cheese, eggs to sour cream, you can use Organic Valley products in all sorts of ways. Easily find locations with Organic Valley products near you using their store locator.
For more information and resources from Organic Valley (including recipes), visit the co-op's website here. You can also connect with them on Facebook, Twitter, Pinterest, and Instagram.