My traveling baby girl and I are getting ready for an 11 hour long flight overseas in August, so I am always thinking of different activities and ways to make traveling easier. I learn something new every time I get in an airplane. I want to share with you mamas some tips on what to pack in your carry on. We have a medium size backpack and all the items I talk about below fit inside of it!
Foo

d

: They always ask to remove the food from your backpack at the security checkpoint, but it is not a problem to take food or breastmilk, at least when traveling in the States. I like the baby pouches when traveling because they are small and easy to feed the little one with. When I travel overseas, I take some fruit in a ziplock bag or small tupperware. I always take snacks or even a sandwich for me because of the quality of airplane food. (everyone knows, not great!)
Snacks: Sometimes the only way to keep a baby happy is the SNACKS. I keep different snacks in different containers and ziplock bags. I try to buy new snacks that baby didn't try before, keep them busy and full!
Entertainment:

I NEVER take toys from home to a flight because they will likely be lost. My trick is to buy cheap toys at the Dollar Store or Dollar Spot at Target, and keep them in different zipper bags or ziplock bags. My 17 month old enjoyed some stickers, balloons, slinky, crayons and paper, small plastic animals, pompoms in a container, straws and even snacks in a weekly pill container last time we traveled overseas. I installed some free baby apps (piano game, popping balloons game and Smart rattle app) in my tablet and smartphone. It is hard to find apps that don't need internet access. I always try them without internet to see if they work first. If I see I am running out of ideas, I ask the flight attendants for plastic cups and straws, those are fun too!
Baby and mom necessities: extra diapers, extra baby clothes, bibs, sippy cup, sanitizing wipes (I always use them for the airplane seats or if the toys or sippy cup lands on the floor). For me I always keep an extra shirt in case you get dirty, you never know what can happen in a long flight with a baby.
Gear: A baby carrier is a must have to make getting in the airplane and during the flight easier if your baby doesn't have a seat. I am lucky my baby still enjoys taking naps in the baby carrier. If you have layovers, the umbrella stroller is a necessity to stroll around the airport. Don't bring expensive strollers, they will likely get broken.
Any other tips for traveling with babies? What would you add in your carry
on, mamas?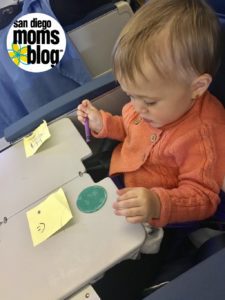 (Also check out 5 Tips You Didn't Think of When Traveling with Baby)
(AND Traveling with Baby: Tips for on the Road and in the Air)