Hello everyone!
By now, you may or may not have heard about our San Diego Moms Blog Book Club 2017!
So, what exactly are we hoping to accomplish with this book club, and what are you expected to do?
Background: Collectively dreamed up by two of the SDMB team members, plus myself, the SDMB book club was born out of need. In the rush of life in todays world, it is very easy to be a "yes" person. Perhaps a people pleaser? And the three of us knew that we were over-committing ourselves. Our schedules were packed, and we rarely had time for the important people in our lives, including ourselves.
Something had to be done. We decided to take some time out for ourselves to catch up on something we all loved: reading. We chose to read The Best Yes, so that we could learn something very important: how to say "no".
We did a trial run with all our friends, and loved participating in this little community we built around the lessons and teachings of this book. We all needed it, and so did some of our friends!!!
As a result of the success, we knew we needed to take it to the SDMB community. How many of you, our readers, need to make time for yourselves? Time to do something that you want to do? Maybe the solution is to sit back and read a good book. Get lost in the stories that are far from your reality. Take your mind off whatever is going on!
Our goal for the book club in 2017 is to connect with our community. We want to see what moms out there are loving to read. Let's see how we can make it fun and challenging while you set aside some you time to catch up on a book from our reading list!
Rules: The rules are simple. This community is drama and selling free. We want to facilitate open communication, questions and fun! Whether you want to read the books that we have listed on our calendar or not, we want you in our community. If you love to read, then you will love the good reads app that we are using (for your phone or computer) to facilitate the group. You can rate the books you have read, put some on the shelf to read for later, and put even more on your wish list! We want to connect with you. REQUEST TO JOIN THE GROUP HERE.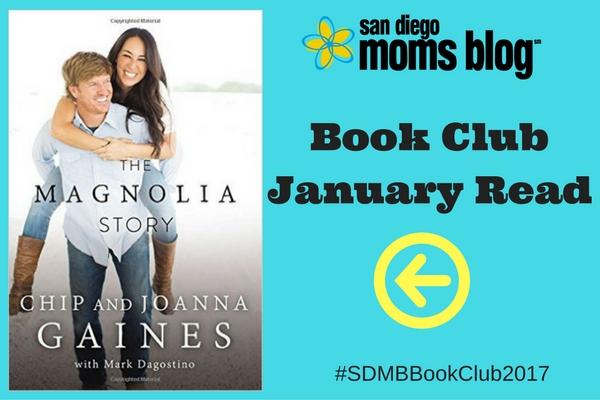 Whats ahead for January: The book we chose for January is The Magnolia Story. Who doesn't love DIY books and who doesn't love Chip and Jo? For the month of January, we will have a DIY challenge, and questions in the private group to keep you involved in the community. You can follow along with us and read about 3 chapters a week, or jump ahead as you wish. What if you fall behind? No big deal! Catch up when you can! And if you aren't reading this book for January, please share what book you ARE reading, in case someone else in our group wants to check it out.
Requirements: You don't have to participate in every single challenge, question, or group activity. You don't even have to be super active in the group! The requirement to join is that you love to read, (or that you want to read more in 2017) and that you promise to set aside some time to yourself to read a few books. We want to see what you are reading if you aren't reading the same books as we are!
Calendar:
January– The Magnolia Story (biography)
February- Two by Two (romance)
March- Love Does (Christian/nonfiction)
April- A Man Called Ove (fiction/humor)
May- Hands Free Mama (parenting book)
June- Happy Wives Club (marriage book)
July- The Chemist (mystery/thriller)
August- All the Light We Cannot See (historical fiction)
September- The Outliers (education)
October- Rising Strong (personal development)
November- Raising Grateful Kids in an Entitled World (parenting book)
December- The Ultimate Gift (fiction/inspirational. Part one of 3 part series)
As you can see, we spent some time trying to cover a wide range of genres! If you would like to see a short description of each book, click here.
Also, be sure to use #SDMBBookClub2017 all year long to be featured on Instagram! And please share this new community with your book loving friends. We would love to get to know our community better, and we hope to do that through this group!