Don't bite my head off… but I'm not a PSL fan.
However I am in love with Bux's pumpkin scones. Well at least I was, up until a few years ago when they somehow managed to change the recipe, or change the bakery. I have no idea! All I know is that they aren't as good anymore.
Since then I have looked far and wide for another to replace it. I have bought, researched, baked and eaten my fair share of pumpkin scones. But it wasn't until a few weeks ago when my husband so kindly mashed up some yummy, delicious pumpkin scones for me. Yes my husband bakes, and he's actually a really good baker. So how could I ever improve upon his yummy scones? Just wait!
Beware!
These pumpkin scones may be addicting 🙂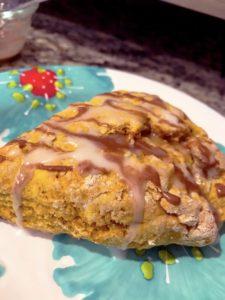 Ingredients
1/8 tsp Nutmeg
1/2 tsp Ground Clove
1/2 tsp Ground Ginger
1 tsp Sea Salt
1 tsp Cinnamon
2 tbsp Baking Powder
1/2 cup Sugar
4 cups All Purpose Flour, plus more for dusting
1 Egg
8 tbsp Unsalted Butter
1 cup Heavy Cream
15oz can Pure Pumpkin
Glaze
2 cups Powdered Sugar
1/2 tsp Vanilla
water
cinnamon
Directions
1. First start by cutting butter into cubes and place in fridge to keep cold while you prepare the rest of the ingredients.
2. In one bowl whisk all dry ingredients to combine. In a second bowl whisk pumpkin, egg and heavy cream until well mixed.
3. Add cold butter to dry ingredients and mix with pastry cutter, if you don't have one available you can use two forks to cut butter into flour. Do not use hands as this will melt the butter. Once the butter and flour resemble crumbs, pour in your wet ingredients and mix with spatula.
Do not over mix!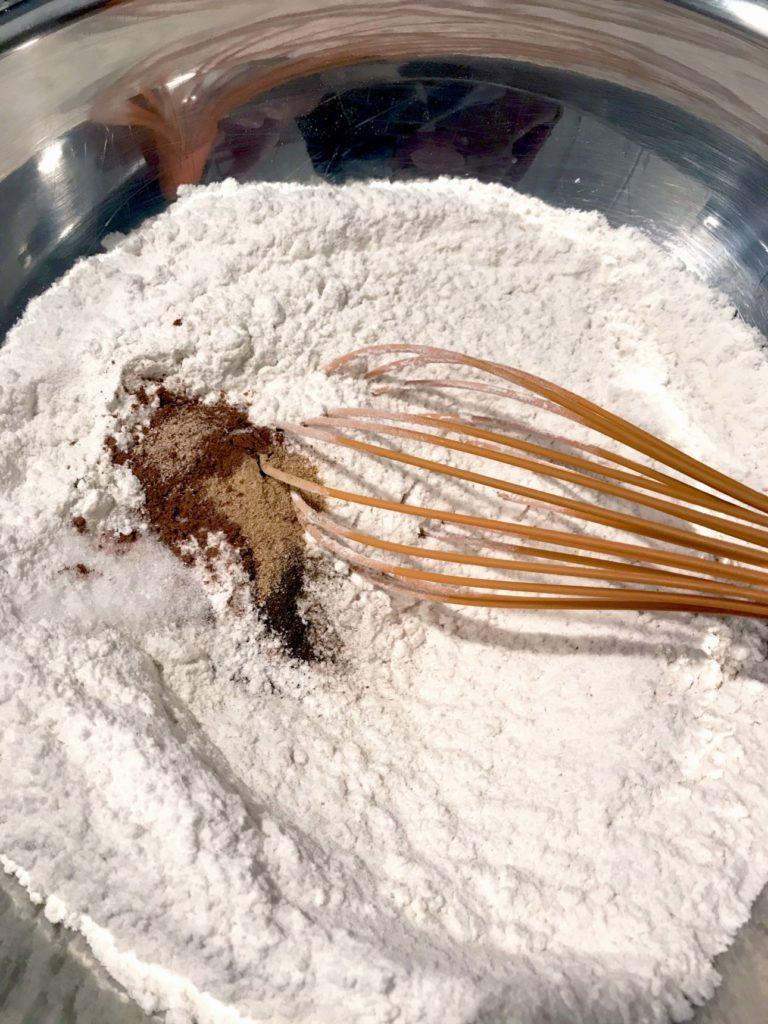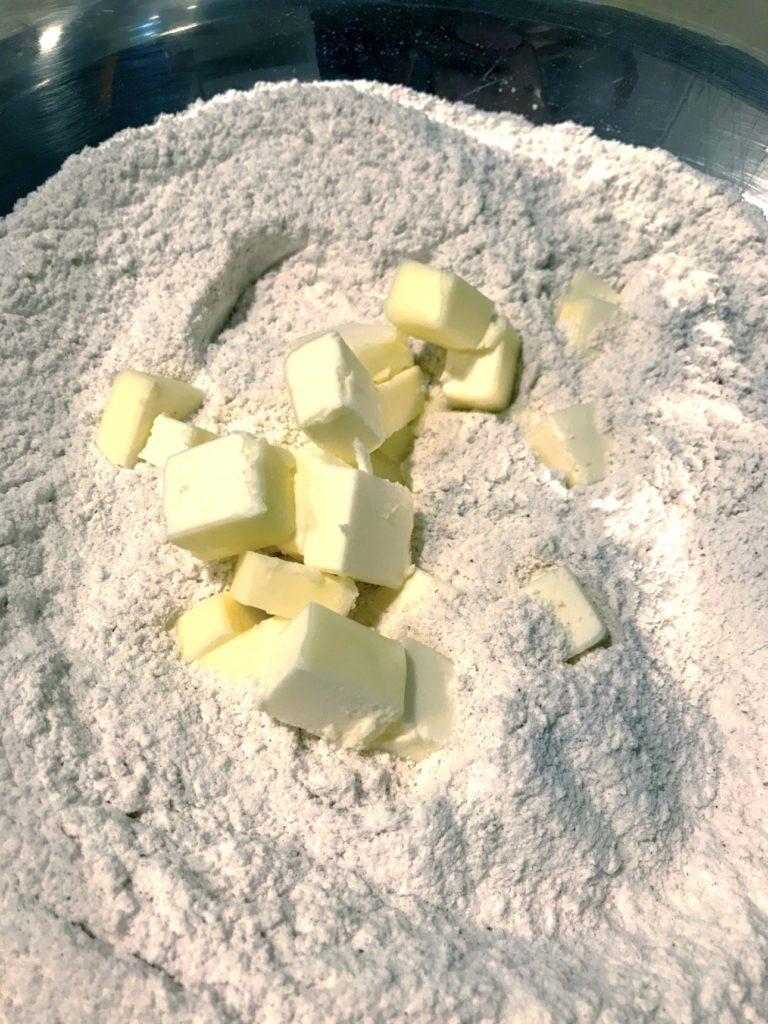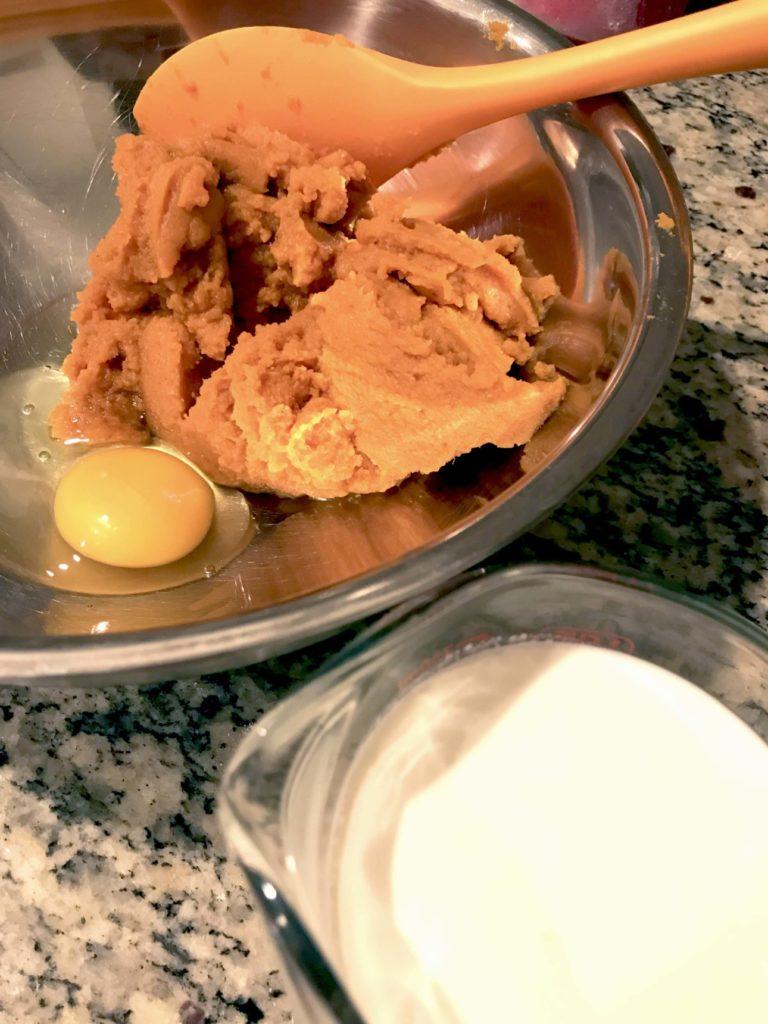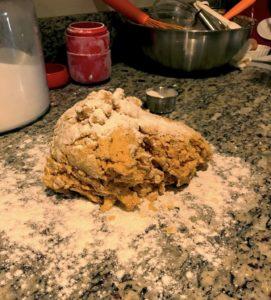 4. You may want to mix until everything is super combined, but don't, gently fold over until most of the flour has been mixed in.
5. Dust a bit of flour over counter and place your dough on top, dust a bit more flour on top and pat it out with your hands until you form an 8 inch circle (no need to be precise here).
Prepare your baking sheet with parchment paper and cut your round in half, then quarters and finally into 8 equal-ish pieces.
Place your scones on cookie sheet with enough room to expand (if your cookie sheets are small you may need to use two).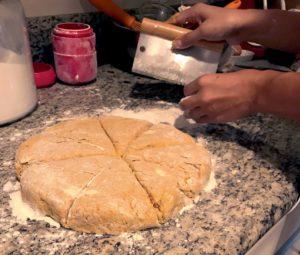 6. Let the scones rest in the refrigerator for about 15 minutes. This is a perfect time to start heating up your oven to 400 degrees and clean up a bit.
7. Bake for 20-25 minutes
8. To prepare glaze mix two cups of powdered sugar with vanilla and about 3 tbsp of water (use judgement here and make your glaze as thick or runny as you'd like). Reserve about 1-2 tbsp of glaze and add a sprinkle of cinnamon.
9. Once scones are cooled cover with glaze and drizzle cinnamon glaze on top.
10. Enjoy with your favorite coffee!
These are by far my favorite scones ever! And believe me, I've made a lot.