October 6th is Clean Air Day in California! Take the Clean Air Pledge and commit to using public transit more often.
All kids love to see the trolley or bus go by. But have you ever been on the bus or the trolley in San Diego? Figuring out the system can be daunting, especially if you are riding public transit with kids.
Never fear! You'll be a pro in no time, thanks to these three easy steps to riding San Diego's Metropolitan Transit System (MTS) with kids.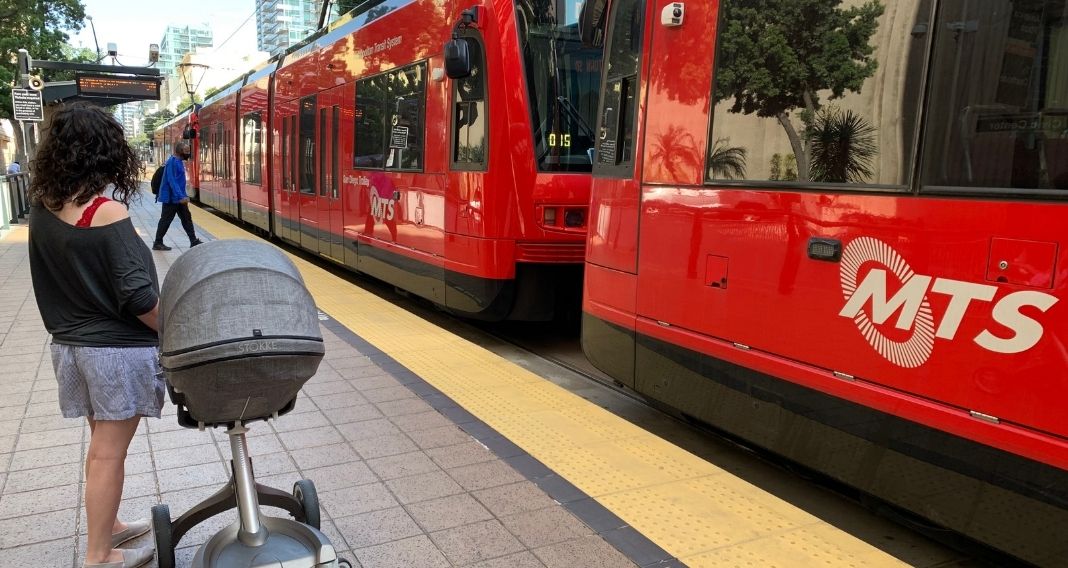 Step 1: Find your route and station
My go-to method for planning my trip is the PRONTO app. Select "Next Departure" for the buses and trolleys leaving from stations close to your chosen location. Or choose "Trip Planner" to enter a starting point, destination, and time of departure.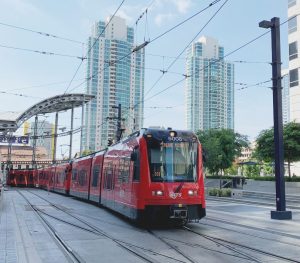 If you're not using the PRONTO app, all this can also be done in a web browser. Tell your search engine, "Navigate to [destination] via MTS," or "Navigate from [location] to [location] via MTS." This will bring up a list of choices for how to reach your destination via trolley or bus. You can change your departure and arrival times and choose your route, all in one place, just like in the app.
San Diego has three trolley lines: green, blue, and orange. Some lines share tracks and stations, so check the display on each trolley as it arrives to make sure you're getting on the line you want. Also, check the arrivals display above each track to be certain you're on the correct platform for the direction you're heading.
Step 2: Pay your fare
Let's start with the best news: Up to two kids ages 5 and under ride free with each paying adult on trolleys and buses. On weekends, up to two kids ages 12 and under ride free with each paying adult. Reduced fares are also available for kids ages 6 to 18 who complete an application.
The adults in your riding party have three options to pay for the trip: mobile app, vending machine, and PRONTO Card.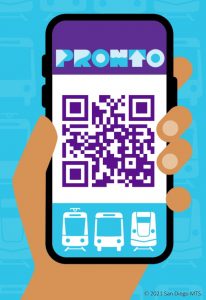 Mobile app
By far the fastest way to buy tickets on the fly is through MTS's mobile app PRONTO. (Search for "PRONTO San Diego" in the app store.) The app links to a credit/debit card so you don't have to re-enter payment info every time you purchase a ticket.
Once you've signed up, buying a ticket takes about 15 seconds. (Most days I do this while I'm pushing the stroller and running for my trolley.) You can link multiple cards to your mobile account, so you can carry the fare for the whole family on one device.
PRONTO Card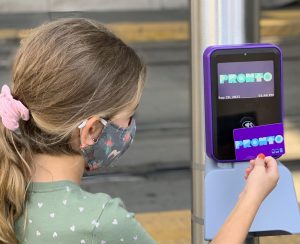 Transit passes, called PRONTO cards, are the size and shape of a credit card. Purchase and load your PRONTO card at the vending machine at your trolley station (see below) or at your local grocery store or transit center.
When it's time to board, scan your card at the station or on the bus and the correct fare will automatically be deducted from your account.
Vending machine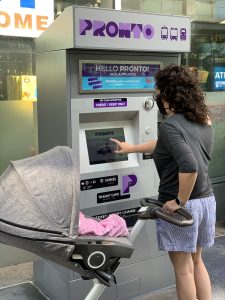 Every trolley station is equipped with at least one PRONTO ticket vending machine that accepts cash and credit/debit cards. Here, you can purchase a single-ride paper ticket for the trolley, or a refillable PRONTO Card. Important: Tickets are not sold onboard trolleys, so pay your fare before you board.
You can also purchase a one-way fare onboard the bus using cash only – no credit or debit cards, and no change is given. If your trip includes a transfer, the ride charged to your PRONTO card will automatically allow transfers for two hours after the first scan.
Step 3: All aboard!
On the trolley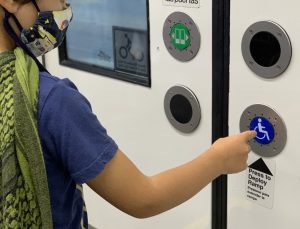 Trolleys are very family-friendly. Large aisles accommodate most strollers, bikes, and carts full of stuff – all of which you'll see regularly onboard. Heavy stroller? Push the trolley door's blue button with the wheelchair symbol to get a ramp-up to the trolley. (Back up and wait a minute for it to deploy. The kids love this part!)
Depending on the time of day and station, trolleys may stay at the platform for long minutes or mere seconds. Be ready to board and keep your kids away from the yellow platform sidewalk – as I tell my little ones, seeing kids close to the tracks makes the drivers nervous!
Officers randomly patrol trolleys, checking that passengers have valid fares. You won't always see an officer, but have your ticket or app ready to show when they do pass through your trolley car. Riding without a fare can cost you a $25 fine.
On the bus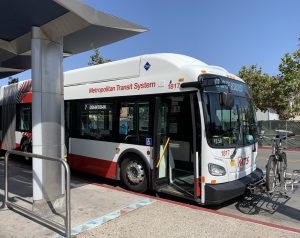 Buses are also kid-friendly, but they do not accommodate strollers as well as trolleys do. Some drivers will ask you to fold up your stroller before boarding. I learned to pack an easy-to-remove kid-gear bag and bring my quick-fold stroller when I plan to take the bus.
Pay your cash fare, tap your PRONTO card, or scan your mobile app when you board. Buses don't give change, so bring the exact fare if you can. Some buses will announce the next stop, but feel free when you board to tell the driver where you plan to get off, especially if you don't know the area. Drivers are generally very helpful and will give you a heads up when your stop is approaching. My kids love to pull the yellow cable to signal the driver that our stop is up next!
But Is It Safe?
Rowdy or loud behavior at transit stops can make riders – especially parents – uneasy. Walking past a person camped out with all their belongings can be uncomfortable. But the perception of public transit as dangerous or scary is mostly unfounded in San Diego. The Metropolitan Transit System has recently beefed up its security presence and continues to improve its security practices.
While waiting at the station, be confident, stay alert, and talk to your kids about your experience. If you feel uncomfortable, don't hesitate to move away from anyone who seems dangerous or unsanitary. As more families use and promote public transit, the system will get even safer and its reputation will improve.
Once you're in the swing of it, public transit will open up San Diego to you and your family. Take transit with kids to a San Diego Moms event, or to Old Town, San Diego Zoo, Liberty Station, or Mission Valley. Petco Park and the airport are an easy ride away. With only a little planning, you and your kids can be riding San Diego's bus and trolley in style!
Note: San Diego's transit fare system was updated from Compass to PRONTO in October 2021. Compass cards and the Compass Cloud app are no longer accepted.