I never thought that I would be "that person" who had a hard time getting pregnant.
My sister sneezes and gets pregnant.
So when my husband and I started trying to have a baby and things weren't happening like I imagined they would… I panicked.
"There must be something wrong with me!" or "Maybe it's you!" were all things that I had to process over and over again in my head (and usually said to my husband).
Little did I know, getting pregnant wouldn't be the hardest part of our journey.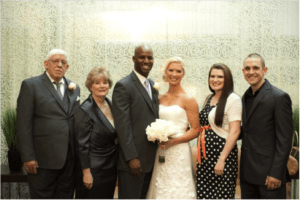 After about six months of trying, we decided to make an appointment with a fertility clinic. Our insurance doesn't cover a single penny when it comes to "elective treatments". Since when does getting pregnant go along the same lines as a tummy tuck or nose job?
There were some tests done on both my husband and I just to make sure there wasn't anything major causing us not to conceive.
He was in the clear; I however, learned that I have a condition called Endometriosis. Basically that means that the tissue that normally lines the inside of your uterus — the endometrium — grows outside your uterus causing difficulties.
Our fertility doctor was amazing. She made sure that we understood exactly what was going on, what our next steps were, and gave us honest answers about the timeline to having a baby. We decided to try the first step and I started a round of Clomid to help produce more eggs. This gives you a better chance of getting pregnant since your body usually only makes one egg per cycle. This medicine made me feel very sleepy all the time. I had to do two rounds like this with no luck before moving on to our next option; IUI.
"Intrauterine insemination (IUI) is a fertility treatment that involves placing sperm inside a woman's uterus to facilitate fertilization.
The goal of IUI is to increase the number of sperm that reach the fallopian tubes and subsequently increase the chance of fertilization." Round one, failed to conceive… Round two and we got that positive sign we had been waiting for!
I found out the day before my 28th birthday and right before my husband and I were heading to Wine Country California to celebrate my birthday. No greater gift could have been given than the possibility of having that baby inside of me.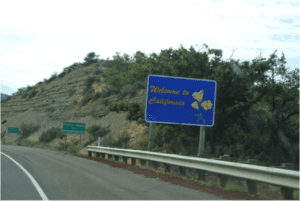 When you go through fertility treatments you have a TON of appointments…lots of bloodwork, ultrasounds and checkups. Now it was time for my first ultrasound since the positive test and bloodwork. My husband and I got to see that little round dot on the screen that was our baby! Literally jumping with joy and crying happy tears at the same time, we left our appointment and were told to come back in a few weeks.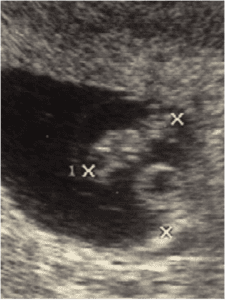 The weeks passed and we started thinking about names, if baby was a boy or a girl, and planning the nursery. We knew it was early in the game, so we only told our closest family members. At five and a half weeks, Mike and I went back to the clinic for our ultrasound.
"Are you excited to hear the heartbeat?" our doctor asked us as she walked into the room. Of course we were! I lay on the table looking at the monitor when the doctor got a concerned look on her face.
"We would be able to hear the heartbeat and I am not getting one".
I remember looking at Mike and my heart sank. What do you mean there isn't a heartbeat! She told us to come back a week later, but to mentally prepare ourselves for a miscarriage.
That whole week was a nightmare. I literally HAD nightmares about losing our baby. Something I had wanted so badly might not really be there and we would have to go through this process again.
Would we try for our own baby again or just adopt?
I have never prayed so much or been so depressed. The day of my ultrasound came and I woke up in horrific pain.
The miscarriage was coming.
I was crying and screaming and almost went to the hospital. The pain was unreal. Mike and I managed to get to the fertility clinic and the doctor told me before she started the ultrasound to be prepared. Holding Mike's hand as tight as I could, she started the ultrasound. Before she could even say anything… thump, thump… and then it got louder. "That's a heartbeat" the doctor said. She looked at us with a big smile and I burst into heavy tears. "You have a strong baby in there, just needed a little more time to bake".
Fast forward to May 23rd, 2014 and I delivered the healthiest baby boy we named Hudson Douglas. I was induced at 40 weeks and 5 days due to measuring large.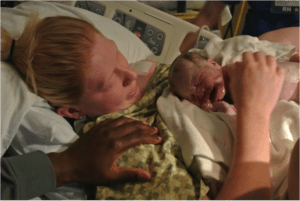 I only pushed 4 times and he was out. The smoothest pregnancy and delivery I could have ever imagined. No morning sickness, no other problems. I guess we got our scare in the beginning, but it was totally worth it.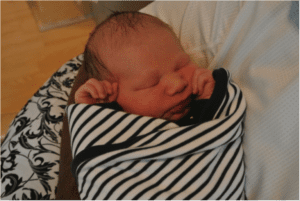 Hudson is now a little over 2 years old, running so fast that I can hardly catch him, and saying a ton of words. He is the best little boy for his mom and dad and we are so, so blessed to have our little man.
Thank you for allowing me to share my story with you. I hope that you can relate somehow or it helps you on your fertility journey. Never give up hope.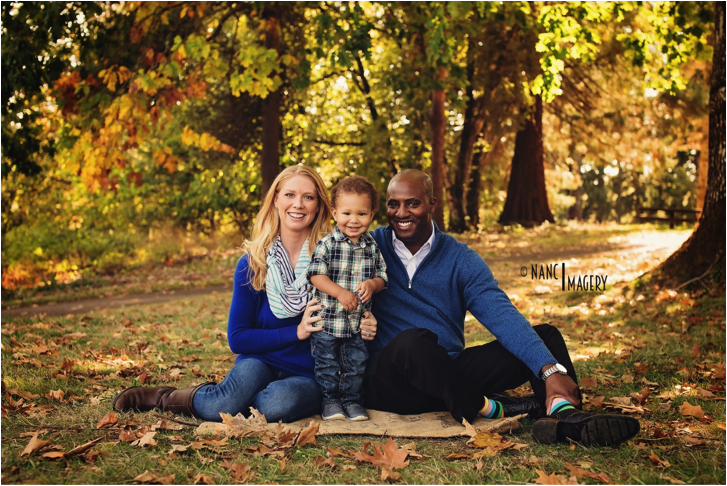 Kayti is a wife, mother to Hudson, and owns an online store called Cute as a Button Baby Boutique. She lives in Wilsonville, Oregon where she has lived almost her whole life. A graduate from the Fashion Institute of Design and Merchandising, she decided to open her online store shortly after her son was born. As a mom who works from home, she manages to never miss a minute with Hudson. She is a Christian, list making addict, and lover of fashion.