My son is not sporty! He has never been into baseball, soccer or basketball. He's never really had the inclination to shoot hoops or play catch.
And, I'm okay with it.
At three, we enrolled him in T-ball, and as most toddlers do, he ran around chasing the ball eventually getting frustrated. From 5-7 he played soccer; at first we thought he liked it. Then his frustration set in, as he never scored goals. In the end he hated soccer.
What are we as parents supposed to do in these situations?
Do we keep pushing our kids into sports they are clearly not good at?
Do we let them quit?
What would you do?
I'll tell you what we did- we let him decide. If he's not having a good time and he hates doing sports then I'm OKAY with it.
Over the past two years my son has had the opportunity to do Running Club at school. THIS is something that he actually enjoys to do. We meet at the field once a week and he gets moving and running. He really likes it.
Yet, one day last Spring he came home a sweaty mess and red with anger. A kid told him that he ran "too slow" and didn't want to pass the baton to him during the relays. I get it though, he isn't the fastest, and he knows it. But he likes running and I want to encourage him.
What I've come to realize is that the expectation from other boys is that he IS sporty. Recess comes along and kids want to play basketball, he gets excluded because he isn't good enough. His friends play soccer and he runs around after the ball, never getting a pass. And as I write this my eyes fill with tears because this, this is what I'm not okay with.
So what do we do now? Force him to be sporty, drag him to practices, make him do something he doesn't want to? No!
My son loves art, video games, music, reading. He can entertain himself in a made up world of imagination and draw his little brains out. His pastime is watching videos on how movies are made, how to draw characters and build a story line. He likes music and his favorite composer is Mozart. You see, my son is who he is and if he isn't the sporty kid that is okay with me.
But is it okay in elementary school society?
We expect and impose certain codes and rules for boys and girls even in this day in age. We expect that a guy will know how to mow the lawn and catch ball, to grill a mean steak and fix a flat tire; the same way we expect girls to know how to put on make up and do laundry or whatever else seems girly.
My point is this, my son gets excluded and made to feel bad by the other boys because he is not good at one thing, when in reality he is good at many things. Not only that, but as a society we haven't told our boys that it's okay to be themselves and not fall under these "boy rules".
We've done it with our girls! We keep empowering our girls to be and do anything. They can be sporty if they like, or not, and it's okay.
To the mom of the boy who made my son feel bad on several occasions: just tell your son that it's okay to be a boy and not be sporty. It's okay to love music and art and be creative! It's okay to pass the baton even when the next kid isn't the fastest.
I love my son for the little boy he is and I continue to hope that as he gets older he encounters others that are like him. People that will build him up.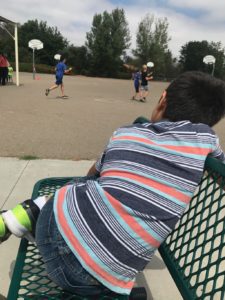 For now, I will just tell him that if he isn't the fastest and someone tells him that, then it's the harsh truth. Even when it breaks a mother's heart as the new school year begins and he's decided he wants to stop doing running club (update since the beginning of the school year). I'll keep encouraging him to do the things that make him happy because that's what us moms need to do; encourage, mold, help and push them. I will teach him that in life we encounter all sorts of people and we need to build a tough skin to survive.
Most of all I will teach him to do what he loves.