It's that time of the year . . . St. Patrick's Day is just around the corner on March 17th! The day when most of us scour our closets and jewelry boxes looking for anything with green.
If you hurry, these shirts on Amazon will make it just in time: Lucky Mama and Luckiest Dad Ever t-shirts will be sure to be a hit!
I've rounded up a few ideas that I'll be doing this St. Patrick's day with my toddlers and I want to share them with you!
First off is reading.
We love books at our house and always look for a book about the current season or holiday. I found that St. Patrick's Day has fewer book options than the large holidays, but we found this one The Night Before St. Patrick's Day by Natasha Wing. We have a few of her 'Night Before' books and highly recommend them.
Of course you can't have a book without a proper bookmark. I found these here.
Now onto my favorite St. Patrick's Day activity:
The leprechaun trap! This is such a fun craft to do as a family. There are loads of ideas on pinterest for these, but the fun comes in how unique each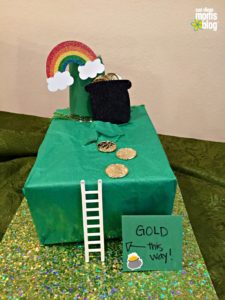 trap is.
As your child gets older, they can add moving parts and complexity. For my example, I used a toy ladder and sign to entice the leprechaun to come up and grab that pot of gold. After-all, leprechauns need as much gold as they can get.
What he doesn't know is that as he goes for the gold he'll fall through a small trap door! You'll want to leave this trap out the night before St. Patrick's Day and leave a funny note for your little one the next morning. We got the idea for a tricky note from the book above. The leprechaun is always too clever for the trap and they leave a note telling your kids better luck next time!
How about a couple of snack ideas?
A few months ago I found this recipe on the Raising Whasians Blog for green punch and loved it! While it's meant to remind us of the Grinch, it works great for St. Patrick's Day.
These Sweet Spinach Muffins are a hit at our house. I found the recipe a month ago on the Super Healthy Kids blog and have already made them twice!
So there you have it. Hopefully some of these St. Patrick's Day ideas will help you liven up the day for your kiddos.
Did you know San Diego has an awesome parade and festival to celebrate St. Patrick's Day? Check out our latest post about where to go to celebrate!