Like me, you may be familiar with Stephen R. Covey's book The 7 Habits of Highly Effective People, at least in title recognition. This school year, my daughter began attending a Leader In Me school. Students are taught leadership principles that can be applied in school, home, and beyond. As a result, my first-grader has integrated the 7 Habits of Happy Kids into her daily life. If your child is not at a Leader in Me school and you'd like to incorporate the habits into your home, check out Sean Covey's book The 7 Habits of Happy Kids. Read on to learn the value of these 7 habits.
Be Proactive
This habit is the key to the 6 habits that follow. It focuses on taking responsibility for our behavior and choices. In teaching children this habit, we are helping them learn that different choices lead to different outcomes. They learn to stop and think about their choices and how to react to various situations.
Begin with the End in Mind
In the second habit, we consider what outcome we would like to achieve before we start something. We are picturing our ideal ending and then working through the steps to achieve that outcome.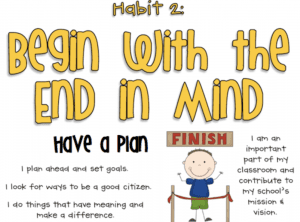 Put First Things First
For habit #3, we help our children learn to put first things first. Children gain an understanding of how to decide what is most important and take care of that first. This helps alleviate stress when there are a number of tasks to be completed.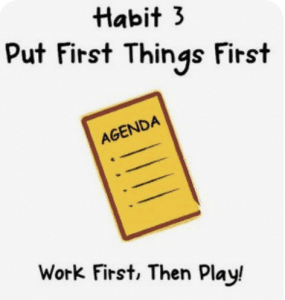 Think Win-Win
I personally love habit #4. The message here is that winning isn't just about one person getting ahead. It's a solution-oriented mindset that reminds us that there is enough goodness to go around. We share triumphs with others vs. competing in a negative mindset.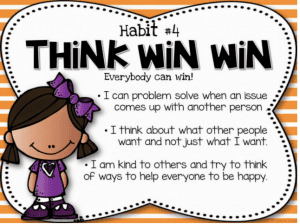 Seek First to Understand then to be Understood
With this habit, children cultivate their listening skills by actively listening before speaking. We also learn that listening to another involves more than just hearing with our ears. It's about engaging with others by observing their body language with our eyes and emotionally connecting with our hearts.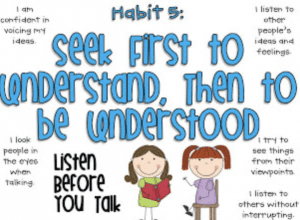 Synergize
Habit #6 teaches us that Together is Better. It's a solution-oriented mindset driven by the knowledge that working with others to solve a problem is more effective than working alone. This thought process reminds us that we may have a good idea on our own, but we can strengthen it by seeking input from others.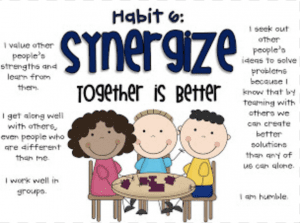 Sharpen the Saw
The final habit stresses the importance of balance in our lives. Our desired results are more easily achieved when we are in balance. Our bodies, brains, heart, and souls work together best when we give ourselves the opportunity to slow down and recharge each of them.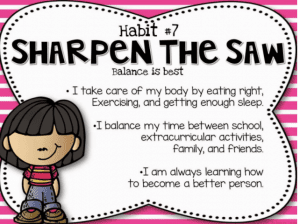 There are so many strong messages in each of the 7 habits. This is a great parent resource to gain additional insight into integrating them into practice at home and beyond. In what ways does your child already practice these habits?