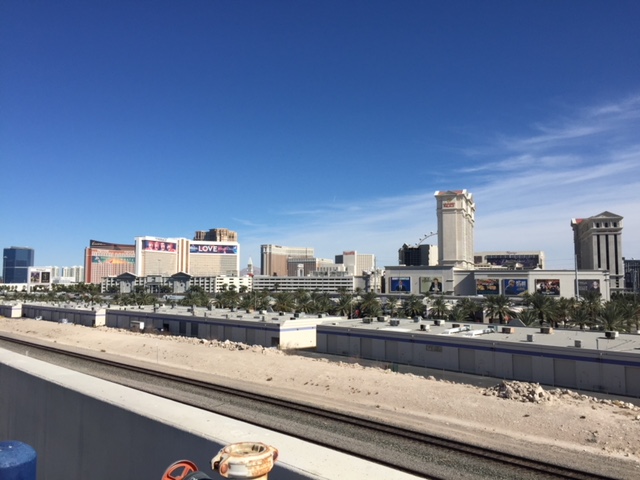 This month we traveled to Las Vegas for a family reunion/birthday celebration for my mother-in-law, who has forbidden me from sharing her age in public. We love her dearly, and we were happy to experience the City of Sin with 6 children under 6.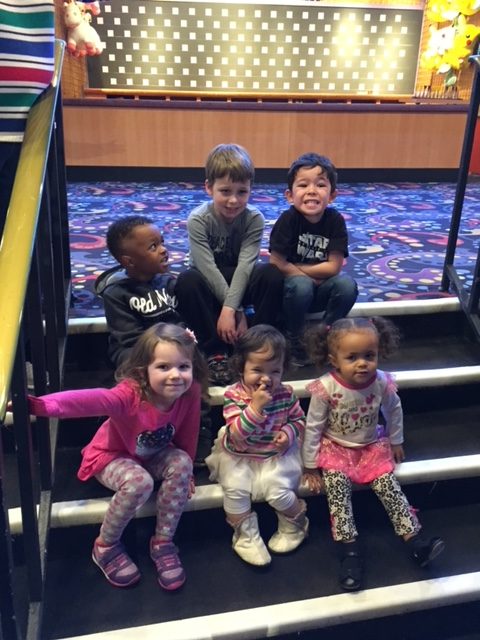 While we had some minor hiccups, a little planning and strategy got us a long way. The kids had a great time! I compiled my helpful list of tips for going to Las Vegas with kids below, separated into the following two categories: Traveling on a budget, and entertainment. (NOTE: This is not meant to be a comprehensive list. Attractions and restaurants close and open in Las Vegas all the time, so check ahead and do your own research. Have a blast!)
A) How to Travel On A Budget
Airbnb Luxury:
We chose to stay in 2 apartments in the same AirBnB property off of Desert Inn Rd., about 2 miles and a 10-minute drive from the Strip.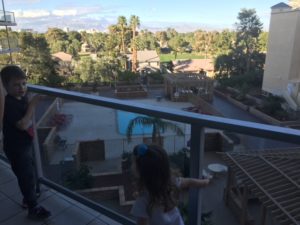 These 3-bedroom apartments had washers and dryers, and full kitchen setups. Our kids loved the bunk beds in the master bedroom, and they had a sleepover every night. We loved being able to make breakfast in the mornings before heading out. We also did a movie night in and cooked up some pasta at home one night to save some cash.
If you'd like more information about the property we chose, comment below. Our host, Cody, was wonderful!
Groupon and LivingSocial:
Check both of these sites before you head out on vacation. These are my favorite deals currently available on LivingSocial:
$20 GameWorks Arcade Passes
27% off the High Roller at the LINQ
$13 GlowZone Passes
Of course, they change all the time. There are quite a few buffets on there too, but the deals tend to revolve around adding alcohol to your meal. With little kids around, that would have been a depressing waste of money!
Transportation:
We traveled in our car since we drove to Vegas. Some of our cousins rented a car, and other relatives took Uber everywhere. I compiled quick tips from all of them.
Traveling in your own car/rental:
Nearly every hotel now charges for parking. That goes for BOTH valet and self-parking. The rates don't make a lot of sense, either. Some of the "fancy" hotels charged less than the "budget" hotels. When you're deciding what to do for the day, pick a central location so that you only have to park once and walk from there. We did self-parking at most locations.
Taking Uber or Lyft:
Send the driver your location, not the street address of your hotel or your restaurant. A single hotel can have 5-6 different entrances! Coordinating with your driver to figure out where the heck you are is a headache you do not need.
B) What to Do/Entertainment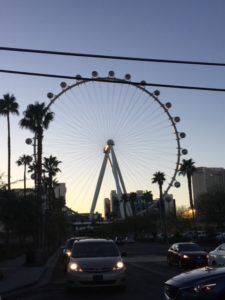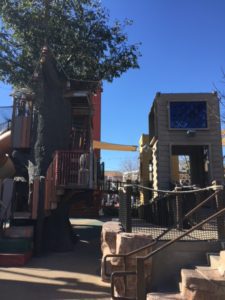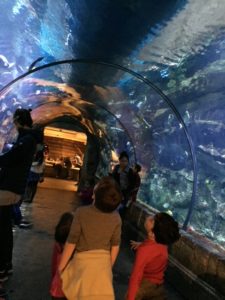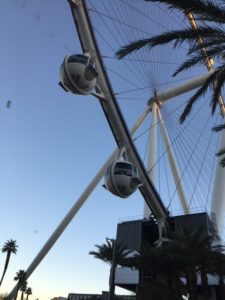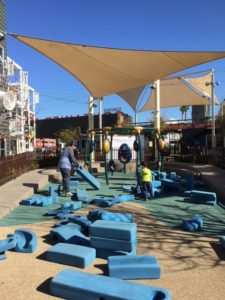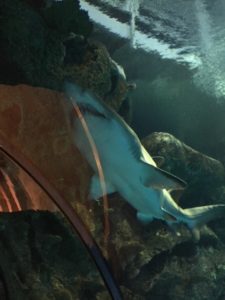 This is the Ferris wheel standing outside the LINQ Hotel (formerly Imperial Palace.) It is massive, and overlooks most of the Strip. It moves very slowly and you stand inside a sealed pod, so it is very safe for kids. Strollers can even be brought on board. Look for deals online, and don't pay full price.
Downtown Container Park (FREE!)
We made our first visit here, and loved it. The park sits on 7th St. downtown, so you can plan your visit to Fremont St. and include an hour or two here. It's got fun for crawlers, walkers, and runners too.
In addition to the free park, there is a Dome IMAX-style movie tent, restaurants, and shops including a toy store, a candy shop, and a popcorn shop.
The aquarium is one of the more expensive family-themed activities in Las Vegas. It is $25 for adults, and $19 for kids ages 4-12. But children under 3 are free! We sent in 1 adult and three kids, and only had to pay admission for 2 of them.
The exhibits are gorgeous, and the shark reef itself has to be seen to be believed. We're aficionados of aquariums in general thanks to places like the Birch Aquarium in La Jolla, and this one lived up to the hype.
The Coca-Cola Store and the M&M'S World shops are a fun break for kids of all ages. They're placed together on my list because they are next door to each other! You can sample Coke flavors from all over the world, and create your own custom M&M's!
GameWorks may be a good fit for the slightly older child. NEVER pay full price here. There are always deals available online, like the LivingSocial deal mentioned above!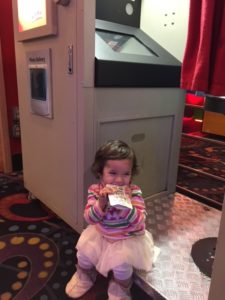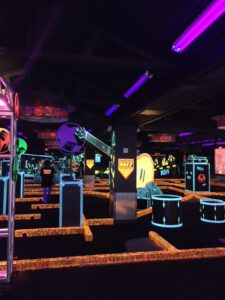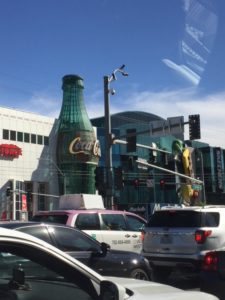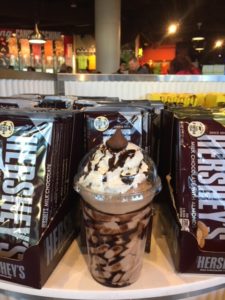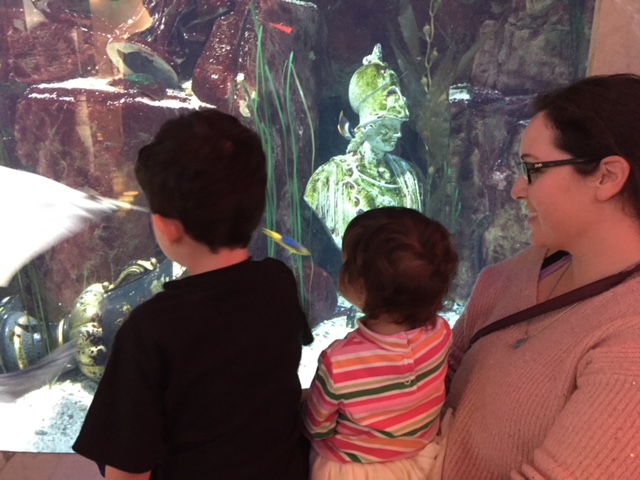 Circus Circus is an older hotel – and it doesn't have a lot of great food options. That being said, it is very affordable and accommodating to families. They have a large arcade with a theater in the center, where clowns, acrobats, and magicians perform for free several times a day. Take kids upstairs to the AdventureDome to ride the bigger rides.
Bellagio Fountain Show (FREE!)
The show runs every half hour during the afternoon and every 15 minutes at night. We saw the fountains play along with a Frank Sinatra song, and the Star Spangled Banner. Then, we went into the Bellagio for more free spectacles!
Bellagio Art (FREE!)
Artists create a new landscape using fresh flowers several times a year in the conservatory. We caught the display for the Lunar New Year. It is just gorgeous. Also, don't miss the Chihuly flowers in the lobby ceiling.
Caesars Palace Show & Aquarium (FREE!)
The Caesars Palace Forum Shops are the place to catch the Fall of Atlantis animatronic show and their 50,000-gallon aquarium. They are both free, and mom and dad can get some shopping done!
Hershey's Chocolate Deliciousness
We love the free samples at the 2-story Hershey's Chocolate World attached to New York, New York. We also loved the chocolate milkshakes!
The KISS Mini Golf and Arcade was so cool – and not badly priced, either! Rock n' roll fans will flip. It is located inside the Rio Hotel. Kids 3 and under are free, and everyone else is $11.95. The mini golf is glow-in-the-dark, there's a live DJ playing… and adults will love the memorabilia (oh, and there's a wedding chapel, too.)
We've got a bunch of kids who love to bowl. You will find bowling alleys at Gold Coast, the Orleans, Brooklyn Bowl, and Sam's Town.
Final Thoughts:
If the idea of taking children to Las Vegas still stresses you out deeply, take a close look at the calendar. Avoid mega holiday weekends, like Labor Day and Memorial Day weekend, when people will be partying hard. Travel during a quiet week, like we did – people behaved very well in mid-February, and highs hovered in the 60's and low 70's. We also avoid going in the scorching heat of summer!