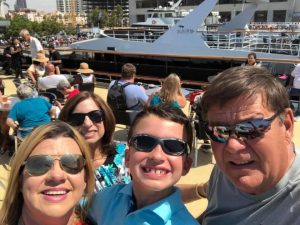 The first Sunday after Labor Day marks National Grandparents Day!  This year that date is September 13th.  It is a day that celebrates that special connection children have with a grandma and grandpa.
At my house, we are so very fortunate to not only live close to my parents, but my son gets to spend regular time with them.
However, because of the pandemic and those families that live far apart from one another, the celebrations may look a little different this Sunday.  Here are some ideas with a twist so that everyone can celebrate family and Grandparents together.
Dessert or Virtual Feast
This year we are baking pumpkin cheesecake brownies and doing a drive-by delivery.  However, if you don't live close enough to drive by, set up a virtual brunch or dinner.  It is a great way to enjoy a meal and have everyone connect.
Art
Who doesn't love kid-created art?  Whether it is a card or a coloring page, nothing is more treasured to a parent or grandparent than a custom creation.  Whether you have already sent it or cutting it close to a deadline, have your child make a handmade card and drop it off on a doorstep or drop it in the mail.
Another fun twist on the idea of art is to create art together.  Have everyone grab some paper and art supplies and hop on zoom with Grandma or Grandpa and make it a fun art event.  It could be a theme that everyone creates their own unique version or a family portrait.  Get creative and just have fun.
Create a Movie out of Photographs
If your family takes lots of photographs, a great keepsake is to turn them into a movie or slideshow.  iMovie is an app that doesn't take a lot of editing experience.  My son and I have made movies to commemorate trips, end of the school memories.  You can add captions, music, special effects, and more.  There are several apps or even make a presentation in PowerPoint.  No matter the distance, it is a fun project that everyone will love.
Play A Game Together Online
My family loves to play games, so we have incorporated virtual game nights.  There are many online games, like Scrabble, Chess, Kahoot, or Bingo, that make coordinating virtual games easy.  In my family, we love to play Yahtzee, and luckily we all have the physical games at our houses.  So we Facetime or Zoom and play Yahtzee together, with the cameras set up on faces and the table, it is like we are sitting together in the room.
Whatever choice you pick, just remember it is about showing a little love and celebrating the Grandparents in our lives.  It truly is the thought that counts.  Happy Grandparents Day!