Lately, I find myself glued to the computer watching the San Diego Zoo and San Diego Zoo Safari Park's webcams. Before they were forced to close their gates, a trip to either the Zoo or Safari Park was a once-a-week excursion, at least, for me and my daughter. So, it thrills me to share that they will officially be reopening on June 20th. Let's highlight a few of the reopening details.

What to Expect
Of course, things will look a little different on your next trip. A number of new safety measures will be implemented. And according to their website shows, shopping, dining, and transportation experiences will be limited when the parks reopen. There will be plenty of signage throughout the parks to remind guests about the safety protocols that are in place.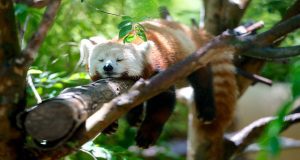 Some of the new protocols that will be required for entrance will be a health questionnaire and facial coverings for everyone over the age of 2 years old. Facial coverings will not be required while dining. Reservations will not be required for entrance but the parks will be limiting their capacity on a first come first serve basis. Something very important to keep in mind is that you will not be permitted to exit and re-enter the parks on the same day during their initial reopening. So, make sure you're planning your day accordingly, and don't forget anything in the car.

See You at the Zoo
You can head to the San Diego Zoo's website to read the complete details of the San Diego Zoo and San Diego Zoo's Safari Park's reopening. The page even includes a FAQ section for more specific information. So, what do you think? Are you excited for this reopening? What animals have you missed seeing the most? And when will you be making your first trek to the parks?