If you've got a little Star Wars fan at home, you are just as excited as we are today.
Star Wars: Galaxy's Edge is officially open! Here are some tips on navigating with kids: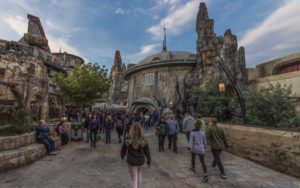 Galaxy's Edge is a 14-acre playground designed for the young and the old; and it helps to be armed. No, not with a lightsaber, but with a smartphone!
Galaxy's Edge is a fully immersive trip to a never-before-seen planet: Batuu. Black Spire Outpost is the town you are touring. Once a long time ago, it was a thriving marketplace. These days, it is overrun by smugglers, the Resistance, and the First Order. Once inside, you can use your phone and the Disney Play App to go straight into Galaxy's Edge mode. With it, you can translate alien languages from all over the galaxy. Open doors, greet new friends and enemies, and solve puzzles. Every character you come across has an elaborate backstory.
The shops are also different from the rest of the park; with minimal plastic packaging, you can find handcrafted toys and weapons, carved from wood or stitched with care. A shop stocked with porgs and other out-of-this-world critters is designed as a pet shop. "Antiques" are also for sale, including Jedi temple guard masks and Ahsoka Tano's double lightsaber. Be warned: the build-your-own lightsabers here are metal collectors items, and begin at $199!
The food resembles some of the items you'll recognize from the Star Wars films, including Luke's favorite blue milk. It is totally plant-based, made with coconut milk, rice milk, and fruit. Yum! (See a taste test here.)
Ride the Millennium Falcon
Only one ride is open in Galaxy's Edge for the next few months: Millennium Falcon: Smuggler's Run.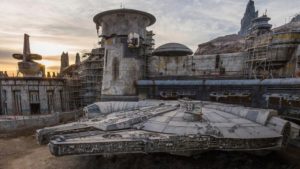 The massive ship will bring fans to happy tears as they climb aboard. Even more awesome: The immersive experience designed for the park continues as you take the pilot's controls. Fly well, and the hallways of the ride as you exit stay intact. Fly badly, and they show damage as you leave.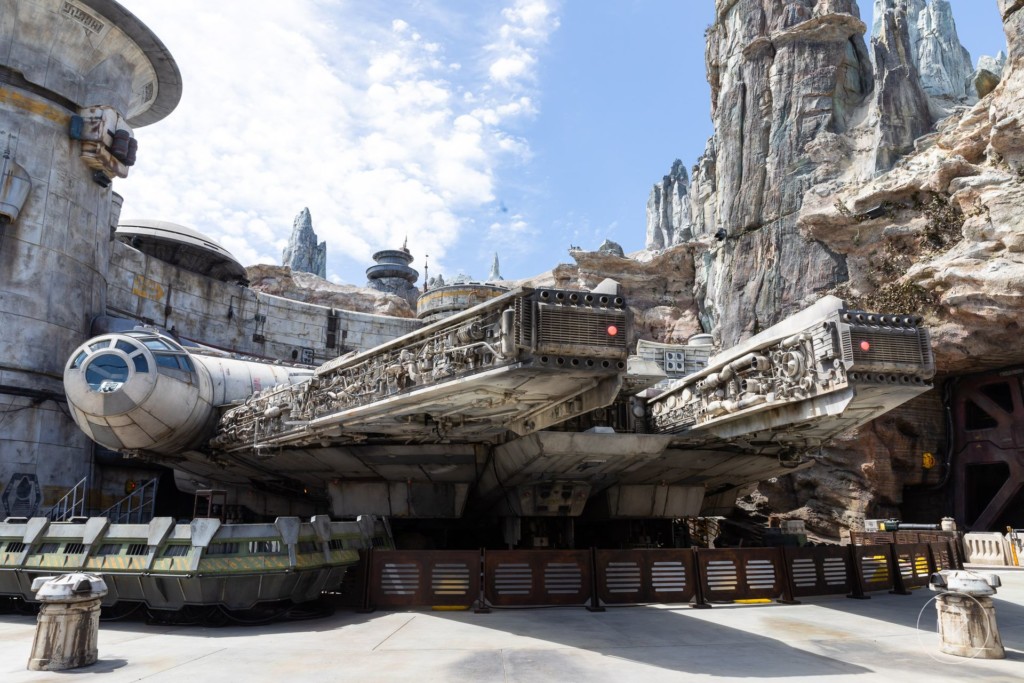 Even beyond the confines of the ride, your "score" goes with you, affecting exchanges with employees and creatures. How cool is that?!? By the way—don't bother talking about "Star Wars" here. No one who works here knows what that is! Go inside the Millennium Falcon here.
What You Need to Know About Star Wars: Galaxy's Edge
The most important thing to know is that Disney is executing serious crowd control with the new section of the park. You need a separate ticket, and up through June 23rd, you can only score that ticket with a standing park or hotel reservation. If your hotel reservation is cancelled, you also lose Galaxy's Edge access.
The Galaxy's Edge ticket is good for 4 hours. It cannot be used with any of the magic hours, and there is no FastPass or MaxPass in the new land. Starting June 24th, you'll be able to get in without an existing reservation. All of the latest ticketing info can be found here.
Learn More About Galaxy's Edge
Something I hear a lot: "What about kids? How do I find the best stuff in Galaxy's Edge for my family?" Here are my recommendations on who to follow to learn more:
On Instagram, Magical Kinda Mama is a great follow. She has two little boys, and shares tons of tips on food, merchandise, avoiding crowds, etc.
On Facebook, the Disneyland with Kids group is helpful. The admins are actually at the park on opening day, sharing tips and tricks.
For blogs and websites, I recommend the Disney Food Blog for yummy food intel, and Disneyland Daily for news with a side of mommy humor.
Are you excited about Galaxy's Edge? Tell us why in the comments!