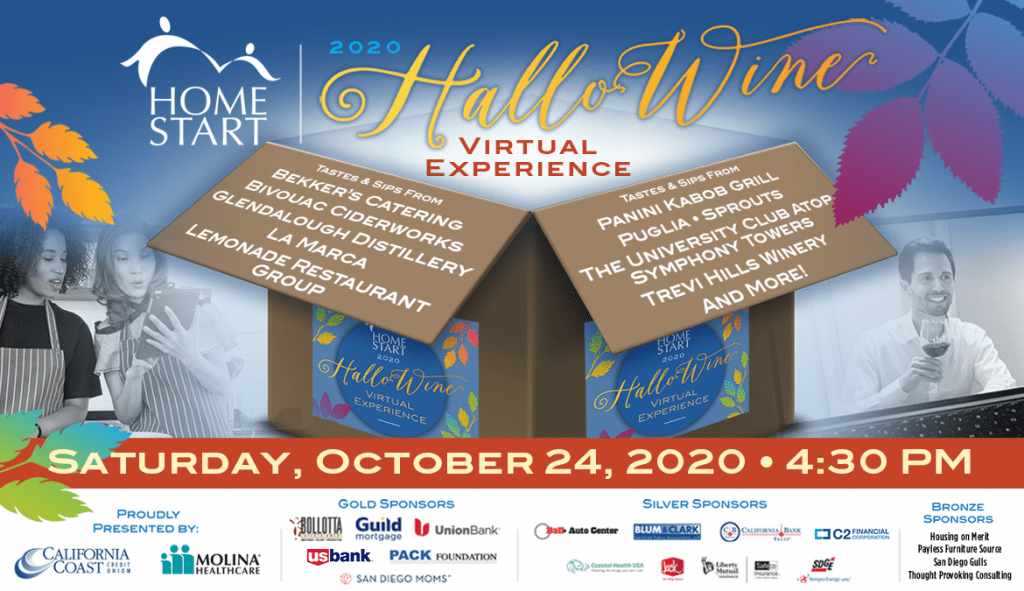 Home Start is turning over a new leaf this Fall for their annual fundraiser! They are carving out a unique virtual experience just for you! Will you join Home Start and be a part of their transformational and life-changing efforts?
The Hallo-Wine Fall Festival is held every October in recognition of National Domestic Violence Awareness Month. All proceeds raised provide critical assistance to San Diego's most vulnerable children and families through Home Start's programs. This is an opportunity to give back and have a fantastic time.
CODE SDMoms10 for 10% OFF!


As before, you will experience an array of delicious wine and beverage tastings, mouth-watering food, interactive games with prizes, client stories, and build new Home Start memories along the way. So, reach out to your family and friends who likewise want to support our mission, purchase an in-home tasting box (details below), and get ready for an experience that'll give everyone "pumpkin" to talk about!
If you thought it couldn't get much better, it can! Every dollar of your Hallo-Wine tasting box contributes to supporting the clients of Home Start who are experiencing challenges of domestic violence and local families struggling with the effects of COVID-19.
Fun AND philanthropic, what's not to love?!
Here's what the 4:30 – 6:30 PM virtual experience offers:
Interactive tastings led by our incredible vendor partners where you'll learn about locally crafted cider, wine, specialty cocktails, and beer. Vendors include Panini Kabob Grill, Bivouac Ciderworks, Glendalough Distillery, The University Club Atop Symphony Towers, Trevi Hills Winery, and more!
An inspiring message from a Home Start client
Fun games where you can learn about Home Start's excellent work and prove your trivia prowess in an attempt to win fabulous prizes!
Also, don't forget to check out the 2020 Hallo-Wine virtual silent auction launching Friday, October 16th. They are offering fantastic packages and activities for you to Fall in love with!
Your Hallo-Wine options (Adults 21 and over):
Home Start 'Feature' tasting box ($100 – can pay for a therapy session for a child victim of abuse) includes:
Panini Kabob Grill chicken share plate
Bekker's Catering charcuterie board (for boxes picked up at Allied Gardens and North Park locations)
Tastes of craft beer, cider, wine, and spirits, including mini-manhattans from the University Club Atop Symphony Towers, fruity cider from Bivouac Ciderworks, Trevi Hills Winery, Glendalough Distillery Rose Gin, and more!
Two Home Start tasting cups
Mini Home Start Bright Futures candle
Gift Certificates and discounts to local restaurants and vendors
On purchase, select a vendor partner location to pick up your tasting box from – either the day before or the day of the event.
Home Start 'VIP' tasting box ($150 – can pay for groceries and utilities assistance for a family devastated by COVID-19) includes all of the 'Feature' box PLUS:
A full-size premium beverage
6 oz. Home Start Bright Futures candle
Free delivery to your home or office (San Diego County addresses only) by Home Start board members and volunteers on Friday, October 23rd or Saturday, October 24th.
Not drinking? No problem! For $50, we can provide a 'Feature' box with taste bud tantalizing non-alcoholic options, too! We've got you covered!
Click here to buy your tasting box
Home Start is determined to make this year the best Hallo-Wine yet, and we would love you to be a part of making that happen! See you there!