Kids love fast food. Heck, I grew up on chicken nuggets and processed foods. Fortunately, I've learned to develop better eating habits and avoid the greasy stuff for the most part, but sometimes those cravings for fast food strike.
What if there was a place where you could indulge your cravings for a burger, fries and shake and not feel guilty or sluggish afterward? Treat your kids to fast food without feeling like you might be putting bad ingredients into their little bodies!
If you haven't discovered Plant Power Fast Food in Ocean Beach and its newest location in Encinitas, you should put it on your list of places to go. They offer items you'd find at a typical fast food place, but everything is plant-based, non-GMO, cholesterol free, and you won't find ingredients like high fructose corn syrup in their homemade organic ketchup.
The Ocean Beach location at 2204 Sunset Cliffs Blvd offers indoor and outdoor dining, while the Encinitas location at 411 Santa Fe Drive has only outside seating surrounded by a live veggie and herb garden.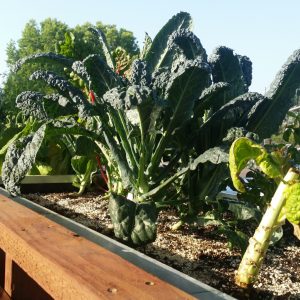 The Encinitas location has a drive-thru and the OB location has a drive-up window to pick up orders.
The kid's combo meals come with fries or organic carrots and a 12oz fountain drink or almond milk option. The fountain drink offerings are natural sodas and organic black tea or fair trade lemonade.
For the main course, kids can decide between mini corn dogs, 'chicken tenders' or a kid's burger. Keep in mind everything is plant based and meatless, but you really can't tell the difference!
I had the opportunity to test out many of Plant Power's menu items at the launch party for the Encinitas location – and wow, everything was so good! For parents of older children, here are some of the highlights and my recommendations. I didn't try anything off of the kid's menu, but I'm sure they are all really good!
The Big Zac – If you are really hungry, this burger is awesome! Two sizzled patties, special sauce, American 'cheese', lettuce, onions, and pickles. Sounds like a Big Mac, yep, pretty sure that is intentional.
The Holy Guacamole – This one has a nice spicy kick with guacamole, salsa, jalapeño, chipotle 'aioli', lettuce and tomato. All of the burgers can be made with a black bean patty or a 'beefy' patty. I've tried both versions and both are good! You can also get yours wrapped in cabbage instead of on a bun or with a gluten-free bun for an additional charge.
Raw Tacos – These tacos are freshly made and ready to go, which is great if you are in a hurry. I always feel very healthy eating these. The raw tacos are made up of seasoned walnut and pecan taco meat, cashew hummus, guacamole and shredded veggies in cabbage shells. You get two in your order and it's filling.
BBQ 'Chicken' Salad – This is my new go-to item. It is such a delicious salad. Organic chopped romaine, corn, black beans, cherry tomatoes, BBQ sauce, guacamole and 'ranch' dressing with grilled or crispy 'chicken.' I went with crispy 'chicken.' Also, their 'ranch' dressing is incredible. It's thick, homemade, and the best ranch I've ever had.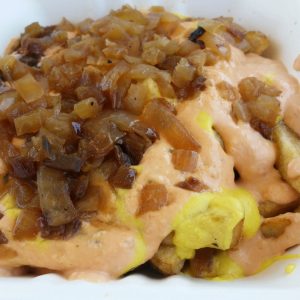 Voodoo Fries – These reminded me of In-n-Out Burger's animal style fries off of their 'secret' menu. Plant Power's Voodoo Fries are Kennebec fries loaded with secret sauce, their signature 'cheese' sauce, grilled onions. Plenty to share!
When it comes to drinks, you'll find options you definitely don't see at a traditional fast food restaurant. I recommend trying the following:
Kombucha On Tap and Kombucha Floats – Can't go wrong with either version of this probiotic drink. Choose Trilogy, Gingerade or Strawberry kombucha and if you make it a float they add in vanilla 'ice cream'.
Old Fashioned 'Milkshake' – I love milkshakes! I'd probably have one every day except for the fact that they are a calorie bomb and my stomach usually hurts after drinking one (too much dairy I think). Plant Power's non-dairy milkshake didn't hurt my stomach and it tasted amazing. They use their house-made 'ice cream' blended with almond milk. Flavor options include: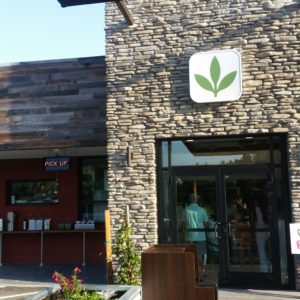 Chocolate / Vanilla / Strawberry / Peanut Butter / Coffee / Horchata / Matcha / Root Beer
I'm a chocolate peanut butter girl all the way!
Another great thing about Plant Power Fast Food (besides everything on the menu) is that they are on a mission to better the planet. Everything is served in 100% biodegradable packaging right down to the straws. Enjoy a great meal while teaching your kids about sustainability and helping the environment.
Have you been to Plant Power before? What was your experience?