The holidays have come and gone. January is here! A new year, and another chance to make a difference in your life and the lives of others. The "Season of Giving" doesn't have to come to an end. If you didn't "give back" in 2016, don't feel too guilty.
The holidays are a time for giving. People feel drawn to helping the community and those in need more than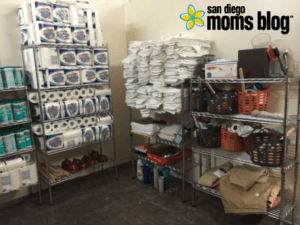 ever. During the end of the year, hearts warm and there is a kindness in the air!! What can be more rewarding than giving to others? Suddenly, people who rarely give back to their communities, embark on adventures in soup kitchens, street feedings and handouts, etc. December also marks the end of the calendar year and the last chance to get the write offs in time for tax recording. The giving is endless!!!
For most of us, however, our bank accounts aren't bottomless. Here in San Diego, the cost of living is high and most of us make ends meet and have just enough to provide for our own families with what we want/need for Christmas. My family basically does our entire shopping for the year in December. Under our Christmas tree, my children unwrap new clothes, shoes, socks/underwear, blankets, books, movies, backpacks and their "wants". They know this is the time they get to ask for the toys/luxuries that get denied throughout the year. So needless to say, December funds are tight in our home. I know we are not alone, and we don't feel guilty about it.
As a Social Service worker in San Diego for most of the last decade, I see it happen every year. Donation/volunteers sprinkle sporadically throughout the year no matter how much we solicit. Then in November, the calls come pouring in. People in cars flood into downtown, passing out clothes, blankets, tents and money to individuals on the streets. They do this because they just want to "help". San Diego has more that 8k individuals (children included) without a place to call home.
TIPS FOR GIVING BACK TO OUR COMMUNITY
Defer your donations until another part of the year! Let's face it, everyone has a heart during the holidays, and it is abundant. I've worked with San Diego homeless for the past 4 years and often, clients have told me how people donate so much in December that it all becomes trash. You may have never noticed, but December is a time when streets are littered more than ever with blankets, clothing, etc. Yes, people are in NEED, but when there is too much going around, it becomes waste. I guarantee that any other month of the year, your donations will be much more valued and appreciated.
Feeding people on the street is not as helpful as you might think. Many agencies are attempting to divert street feedings as they can cause issues such as litter, crowding, traffic, etc. The less obvious, is that when you hand someone food out of the street, that is all they get, fed. If you bring that feeding indoors, with the help of additional resources such as healthcare, benefits/housing assistance, resources, etc., then it has a much greater impact and helps folks work on the issues that led to their instability.
Give your time helping out at local agencies. There are many amazing programs in our town that take volunteers with all sorts of tasks that benefit the clients. PATH(San Diego), St. Vincent De Paul, San Diego Rescue Mission, Alpha Project, YWCA and Rachel's Women's Center are all organizations who work with vulnerable and struggling individuals, some even work with families. You can contact them directly for specifics on how you can help. PATH has a program called "PATH COOKS", where you can get a group together, pick a night to come onsite and cook dinner in their professional kitchen to serve the clients living in the shelter. Kids are also welcome, recommended 12 and up, but children as young as 8 years old are allowed with parent supervision. Email: Ann[email protected] for more information about volunteering with PATH.
If you want to do something helpful to individuals think outside of the box. One of the biggest yet least funded needs is TRANSPORTATION. If you want to help and have the money, buy $5 DAY TRIP bus passes. It is rare even for agencies to have funds to provide bus passes for clients who are job seeking. If you aren't mentally ill, medically frail or a Veteran, transportation funding is scarce. Think of how hard it is to get to job interviews without transportation? Or the first few weeks of a new job before your first check? The MTS website has more information on how to purchase passes.
San Diego has a major housing crisis. If you or anyone you know, has property, considering renting to individuals with housing vouchers or subsidies. Government agencies such as HUD/San Diego Housing Commission, Veteran's Affairs issue vouchers. These vouchers are for individuals/families that can be used to ensure their rent is based on their income. These agencies pay the remaining portion to the landlords directly. Home inspections will have to be passed to ensure the units are habitable and the residents are maintaining as well. There are also many other agencies with housing funding in the form of "subsidies". This is money that comes from an agency to help supplement the clients income to pay the rent, deposit, etc. There is even a program called "Housing Our Heros" that has landlord incentives to help house Veterans. Learn more about these types of programs and how you can become involved at San Diego Housing Commission.

"Move in Kits" are giving out to PATH residents who are moving into their own apartments. They usually include blankets, towels and other household items to help them start out in their new home.
The list of ways to give back to our community can be endless. San Diego Mom's Blog is giving back throughout our events in 2017. We hope you will join us!!!