Six rows up from the dirt track, the chilly San Diego evening buzzing with excitement. This was my family's first time watching Supercross bikes race and catch air and we couldn't wait for the Monster Energy AMA Supercross, an FIM World Championship main event to start. Petco Park's open air stadium was filled to the brim with Supercross fans from all over the county. The span of the race course, covering the entire baseball field, right up to the fence line, was composed of tight turns, hills, and surprising pyrotechnics.
Definitely an experience to remember!
It was Military Appreciation Night at this Supercross stop in San Diego. We were asked to stay seated to recognize past and present service members as they humbly stood. A very heartwarming moment, alive with the cheers and clapping of a whole stadium of people grateful for their service, could bring a tear to anyone's eye. We lit our cell phones during a patriotic country song and it was beautiful. Our National Anthem, sung by a retired service member, was wonderful.
The introductions for each rider only built up the excitement with every round of the track. Most riders had their own video introductions playing just before entering the arena. The pop and bang of fireworks and torches signaled a rider entering on his bike. Not having known much about Supercross, or its riders, the easy fan favorite for my family was Chad Reed. This was Reed's last Supercross appearance, retiring from the sport after Saturday night. The hashtag #OneLastRide was flashing across the stadium banner.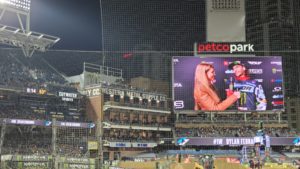 When the young KTM Juniors came out to race on the track, my daughter was so excited to see one of the riders was a girl about 8 years old. One of the riders came all the way from Indonesia. After many rounds around the track, Dylan Ferrandis took the win for the Supercross 250's and Cooper Webb, reigning leader, clenched the winner title for the Supercross 450's.
We enjoyed our family night at Supercross Live and would love to attend again. It offers race fun for all ages! If you follow along with Supercross, click here to see the upcoming schedule and results from this past race. Tickets were very reasonably priced and we will definitely be back next year!