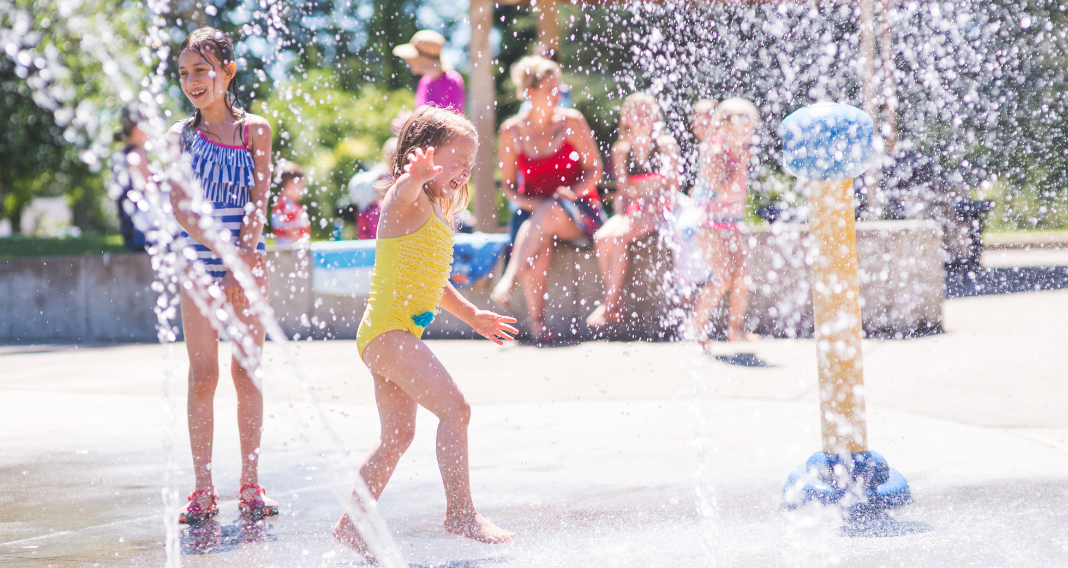 There's no denying it, most children love splash pads, and us mamas LOVE how easy they are – it's a win-win! You can leave the floaties at home, and children who can't swim can enjoy the water with a (little) less stress on you. You don't have to lug everything 100 yards down to the beach, their typically are bathrooms near by and parking is likely a bit easier!
Bottom line, they are safer and a tad easier on us, than most other water attractions, but still have all the fun!
Just in time for summer, here's our Guide to Splash Pads in and around San Diego, 2022.
Have a favorite Splash Pad you don't see? Email [email protected]
This list has been curated by San Diego Moms who have either visited the Splash Pad listed or it has come highly recommended! And thanks to both the San Diego County and City websites for ensuring there is updated information for us to pull from. Be sure to check the park website before you visit in case their hours have changed.
Civita Park
Address: 7960 Civita Blvd, San Diego, CA 92108
Neighborhood: Mission Valley
Splash Pad Hours: Seven Days a Week from 10am-6pm
Parking: Private Lot Parking
Cost: Free
Civita Park is located in the heart of the Civita community, located in Mission Valley you'll find a one-of-a-kind park. On any given day, kids and grownups have a hundred ways to play with a ton of room for strolling or sprints, and no shortage of shady spots for hanging out. Featuring a Splash Pad with 48 jets, Outdoor amphitheater, Picnic tables and outdoor living rooms in the shadow of wisteria, Game area, Community garden, Basketball half-courts, Dog park with large & small pooch enclosures, Two playgrounds with shade structures, Open fields, Picnic grove, Bocce court, Restrooms and parking.
Head to their website for more information.
Waterfront Park
Address: 1600 Pacific Highway, San Diego, CA 92101
Neighborhood: Downtown San Diego
Splash Pad Hours:
North and South Fountain Jet Hours*: 11am – 7pm, Monday – Sunday
North and South Fountain Reflecting Pool Hours*: 10:30am – 7pm, Monday – Sunday. *Weather conditions may affect fountain operations.
Parking: Street parking and pay lots available nearby. Public transportation recommended. Get additional parking information.
Cost: Free
Waterfront Park is one of our favorite splash pads! Soak up the warm San Diego sun, while enjoying the gorgeous harbor views. This is the most significant waterfront open space in downtown San Diego. Kids enjoy having a splash, while cooling off on warm days. The park also features intimate garden rooms with distinct themes, a vibrant children's play zone, and several picnic areas. View safety tips with thanks to the County of San Diego Parks and Recreation.
Keep an eye out for Summer Movie Nights in the Park too! Super fun.
Head to their website for more information.
More Central County Splash Pads
Memorial Pool
Address: 2902 Marcy AveSan Diego, CA 92113
Splash Pad Hours: Check Website
Parking: Yes
Cost: $2-$4
Memorial Pool is located in Logan Heights directly north of the Dolores Magdaleno Memorial Recreation Center (accessible from 29th Street). This facility was remodeled in 2014 and is ideal for birthday parties, competitive swimming, water polo and synchronized swimming. Children will enjoy the Splash Pad – a zero-depth water play structure with stationary features.
Head to their website for more information.
---
Tierrasanta Pool and Play Area
Address: 11238 Clairemont Mesa Blvd., San Diego, CA
Parking: Street Parking & Private Lot Parking
Splash Pad Hours: Monday/Wednesday/Friday 12:30pm-4:00pm ** Currently closed check back to see when they will re-open for summer. **
Cost: $4 per person
The Tierrasanta Community Pool is located next to the Tierrasanta Recreation Center. This facility features a separate 2-feet deep children's pool with a playground and water sprays. In addition to the main pool, the park has a Children's Pool has a slide with water features and shaded benches for parents.
Head to their website for more information.
Poway Community Swim Center
Address: 13094 Civic Center Dr. Poway, CA 92064
Splash Pad Hours: Their Splash Pad is open Monday through Sunday for public use! For a full list of hours for the splash pad, please see their hours page here!
Parking: Yes
Cost: Resident Adult – $4 / Non-Resident Adult: $8 | Resident Child – $3 / Non-Resident Child: $6
The Poway Community Swim Center is loads of fun! Their splash pad boasts geysers, overhead buckets, a water tunnel, and more! Our research notes that there's not a lot of shade, so be sure to bring hats and extra sunscreen.
Head to their website for more information.
Alga Norte Aquatic Center
Address: 6565 Alicante Rd., Carlsbad, CA
Parking: Yes
Splash Pad Hours: See Website
Cost: Adults, $5, Children under 17, $3
The new 32-acre Alga Norte Community Park, located at the corner of Alicante Road and Poinsettia Lane, just east of El Camino Real, features a state of the art aquatic center + Splash Pad, San Diego County's largest skate park, a dog park with areas for small and large dogs, three ball fields, basketball courts, a huge playground, and picnic and barbecue areas.
Head to their website for more information.
More North County Splash Pads
Las Posas Pool

Address: 1387 W. Borden Road, San Marcos
Parking: Street Parking & Private Lot Parking
Splash Pad Hours: January 9 – May 30 | Saturday & Sunday | 12:30-4:30pm *Beginning May 30th, 7 days a week.
Cost: $4 per day. The admission fee includes access to a 25 yard recreational lap pool and picnic area. Splash Pass Annual memberships are available for purchase online, or in-person at the pools and Community Center.
Las Posas Pool features a 25 yard recreational lap pool, splash pad and a picnic area. It is heated all year long but may close preemptively due to attendance or weather. Current or anticipated closures will be posted at the pool.
Head to their website for more information.
---
Mulberry Park
Address: 751 Mulberry Drive San Marcos, CA 92069
Parking: Yes
Splash Pad Hours: 7am-8pm (Park Hours, website unclear on Splash Pad Hours)
Cost: Free
This cozy neighborhood park has a splash pad for children, grassy expanses & picnic tables.
Head to their website for more information.
---
Lakeview Park at Discovery Lake
Address: 650 Foxhall Drive, San Marcos, CA
Splash Pad Hours: Operates daily for 15 minutes at the following times: 11am; 12:30pm; 2 pm; 3:30pm; 5pm
Parking: One small parking lot, with residential street parking.
Cost: Free
The loop around Discovery Lake in San Marcos makes a perfect hike for those looking for easy walk! It is also a great place to catch the sunset as many visitors share! After your hike, you can cool off at the Lakeview Park Splash Pad! Other hikes are nearby and easy to access that vary in length, elevation, and difficulty for those looking to break a sweat! There is also a playground and permanent restrooms.
Head to their website for more information.
---
San Elijo Park
Address: 1105 Elfin Forest Road, San Marcos, CA
Cost: Free
Hours: See website
Green space with a dog park, community center & splash pad, plus playgrounds, trails & picnic areas.

---
Sunset Park
Address: 909 Pruesta del Sol, San Marcos, CA
Cost: Free
Hours: See website

---
Buelow Park
Address: 300 Autumn Drive, San Marcos, CA
Cost: Free
Hours: See website
Eastview Community Park Aquatic Playground at Sweetwater Summit

Address: 3219 Summit Meadow Rd. Bonita, CA 91902
Parking: $3/car
Splash Pad Hours: 9:30 am – sunset, daily (May through Oct.)
Cost: $3/person
Visitors can cool off at the splash pad after a day of hiking and fishing at Sweetwater Reservoir. and head to Eastview County Park which features a tropical aquatic playground your kiddos will love!! Other features include one large and four small pavilions, as well as lawn areas and picnic tables with panoramic views of the countryside. Whether your little splasher likes to get totally drenched by a bucket of water or to hang out in the spray zone, this splash pad is tons of fun.
View the park brochure or information sheet.
Head to their website for more information.
More South County Splash Pads
Mountain Hawk Park Splash Pad
Address: 1475 Lake Crest Drive, Chula Vista, CA 91915
Parking: Street Parking & Private Lot Parking
Splash Pad Hours: Open from April 1st to November 1st, see website for hours.
Cost: Free
Mountain Hawk Park opened in 2006, and its amenities include an amphitheater, basketball court, walking trail, restrooms, and gazebos that overlook Otay Lake. Mountain Hawk also has the only interactive water feature in the City which is open from April to November.
Head to their website for more info.
Hilton Head County Park
Address: 1605 Hilton Head Road, El Cajon, CA 92019
Parking: Street Parking & Private Lot Parking
Splash Pad Hours: 11am – 4pm, daily (May – October)
Cost: Pricing is $3 per day, $30 per season, or $75 for a three-person family
pack.
An oasis in the city, Hilton Head County Park in Rancho San Diego offers visitors a breath of fresh air! The real highlight of this 10-acre neighborhood park is a pirate-themed splash park—sure to be a hit with the kids. It also features a children's playground, multi-use sports field, basketball court, exercise stations, shaded picnic and barbecue areas. Covered pavilions make this park a perfect spot for special events. Drinking fountains and restrooms are available.
Visit the News & Events page for park events, updates and closures.
Santee Lakes
Address: 9310 Fanita Pkwy., Santee, CA
Parking: $6 per vehicle
Splash Pad Hours: 9am – 6:30pm, seven days a week
Cost: Prices for a wristband is $3 on weekdays and $4 on weekends.
Play for the day at one of Santee's lakes. There are 7 playgrounds to choose from, including a Sprayground, you can spend more than a whole day here exploring! The Splash Pad is located at Lake 1 for those hot summer days.
Head to their website for more info.