Summer is just around the corner – wahoo! While many families use this time to go on big exciting vacations, there are also plenty of fun and action packed summer adventures to be had right here in San Diego, that can easily be done on a budget. However you choose to spend your summer, don't miss out on these 5 fun ideas.
Camping
While it is pretty easy to make camping an expensive experience, there are TONS of options for fun summer camping trips with little out of pocket. Keep costs down by borrowing gear, camping with friends and sharing their equipment, and meal sharing. Campgrounds also vary in price all the way from free to $150+ per night. Less expensive campground are usually a little more rugged, but kids can find some of the best fun just climbing trees and exploring the great outdoors.
Search for hidden swings
Luckily for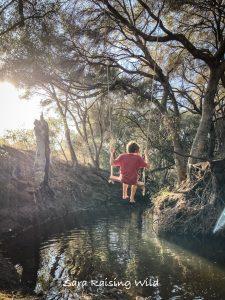 us San Diegans, there are TONS of hidden swings all over San Diego. They're often found just off the usual path of many of our local hikes and in local parks. Here are just a few places where you might find one (swings are not guaranteed as they are occasionally removed or relocated): Damon Lane County Park, Buena Vista Park, along the San Diego Bay in Point Loma near Shelter Island, and several in La Jolla along the Coast Walk trail. Head outdoors and see how many you can find this summer.
Day at the bay
Ever set up camp at the bay ALL DAY!? The bay is a great change of scene from the beach. Often there are nearby playgrounds, and calm waters makes for easier swimming. Try packing both lunch and dinner and set up camp on a sandy spot near the water. Don't forget to pack some shade and lots of liquids to stay hydrated. SUP boards, kayaks, or other floaties always make for great fun for the entire family. Even teens enjoy a day out on the water. Hang out until the sun goes down, and if you're lucky you might even catch some Sea World fireworks.
Tide pooling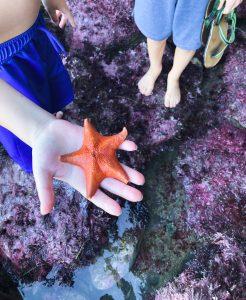 The great thing about exploring tide pools in the summer is that when kiddos inevitably get wet, they won't freeze. Even better, after tide pooling take a stroll to a more sandy part of the beach and enjoy the waves for the rest of the afternoon. Don't forget to bring a bucket to collect and observe new sea life. See how many plants and animals you can identify.
Visit a pool or splash pad
There are TONS of great splash pads around San Diego. Many have a small fee to get in, like the Tierrasanta Community Pool. Other's are free with membership, like the Y. Some are completely free to visit, like Civita and the waterfront park. When those hottest months hit, your little ones will love to splash and cool off!
Happy summer adventuring! Which of these ideas are you most excited to try?