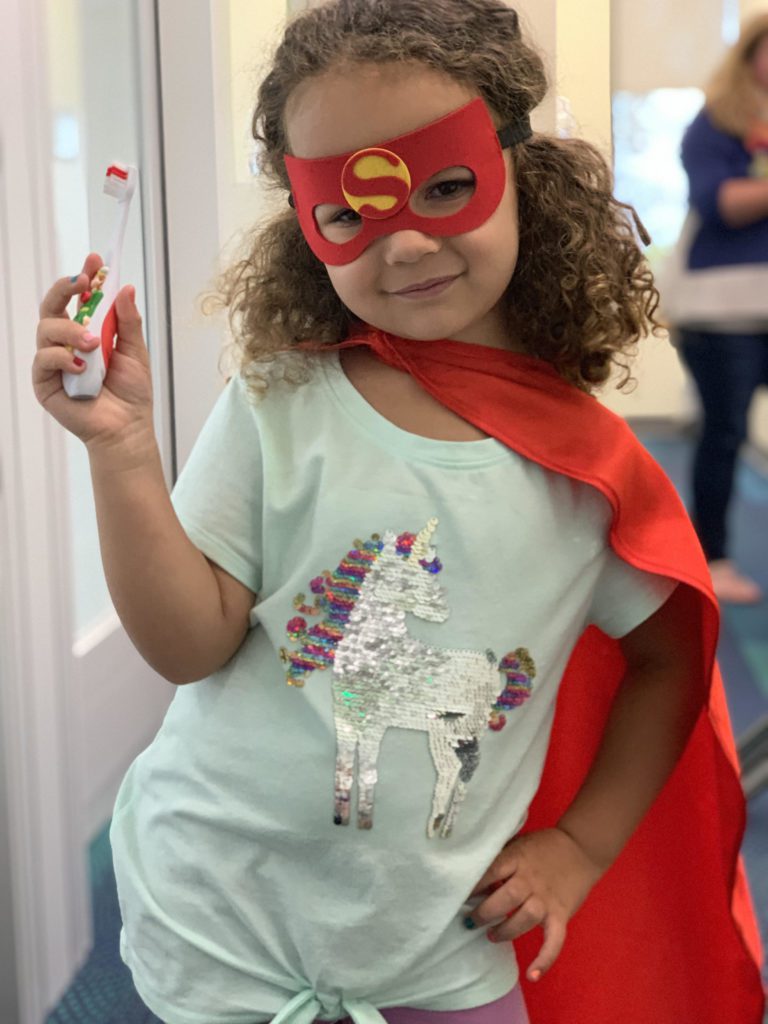 Recently my daughter Kaia (age 3.5) was introduced to The Super Toothbrush by The Super Dentists, and it has truly transformed our dental hygiene routine. She looks forward to brushing her teeth, she loves the song that plays, and she has begun to really understand the importance of brushing her teeth and how to do it better.
As mothers, we are always looking for things that enhance and make daily tasks easier and fun for our kids. Brushing her teeth wasn't always a battle, but it surely wasn't something she looked forward to. Now, with The Super Toothbrush, she is excited to do it, asks to do it, and the other day she actually asked if she could sleep with it in her bed. If that doesn't show love and a strong admiration for a product, I am not sure what does!?!? The Super Toothbrush should be a part of every family's home!
Super Toothbrush Features:
Integrated augmented reality. The Super Toothbrush includes a magic sticker for the bathroom mirror. When paired with the VIVARRA Dental App, The Tooth Keri pops out of the sticker and comes to life to show your children how to brush and floss their teeth. When you're ready to remove, have no fear, it won't leave a mess on the mirror.
Two-minute tooth-brushing song. Studies show that children brush their teeth 73% longer while listening to music. One of the biggest problems with kids' dental care is they don't spend enough time brushing. So, they thought, why not put music right into the Super Toothbrush? The two-minute Super Dentists Toothbrushing song is the perfect background music so kids know how long they should be brushing. When the song is over, they're done. Press the button on the front of the toothbrush to start or stop the song.
Premium Tynex DuPont bristles. Soft enough for comfort, yet durable and long-lasting, too.

Long battery life

. The battery, which is included, lasts three months, the recommended duration the American Dental Association suggests for replacing toothbrushes.

FLASH SALE!!!




20% off of the retail price of $11.99.


Clip the coupon before adding to your cart.
(See image to the left)

*Offer good 8/13 -8/15. Limit 1 toothbrush at discounted price.*
Simply clip the coupon to save 20%.
Price of The Super Toothbrush?
$11.99
Would you recommend to a friend?
YES!!!!!
Who is the product best for?
Kids ages 3+
Any tips or recommendations for people who purchase the product or service?
It is extremely easy to use and your kids will love it!
Anything else you would like us to know?
I really love this product, but if you are looking for a dentist for your family – I highly recommend their practice.

On a Scale of 1-10 (1 being worst / 10 being best) what would you rate this product?
10
About The Super Dentists
The Super Dentists is San Diego's largest, most trusted and top awarded Pediatric Dentistry, Orthodontics and Parent Dentistry practice – one in every five kids in San Diego is a Super Kid! They create the most unique and out-of-this-world dental experience for children and their parents. They're the only office in the world where kids ask (many times, beg) their parents to take them to the dentists! Highly trained and skilled, The Super Dentists use the latest in preventative and restorative treatments, and are Invisalign and AccelaDent accelerated orthodontics specialists. They accept most insurance, including Medi-Cal, and they offer extended weekday hours, some weekend hours and 24/7 service for emergencies. With locations throughout San Diego (Kearny Mesa, Carmel Valley, Chula Vista, East Lake and Oceanside, with Escondido opening Fall 2019), and growing, the practice gives back to its communities whenever possible, including an in-classroom dental education program – currently in hundreds of schools, reaching thousands of children. Book your visit online at TheSuperDentists.com, call (760), (858) or (619) DENTIST (336-8478) or text: 1 (844) 765-1234.
Product Reviewed by:
Niki Jones, Owner, San Diego Moms Blog
Is there a product you'd like to submit to become #SDMBApproved? Click here!