I'm a mom of 3 girls ranging from 3-9 years old. I was in my early 20's when I had my 2 older girls and was able to bounce back physically pretty quickly (mostly because I had 2 under 2 and was running on fumes for the first 3 years). I had my third daughter in my early 30's and getting back to my pre-pregnancy weight was a bit of a struggle. I wasn't terribly unhappy with my weight, I just wanted to be healthier and feel comfortable in my skin.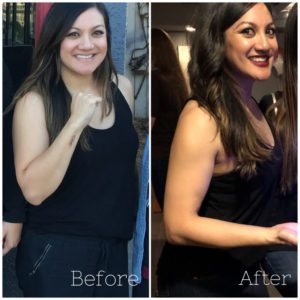 I tried and quit different home workouts and diets. I am a big time emotional eater. Rough day? Binge eat. Good day? Treat yourself! Diet Monday – Friday only to blow it on the weekends.
This was my cycle. I would justify my poor eating habits because I do enjoy working out and figured everything would balance out.
An Orangetheory Fitness was opening up a few minutes from my house and I reluctantly signed up to receive more information. During their soft opening, I was able to try out a few classes to see if it was a right fit for me.
After the first class, I was hooked. Orangetheory Fitness uses heart rate monitored training designed to maintain a target zone that stimulates metabolism and increases energy. They call this the afterburn. It feels like a personal training session led by a coach but in a group setting. Members rotate between treadmills, rowing machines, and the weight room while focusing on either endurance, strength or power. Members wear heart monitors that connect to TV screens so you know exactly where you (and the entire class) stand.
In January, they introduced the 8-week transformation challenge. It was easy enough to follow. I had to attend 3 classes a week with others, and whoever lost the highest weight-loss percentage would win. I signed up with a 10lb weight loss goal in mind. I stuck to the 3 classes a week and ultimately lost 10.8 pounds, which came out to about 7.7% weight loss.
Here are a few things that contributed to my successful 8-week transformation challenge:
1. Meal Prep: Fail to prep, prep to fail, right? I searched Pinterest high and low for easy and healthy one-pot dishes and ordered a pack of containers from Amazon so I'd be able to grab and go. You can check out my Pinterest board for some of the tried and true recipes I prepared for the challenge.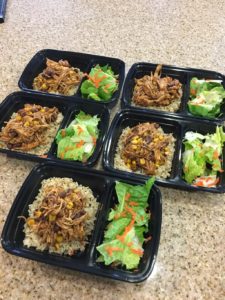 2. Go easy on yourself: A lot of why I failed in the past was because of my attitude. I would beat myself up over any "cheat meals" and then give up after that. Or if I had something unhealthy for lunch I would think, "Well this day is done might as well keep going and cheat for dinner too". Did I still have burritos, pizza and ice cream during the 8 weeks? You bet I did! Just not on the same day and in smaller portions than usual. Normally I would shame myself for it, but not anymore. Sometimes a slice of cheesecake is more for my mental health, you know?
3. Get moving!: Three classes were required, but it didn't stop there for me. I tried my best to make it 4-5 days a week. They offer classes from 5AM-7PM, so not having time wasn't an excuse for me. I usually take the 6:10am class while everyone in my house is still asleep. I traded in one hour of sleep for one hour of "me time". One glorious hour where I didn't have to worry about which appointments the kids have or what I needed from the grocery store. On the days I couldn't make it to the gym, I put my youngest in the jogging stroller and walked to pick the big kids up from school. Some days when I feel like I need the extra push, I bring some mini bands and stop by the park on the way home. The girls can play and I can get some booty work in.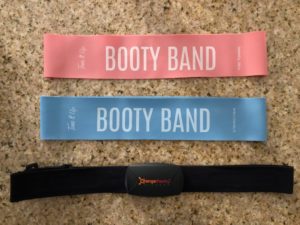 4. Accountability: There was a private group on Facebook for all challengers to share recipes, congratulate one another on completing tough workouts and keep each other inspired and motivated. This also translated to the gym where fist bumps and motivating your treadmill neighbor pushed you harder then you thought you could go.
5. Supplements and Water: I try to keep this as simple as possible. Black coffee with collagen as a pre-workout, because I need the extra pick-me-up when I'm at the gym before the sun rises and the collagen for healthy joints, bones, skin, and nails. BCAA's (branched-chain amino acids) during my workout for hydration and muscle recovery. 30 minutes post workout, I have a protein meal shake to help muscle repair and growth and serve as breakfast. I'm no fitness/nutrition expert, but this is the combination that I use that works for me. I only drink water during the day, so staying hydrated isn't something I struggle with. Adding fruit or mint kicks it up a notch and I love my Hydroflasks to make it "fun".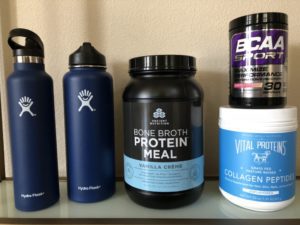 At the end of the 8 weeks, I felt stronger, more confident and most importantly 100% motivated to keep going. I learned a lot about myself and what works for me and what doesn't work. This newfound motivation means more to me than the pounds I lost. The 8 weeks wasn't all about how much weight can I lose. For me, it was an introduction to a new lifestyle. Choosing healthier options, portion control on cheat meals and staying active are the small changes I'm trying to continue.
Being a mom is the toughest job out there. When I wasn't working out and eating crap, I was tired all of the time and my patience was low. A good friend of mine told me that I couldn't pour from an empty cup. I needed to take care of myself first to be able to give more to my kids. I kept that in the back of my head over the 8 weeks and I feel like this challenge helped me to become a better mom. Losing weight and being healthy was definitely a goal for me, but to be able to teach my kids how to stick with something and live a healthier lifestyle is and will always be my ultimate goal.
We are all trying to be the best versions of ourselves and I'd love to hear about your goals! What are some ways you like to stay active? Or what are some of your favorite healthy recipes? Share below!