Last September, I took Kaia and her cousins to the 2018 Kidz Bop World Tour. I have to say it was one of the most entertaining, engaging, and fun family friendly concerts I have seen to date.
Kaia was two at the time and has always been drawn to music, musical instruments, and singing. The 2019 Kidz Bop World Tour date is now approaching on May 31st at Cal Coast Credit Union Amphitheater. So I thought I would share 5 reasons why you need to buy your ticket now before they sell out.
CLICK HERE to go ahead and get your tickets, they start at just $20!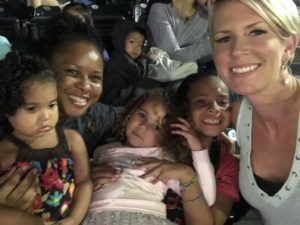 1. You get to listen to top hits with no swear words or questionable lyrics, because no one likes to listen to the FROZEN soundtrack 24/7 (except my daughter). We listen to the KIDZ BOP Pandora station all the time.
2. The kids performing are SO talented. To be able to share a concert experience with thousands of every other families is truly priceless. And let's be real, at what age will your kids not want you to go to a concert with them?? So I say you should take advantage of the moment while it's here.
3. They only come to San Diego once a year and the 2019 tour marks the debut of its most ambitious stage design and choreography to date that is sure to amaze and delight fans.
4. You (as parents) get to actually enjoy the Kidz Bop entertainment since you will likely know most of the songs.
5. Tickets start at just $20 and their really isn't a bad seat in the house at the Cal Coast Credit Union Amphitheater.