My daughter digs in the trash- well mostly the recycle bin- but it's not what you may think!
She isn't searching for food or dumpster diving. My adorable little 8 year old, loves to do arts and crafts! She is super creative and shares my same eye for turning trash into treasure! What better way to help a young creative explore her talents, save some money, and be good for the environment- UPCYCLING is the way to go!
Four years ago, I started teaching an art class at work, with homeless adults. I have a very limited budget (basically nothing unless it can be ordered with office supplies) that mostly includes donations. I believe art can be an amazing outlet; you can use it as a coping skill to help you relax and de-stress. Everyone can benefit from listening to music and letting your creativity flow. Art can also allow people to express feelings without using words, which is also great for kids!
Arts and crafts, however, can get to be expensive sometimes. I had to figure out how to teach art in a way that can always be available, even when funds are low, and how to make it sustainable. In this day and age, our world is focused on recycling and being "Green". What is more sustainable art then using items you would normally throw away, then turning it into something beautiful or useful!!? Every container I see now gets evaluated and I have learned to see a thousand uses for everything! UPCYCLING is a crafter's new best friend! Save that "junk". Mason jars, aluminum cans, cereal boxes, coffee containers, baby wipes, drink/wine bottles, milk jugs, etc. The ideas are endless and PINTEREST can be your best friend!!
To celebrate EARTH DAY this month, here are some of our favorite UPCYCLING projects you can do by yourself or with the kiddos!!
BEFORE YOU TOSS IT OUT, CONSIDER ANOTHER PURPOSE!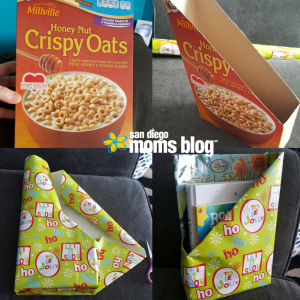 1. CEREAL BOX ORGANIZERS– Take your favorite cereal box, cut two slits down the corners of one side, then cut the side out. Cut the front and back at an angle from the top left corner to the middle. Now you have an organizer box! Feel free to decorate as you like with wrapping paper, card stock, paint or markers! YOU can even use the box as is for some colorful "cereal inspired" decor! Use the books to organize, paper, homework, coloring/chapter books, etc!
2. ALUMINUM CANS– Cans can be upcycled by painting, drilling holes, etc. Glued together with a glue gun, wrapped in colorful duct tape, attach rope/string and viola, you have a caddy! Use them to separate and organize- crayons, markers, pencils, paint brushes, etc. YOU can even use this idea for packing a picnic with utensils and condiments! Cans alone can be decorated and used for garden pots, pencil holders, lanterns/luminaries, etc. Check out this post on Tin Can Lanterns!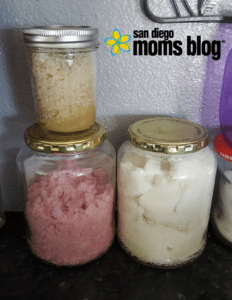 3. MASON JARS- Pickles, dressings and pasta sauces all come in amazing, reusable glass mason jars! These clear glass jars can be used for all sorts of projects, decorated/painted, etc. Baby food jars are just mini mason jars. You can add water, a few drops of glycerin (found in the baking aisle of your grocery store or Michael's), some glitter, add it to the water. Take the lid and glue down a plastic toy, or print out a picture and glue it facing inside the jar. Close the lid tight and seal it with glue gun. Turn it upside down and it's a snow globe! Mason jars can also just be reused as storage containers, piggy banks, craft organizers for buttons/beads/etc. We store sugar scrubs, bath bombs and Epsom Salts as well!
4. TOILET PAPER/PAPER TOWEL ROLLS– Cardboard tubes can be used for all kinds of projects. From planters, to bird feeders, to bracelets, to flowers, to stampers, to cell phone charging docks, to actual sophisticated home decor. (seriously Google: Toilet paper roll upcyling!)
Creating can be for any occasion. Whether it's to celebrate spring or ringing in the holidays! Follow our SDMB board on Pinterest for more EARTH DAY ideas!
If you want a free opportunity to explore ideas in real life with the kids, and practice some upcycling yourself: Check out Balboa Park's Annual EARTH DAY FAIR this year on April 23rd.
Any great ideas you have had? Share them with us!
Happy UPCYCLING!!