As we approach the holiday season, it's a great time for teaching our children exercises in gratitude. Understanding what it means to be grateful can be a difficult notion for a young child to grasp.
For that reason, I began brainstorming ideas on how to make it easier for my preschooler to conceptualize gratitude. I want her expressions of gratitude to be a result of everyday occurrences and not just in extraordinary situations. Here are three easy ways to practice gratitude with your child that we are currently implementing in our home:
We Journal Every Night to Practice Gratitude.
We journal before bed and highlight one thing we are grateful for from that day. The responses from my daughter vary in complexity. For example, one night, she chose her favorite bear as the item she is most grateful for in her life. The next night she remarked that she was grateful that God created cotton plants because cotton is found in so many useful things. It's interesting to hear the ideas evolve in the mind of a preschooler. Journaling is a wonderful moment for parents to pause and reflect on the positive events of the day. There is so much to be grateful for that is easily overlooked in the hustle and bustle of the day. A thin, simple journal like one of these is great for gratitude entries: Small Lolla Unicorn Notebooks.

We Complete a Chart to Highlight Thankfulness.
We have a printed "30 Things I'm Thankful For" chart with lines marked by number. This is up in our kitchen and we fill it out with short words or phrases that apply each day. As a result of having the chart in plain view, we are consistently reminded to practice gratitude. There are some great, free printable charts available online reflecting on thankfulness and gratitude. If you prefer a ready-made template like me, this is a pretty good one for single-word responses: 30 Days of Thankful Chart

We Donate to Help Others in Need
We've been working at this one for a while, in varied situations. My workplace does a lot of charitable giving throughout the year. I involve my daughter in donating to those in need. In doing so, I explain to her who the donations are for and why the items are needed. She now recognizes that it is important to help others less fortunate than us. She is also expressing appreciation and thankfulness for the things that she has that others may be lacking: a safe place to sleep, clothes without holes, food when she is hungry, etc. We will hand out water bottles to the homeless on a hot day, gather canned goods for food drives, and most recently we went shopping for toys to donate for the upcoming Toys for Tots drive.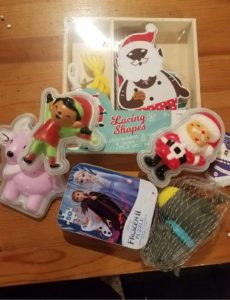 With the holidays upon us, food and toy donation drives will need our help. Feeding San Diego and Marine Toys for Tots San Diego are two local organizations needing our help. Check these links for upcoming events and to learn how you and your Littles and contribute.