As a single, working mom I am always open to resources or programs that free up my time and provide value to both my daughter and me. During the Pandemic, it became very clear that I may not have the skills, patience, or bandwidth to be a teacher (especially to my strong-willed, beautiful, then 4-year-old – Kaia). Thankfully she is back in-person in Kindergarten, and though there's no homework yet, we have a nightly tradition of math and reading work which is more of a struggle than I thought!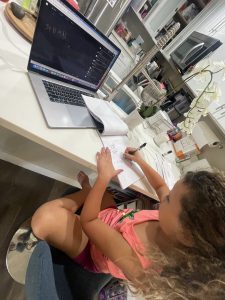 So, when I was introduced to GoPeer Online Tutoring it was a no-brainer' win-win' for me. It's a valuable resource that provides educational support and guidance for my daughter and alleviates stress which frees up time for me.
What is GoPeer?
GoPeer connects parents with qualified college undergraduates who tutor students online (K-12) at an affordable rate.
Our Experience
Our first GoPeer tutoring session exceeded my expectations from start to finish. Our tutor, Crystal, was so patient, responsive, and really connected with Kaia. She was able to explain addition and subtraction in a way that Kaia really understood. Not only did my daughter receive the guidance that assisted her to understand the math concepts, but I also learned how to better support and guide her. By the end of the session the addition and subtraction processes she taught, really clicked for Kaia. Now when Kaia and I are practicing math – it isn't a BATTLE!
Sign up for your 7 Day Free Trial and receive a FREE $20 Credit
Code: citymom20
A Few Tips + Highlights of The GoPeer Experience:

Creating your account, setting up a tutoring session, and connecting to the session is SO simple. The technology is extremely advanced yet very user-friendly and intuitive.
Use an iPad if your child is younger, or just make sure they can operate a mouse or have a pen and paper handy.
Whether you are a scheduled or fly-with-the-wind, type of mom, the scheduling process can be done in advance or on short notice. You can have an experienced and verified tutor online within 5-30 minutes of signing up, so if you are ready to get started, sign up and try it out.
Sessions can be recorded to easily access later for a refresher for your child (or you!). You can turn on this feature in your profile settings.
Over 150 subjects to choose from, including enrichment, test prep, foreign language, coding, and music lessons. (see below)
Here is what Tracie, San Diego Moms writer and mama to son Christian, 6th grade had to say about her GoPeer Experience: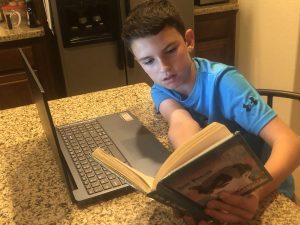 "My son Christian is a 6th grader, and currently has straight A's in all of his classes. However, though he is very good with learning facts and information regarding writing the content, there is an opportunity for improvement in clarity and writing skills. Specifically, his grammar, and taking the information and putting it together in a well-written essay form.
Our tutor Ayda understood exactly what we were looking for. Christian was asked to read 3 chapters, complete a chapter summary, and speak to the main points of the chapter. When we logged in she had us share our screen so that Christian could work on the writing portion and she could assist.
Ayda was very complimentary about his work and would make suggestions (not give the answer!). She helped him find the run-on sentences and how to break them up appropriately. She helped him with his tenses, minor grammatical adjustments, and the commentary clearer. The session went so much better than he was anticipating, and we are going to be working with Ayda more. There was no question, we made the right choice. I also could not believe how reasonably priced the session was!"
Sign up today, use code citymom20 to receive your FREE $20 credit, and see if GoPeer is right for you. What do you have to lose?