Did you know that 40 percent of Americans are struggling with mental health and substance abuse due to COVID-19? And teens without clear access to psychological support (school and friends) are victims to a higher risk of anxiety and depression. Scary, right?
For many, these may be shocking statistics, but as a mom of two teens, I have seen firsthand the struggle they have had to endure. Being isolated from friends and the pressure to keep up with online school has been hard on me. I can only imagine what this has been like for them.
On the one hand, they have been relieved of the stress to fit in socially, but are missing out on school activities that are a teenager's lifeline, which has taken its toll emotionally. With the holidays around the corner, now more than ever families need to connect and create happier holidays.
Introducing the LG / Be Strong #GiveHappiness Initiative
LG Electronics USA and Be Strong have teamed up to empower and teach students to practice, learn and share six happiness skills that will sustain one's ability to recognize that life is good: mindfulness, human connection, positive outlook, purpose, generosity, and gratitude. These six skills are based on the research showing that 'happiness skills can be learned'*.
As a yoga instructor and active meditator, I know that these skills are tools that can be put into practice now and when we need them, but also can sustain us for a lifetime.
Check out this story from the Bee Family from Atlanta to see how they are making connections!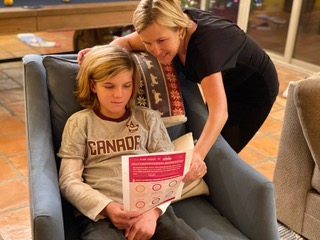 I remind my teens during times of hardship to look for the heroes who are making a difference, but more importantly, to be that hero to someone in need. I challenge you, as I challenge myself, to model these skills for our teens and our children at any age. And in turn, hopefully, they can support, connect, and challenge their peers to build the resources they need to live a productive life. We all want to feel more connected, live healthier and happier lives and our teens need this now more than ever.
How can you get involved?
Share the #GIVEHAPPINESS Checklist with friends and family. Download the Happiness Gift Card and remind our teens that the best gift they can give this holiday is spreading happiness.
"Sometimes parents don't have all the answers. What's become abundantly clear to me during these

difficult times is what's essential in life—like human connections that create happiness," said Theresa

Carpenter Beames, parent of a Be Strong student leader. "These LG Experience Happiness skills give us a

chance to imagine what we could be if we are stronger for ourselves and for each other. We can lead

from a place of abundance instead of fear, and we are better and stronger together."
Be Strong is a nonprofit with a mission to empower youth to prevent bullying, isolation, and suicide. They meet this mission by igniting positive change in peer behavior through a comprehensive student-led approach. As part of its "Life's Good: Experience Happiness" initiative, LG is providing 100 LG gram laptops to support Be Strong's student-led, social-emotional wellness efforts, which are needed more now.
The gift of happiness is free. Take the happiness challenge, practice one skill each week, and see how life unfolds. Will you take the challenge?
Source: *Greater Good Science Center at University of California Berkeley
Learn more about San Diego Moms.