Apple Picking in San Diego this September
September in San Diego means the apples are ready and ripe to be picked out on the orchards. The season was not as fruitful this year, so expect it to be a shorter season than usual. Get out to the apple orchards sooner rather than later and pick some fresh fruit to take home for the perfect picnic snack or pie recipe. Below is a list of orchards currently open as well as orchards closed for the season due to COVID-19. Have fun!
When? SEPT 19-OCT 25
Open? Yes, THURS, FRI + MON, 11 AM-5 PM and SAT + SUN, 10 AM-5 PM
What? Apple, Berry, and Pumpkin Picking
Cost? 10$ per person on weekends, Children 2 and under FREE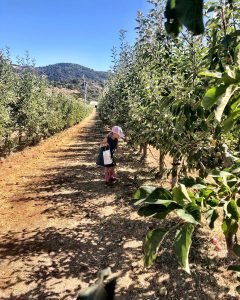 When? SEPT 11
Open? Yes, FRI-MON, 9 AM-4:30 PM
Cost? $15/bag (7 lb bag)
When? SEPT 21-25
Open? Yes, one week. Reservations required.
Cost? $2 per person (10 person group minimum), $15 (5 lb bag)
Opens for group u-pick (upon reservation) Sept 21-25 / 10 person group minimum / cash only
Closed for the season: