Have you heard?
Westfield UTC had moms in mind when they built their all-new Play Space located by Macy's and Veggie Grill. Any Mom knows shopping with kids isn't always the easiest task. Thanks to the new Play Space you can get in your coffee break with complimentary WIFI, shopping fix, and quality play time with the kids. My daughter even enjoyed the Pop Jets Fountain (mini splash pad) in the center of the play space once she got too hot from all the climbing. Talk about a perfect play date option for moms looking for things to do with their kids.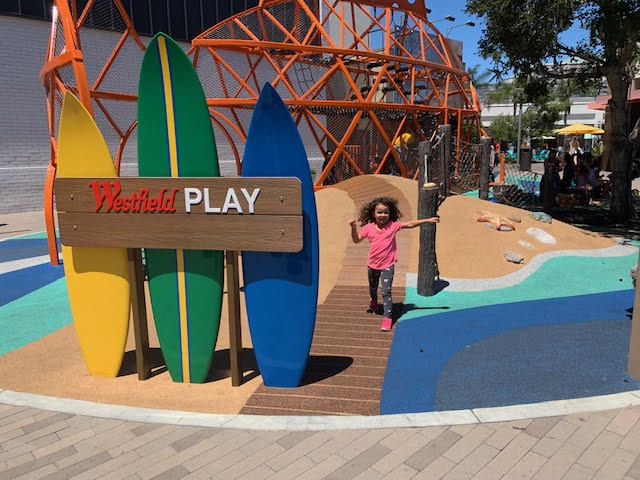 As soon as you enter, you are welcomed with a seven-foot-tall surfboard sign. Kids will dive into a large, two-story, fish-shaped playhouse constructed by Pacific Play Systems Inc. filled with rope bridges and ladders, perfect for climbing, jumping and imaginary fun! Hours of operation align with center hours. Monday- Saturday 10 AM- 9 PM, Sunday 11 AM- 7 PM.
My daughter had SO much fun at the new Play Space at Westfield UTC! The design of the fish-shaped playhouse offered fun for little kids and added an element of challenge for my 3.5 year old who has ZERO fear. She was so excited when she climbed to the top! It is a perfect space for little kids and includes some options for older kids to enjoy it too.
Westfield UTC has undergone major construction over the past year, so if you haven't been in awhile you should definitely check it out. Besides the Play Space some other notable "Mom" friendly offerings are:
Westfield UTC is located at 4545 La Jolla Village Drive, Suite E-25 San Diego CA 92122-1212. Parking is FREE for the first two hours, guests are charged $2 each hour thereafter – $2 for visits lasting 2-3 hours, $4 for visits lasting 3-4 hours, and $6 for visits lasting 4-5 hours. The $15 daily maximum is reached for visits lasting longer than 9 hours.