I have loved camping since I was a child. Recollection of my summers from elementary age into adulthood are compilations of outdoor overnight adventures. Naturally, I wanted to share the experience with my child in hopes that she would share the same sentiment. It may not seem like a complicated trip to prepare for, but there is actually a lot that can go into it. We just took our daughter camping at Lake Cuyamaca for the first time this May and learned a lot along the way. Here are lessons I learned:
Choose Where You Want to Camp and Familiarize Yourself
There are so many fun places to camp in and around San Diego County. I am a fan of camping in the Julian/Descanso/Mt. Laguna area, personally. I fell in love with the campground setting at Lake Cuyamaca during a day trip last summer and knew that I wanted our first family camping trip to happen there.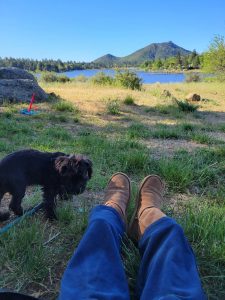 Having determined our destination, I chose our dates to camp and contacted the Lake Cuyamaca Recreation and Park District to make a site reservation. Many campgrounds, such as those under Cuyamaca Rancho State Park, offer online reservations. In the case of the campgrounds surrounding the lake, you must actually pick up the phone and call to inquire about availability.
Once I locked in our site reservation, I read up on the amenities and rules of the campground. One big thing to check with campgrounds in the mountain areas is whether wood fires are allowed. In our case, they were not, due to fire risk (and, as I would later find out, high winds) in the area. Knowing this, I prepared by ordering a camping heater similar to these. We also packed charcoal for the grill at the site and a small propane grill.
I also reviewed the map to see where our site was in relation to the lakefront, the restrooms, and the water spigot. Knowing all of this in advance, I was better prepared about when quiet time started, how close the bathrooms were, and how many quarters were needed if I wanted a hot shower. Also, note whether your site will have electricity. As ours did not, I charged a couple of power banks just in case we needed to plug any devices in during our 2-night stay.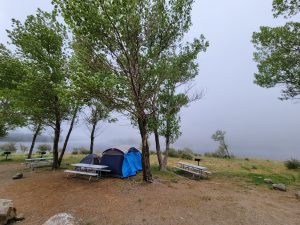 Be Prepared for the Unexpected
Of the lessons I learned, this is a big one. Before becoming a parent, I was a light packer and make-doer. With parenthood went my ability to cram everything I need into one backpack. It was replaced by overpreparation, which in many cases has proven to be best practice. The extent to which I overprepare can depend on factors such as where the nearest store/town to get important supplies is located.
I cannot stress the importance of this enough if planning to camp near a body of water. I checked the weather in the two towns surrounding the area we camped in each day leading up to our trip. I packed extra blankets and layers based on the forecast and still came up short with an unanticipated weather shift!
We experienced high winds on our second night and a temperature drop of 15 degrees below what was forecasted. Ultimately, we decided to tough it out and added some extra tarps on the side of our tent to block the wind gusts. A little hot chocolate with marshmallows helped keep us warm. Our daughter wasn't deterred by the weather change at all, proving once again that kids are resilient and adaptable to change!

Make a List of What You'll Need!
Ready to embark on a tent camping adventure? Check out this fantastic resource for the ultimate list of essentials to make camping with your kids a blast! Soooo many of these items served us well on our 2-night adventure! Not ready for a campground adventure just yet? We also had a blast indoor camping last Spring. You can read about that here!