The Disney withdrawals are real. So of course, I had to find a new way to bring the Disney magic home. A few weeks ago, the idea occurred to me to try and put together an at-home Disney cruise. I wasn't entirely sure this was something I could pull off and knew it would be a lot of work, but I was dying to try. Come along with me on my journey to recreate a cruise at home.
Theme
Depending on the time of year Disney cruises may have special themes. Anything from Star Wars Day at Sea to Halloween on the High Seas and Very Merrytime cruises. Since this idea came to me in early December, I did my best to theme it to a Very Merrytime cruise. I would definitely love to try some of the different themes in the future.
Door Décor
A popular tradition on Disney cruises is to decorate your stateroom door. Back in April Disney Parks blog shared a free door décor kit that is still available via their website. It's got cute cut-outs of the Fab Five characters dressed in their cruise best, along with other cruise themed decorations.

On-Board Activities
I used Google to consult some past Disney Cruise Line Navigators, the onboard version of a daily schedule, to try and plan some fun activities for my daughter. While I couldn't replicate a lot of the usual onboard activities, crafts and coloring activities became my go-to. Disney Family offers tons of activities for kids of pretty much any age. I printed out a few coloring activities and kept planning.
One staple of a Disney cruise I really wanted to recreate at home is the Midship Detective Agency. This activity gives your family clues to search for around the ships. I turned my Midship Detective Agency into a Christmas scavenger hunt around the "ship" where my daughter was rewarded with a new pair of PJs at the end of all the clues.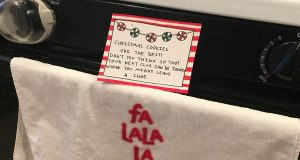 I also set up the Bibbidi Bobbidi Boutique where I gave my daughter a princess makeover, which of course turned out to be her favorite activity. If you have a pool and a projector for a laptop or smartphone, you could easily plan a movie on the pool deck. Disney Cruise Line is constantly playing movies on the funnel vision screen above the family pool.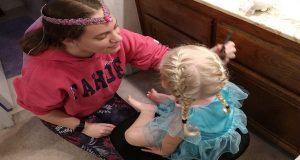 After bedtime for our daughter, I set up adult activities for myself and my husband. The first night was Pirate Night, a big tradition on Disney cruises. We enjoyed rum cocktails dressed in pirate outfits and watched Pirates of the Caribbean. And on the second night, we visited the spa and took turns giving each other massages.
Shore Excursions
When a Disney cruise ship pulls into a port of call, you have the opportunity to embark on shore excursions. Each of these excursions is unique to the location you are visiting, such as snorkeling in the Bahamas or dog sledding in Alaska. For us, I planned a sightseeing tour around San Diego where we drove by popular sights like Balboa Park, The U.S.S. Midway, and La Jolla Shores, among other places. It was a great way to get out of the house without having to actually go anywhere.
Our at-home Disney cruise was a great success. We all had a blast. It took a lot of prep, mostly during my daughter's naptime, but it was worth it for sure. Hopefully, this inspires you to be adventurous and plan your own at-home Disney cruise.