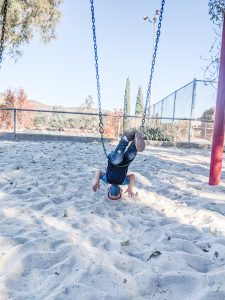 If your kid is a runner, this post is for you! You likely spend an inordinate amount of time researching where you can take your child that is fun but also contained so that you feel safe knowing they can't just bail. Let this list save you some effort!
Before I ever had kids, I reflected upon my own childhood memories to fantasize about what my motherhood experience would be like. One of my favorite scenes to daydream about was a park outing with my little cherubs in tow.
Little did I know how different my true experience was going to be. You see, child-me was a people-pleasing, rule-following kiddo with just enough adventure to have fun and explore, and just enough caution to stay out of trouble. My darling mom was able to sit and watch me play; heck—she may even have been able to read a book.
Maybe someday I'll be so lucky, but as it stands right now, my kids are flight risks. Runners. Wanderers.
Park outings have to be scoped out in advance if I am going to dare to take my escape artists on my lonesome, and one of the key features is, you guessed it: a fence. I have curated for you this list of some of the best contained or fenced-in playgrounds in San Diego County if your kid is a runner, as recommended by me and other local mamas!
7 Contained Playgrounds in San Diego County that you Will Want to Check out if Your Kid is a Runner
1. Kensington Mini Park – Kensington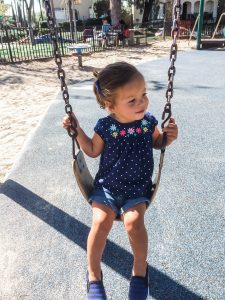 This little gem of a park is tucked to the side of the Kensington-Normal Heights library in the quaint neighborhood of Kensington. There is an ice cream shop just across the street for a fun post-park treat!
4121 Adams Ave, San Diego, CA 92116
2. Tot Lot at MacArthur Park – La Mesa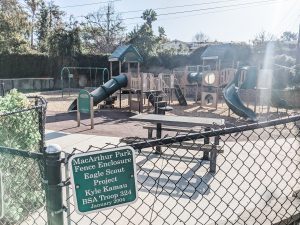 This park is right next to the La Mesa Community Center and has a parking lot up to the right before the playground.
There are swings, a picnic area, and a good-sized playground that is fun for a lot of ages. And besides the playground, your children will enjoy honing their balance along the retainer wall (well, at least mine did!)
4975 Memorial Drive, La Mesa, CA 91942
3. Jackson Park – La Mesa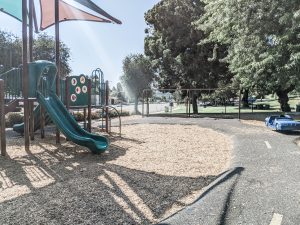 You might've driven by this park on your way to the nearby Target or Costco! It is small but has everything a young kiddo wants: a playground, swings, and a pretend car.
It's right off a busy street, but it does have a parking lot and since it's fenced in (with the entrance away from the road), it's pretty safe if your kid is a runner.
5870 Jackson Dr, La Mesa, CA 91942
4. San Carlos Recreation Center Park – San Carlos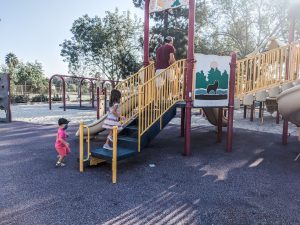 This playground has a big kids structure and one for little kids, as well as a climbing wall, a climbing "spiderweb", and swings. The mini fire truck is a big hit too.
6445 Lake Badin Ave, San Diego, CA 92119
5. Playground at San Dieguito County Park's Upper Park – Solana Beach / Del Mar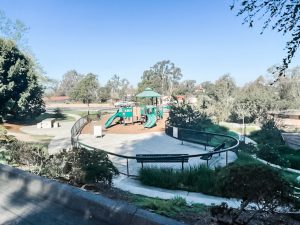 San Dieguito County Park is a haven of green space, trails, and playgrounds. There is something for everyone here! It is split into an Upper Park and a Lower Park, so it's a good idea to check out the website to make sure you know where you're wanting to go.
The fenced-in playground that I recommend if your kid is a runner is in the Upper Park, right off of Highland Drive.
Parking is $3 if you park within the property, but there is free street parking on Highland Drive.
1628 Lomas Santa Fe Dr, Del Mar, CA 92014
6. Renette Park – El Cajon
This park is fenced in, has shade structures, and has two playgrounds!
If you have kids of different ages and stages who prefer different types of play, this would be a fabulous park to bring them to.
935 Emerald Ave, El Cajon, CA 92020
7. 4S Heritage County Park – 4S Ranch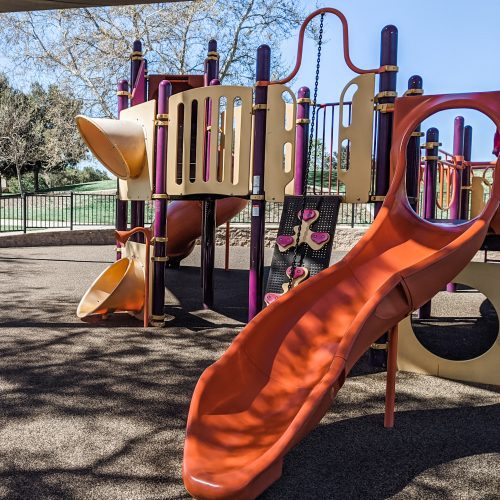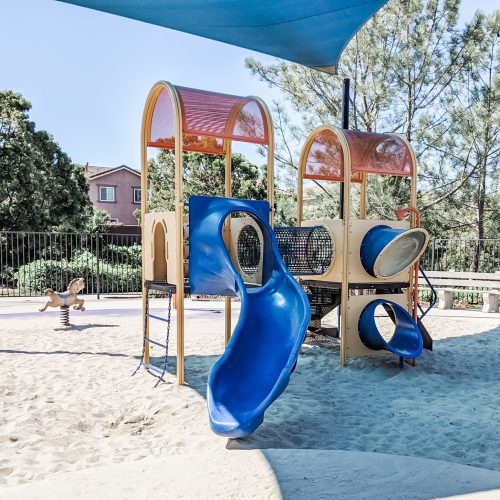 This green space has two playgrounds, one for bigger kids that is half fenced (and opens towards the road, oddly), and one for younger kids that is fully fenced. The neighborhood is lovely, and parking is easy to find right along the curb.
16789 Deer Ridge Rd, San Diego, CA 92127
Bonus: Not a playground, but a fenced-in splash pad!

S
antee Lakes Splash Pad – Santee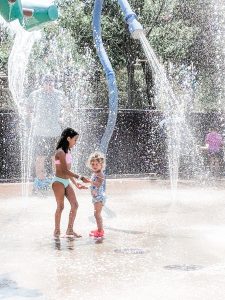 This is a small but very fun fenced-in splash pad. There are also several playgrounds around the lakes, but know that only the splash pad is contained.
Also, just FYI, to get into the Lakes there is a small fee.
9310 Fanita Pkwy, Santee, CA 92071
I hope this list of fenced-in and contained playgrounds is helpful to you if your kid is a runner!