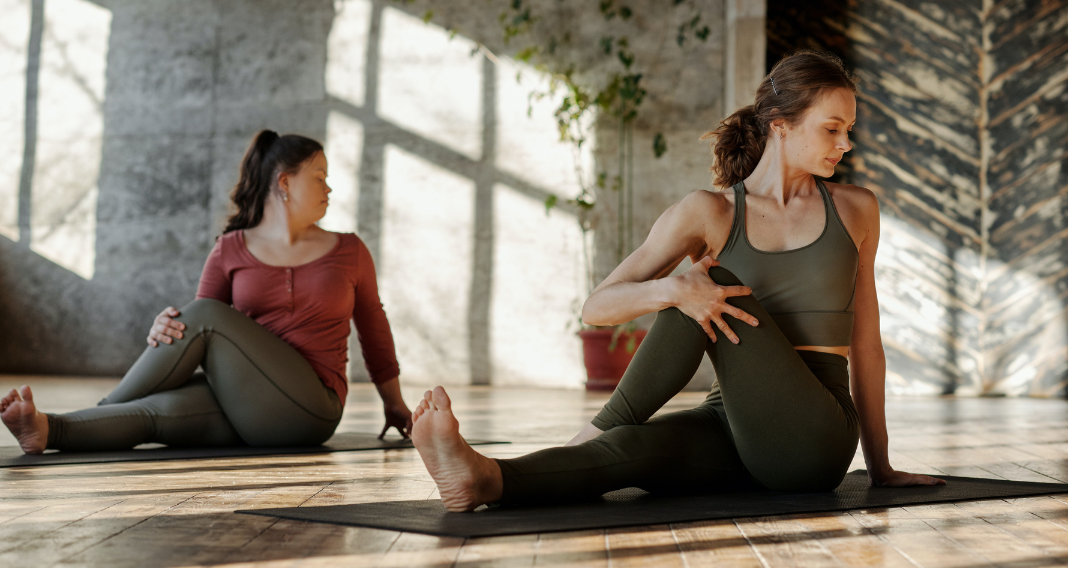 Thank goodness for all of the yoga studios and teachers who have managed to adapt to our crazy year and put their teachings online. I'm not sure how well my stress level would have managed to stay in check if it wasn't for showing up on my mat on a regular basis to follow along to the many different yoga classes. The upside of this year was that I got to trial some fabulous teachers and studios that I might not have had the opportunity to otherwise.
However, I've realized I am still a studio girl. I love walking into my favorite studio, the smell, the feeling it elicits, and the community which I have come to love. So below are some of the yoga studios offering in-studio classes(even in a makeshift parking lot) as well as online classes.
In no particulate order – and thanks to Class Pass, here are some of the top yoga studios in San Diego.
Choose from Hatha yoga, Kundalini yoga, Yin yoga, Vinyasa yoga, Gentle yoga, Restorative, Pre-Natal, Meditation, Yoga Nidra, Yoga Therapy, Sound Healing, QiGong, and more. A safe space to explore yoga. Take a class with one of their talented instructors and feel the Soul difference.
Offers 6 different class types from hot and powerful to slow and mindful. They also offer beginner classes and sculpt classes. Teachers have been trained in the YogaSix methodology to provide a consistent but creative experience for each class type every time.
Melt Yoga is an inclusive service empowering the whole community to access the gift of yoga in-studio, live, or on demand. Melt Yoga classes are heated with humidity, set to music, and work the entire body.
Yoga Box believes in practice over perfection. Increase your body movement, detox, sweat, build your health, and deepen your way in their heated, lighted room environment. This is a radically inclusive environment that challenges and transforms any level of yoga practice. Blend the power of Vinyasa, Yoga Sculpting, and Recovery Restorative Yoga or using Amanda Burns' "Yoga Box" Method.
Buddhi Yoga is committed to providing outstanding classes and workshops taught by San Diego's best teachers. With over 65 classes on the schedule every week, they offer a wide range of styles to meet the needs of every student – from meditation to their signature workout, FlowLIFT.
Reach Yoga aims to inspire you to reach your goals while finding your true potential both on and off the mat. Their classes help to unlock your true potential by combining inspirational music, breath, and movement in a heated environment.
Sojourn is a community where holistic healing and wellness are accessible to everyone. They believe that ripples turn into the waves that help create change within yourself, others, and the world. Through yoga, reiki, meditation, breathwork, workshops, and community events, Sojourn is a sacred space for reflection, wellness, inspiration, and growth.
Outdoor live music yoga set in a serene environment surrounded by bamboo and banana trees just a block from the beach. Come and enjoy their Bali experience right in La Jolla!
Trilogy Sanctuary offers a 100% organic, vegan & gluten-free cafe with ocean views, infrared heated yoga classes, aerial yoga, yoga teacher training, spiritual counseling, an eco-conscious boutique – Totem, naturopathic doctor – plus multiple event spaces for workshops, live music, and speakers! Trilogy strives to nourish the mind, body & spirit.
For over 12 years, The Little Yoga Studio's goal is to offer outstanding service and create a strong yoga commUNITY in downtown San Diego. Since 2008, they have been committed to high-quality yoga instruction in a safe, friendly, inclusive atmosphere serving people who have or want to attain a healthy lifestyle by practicing yoga.
Reverence Yoga brings together some of the finest talents in San Diego. Each instructor brings unique gifts to their teachings, and there are a number of qualities their staff share: a genuine passion for their craft, an eagerness to share with others, and a belief in each student's ability to grow and blossom through patience and practice.
Never Tried Yoga Before & Don't Know Where To Start?
Not sure where to go – then why not try a Class Pass Membership. It allows you to take a class anywhere they are located. You can see a list of studies available and book online. It's the best of all studios – you can try a few different locations to see which one "fits" your style and personality before you commit.
Hey, Where Is My Favorite Yoga Studio?
Did we miss your favorite yoga studio? Let us know so we can add it to the list!