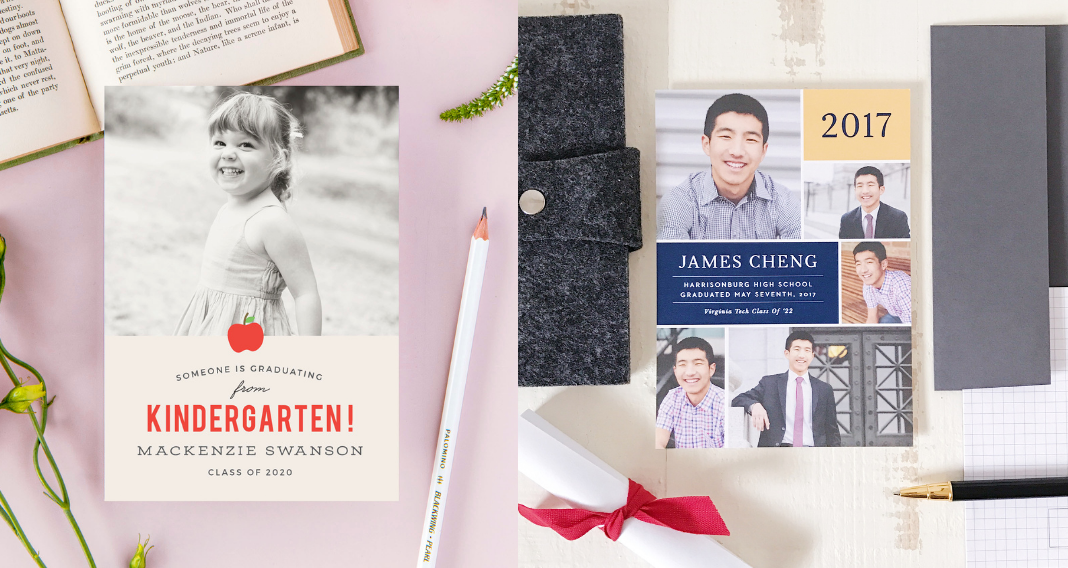 I'm known as the 'card girl' in my family. Never is an opportunity missed to send a card for every life moment, picked specifically with the person in mind and sent out on time. I imagine the person's face as they open the card and the warm feelings they get knowing I picked it, just for them.
I have yet to succumb to the ways of the world that email, text, or tweet an important message to a loved one. This is why I loved being introduced to Basic Invite, an online stationery company that takes everything I LOVE about a handwritten card but allows me the ability to create and customize it just the way I want!
They offer customizable templates for wedding invites, business cards, baby cards, holiday cards, any card for all life celebrations. Once you pick a design, you can change the color of each element on the card. With over 180 colors to choose from including gold, silver, and rose gold foil options, you are sure to get exactly what you want.
With graduation around the corner, I wanted to share the top FIVE reasons that I think you should consider giving Basic Invite a try, starting with why you should celebrate your graduate with a Basic Invite.
1. Celebrate Your Graduate
This has been a year like no other with lots of celebrations being postponed. Our kids have had a challenging year, so with graduation just around the corner, you can mark the day in an extra special way. Pick a template from the College Graduation Invitations, the College Graduation Party Invitations or Open House Invitations and play with all the different color options, card elements, and envelopes. Bring your perfect card to life and make it truly unique and from your heart.
Don't let graduation slip by without shouting out to the world how proud you are of their achievement. Announce to all of your family and friends that there is a graduate in the house. And don't forget your kindergartener and all the stages in between up to high school, college, and graduate school.
2. Stand Out with Basic Invite
You can set your invites apart from the rest with over 40 different envelope colors to choose from. With so many options, you can make the envelope match the invitation. And all of the envelopes are peel and seal so they can be closed quickly and securely.
3. Don't Worry About Making a Mistake
Basic Invite is one of the few websites that allows you to preview your design online, make a change and preview again until you get it right.
4. If You Are a Bit 'Old School,' They Offer Custom Printed Samples
Basic Invite allows you to order custom printed samples of the actual invitation before you place your final order. You can see the paper quality, how it will look, and truly make sure it is perfect.
5. They Offer So Much More!
No more printing out labels! Basic Invite offers an address capturing service that allows you to share a link on Facebook, Twitter, Instagram, or any other social media to request your friends' and family's addresses. The addresses are stored in your account and can be selected during the design process. Basic Invite offers recipient address printing at no cost on all card orders.
Check out Basic Invite and pick the perfect card for that special person in your life. And now is a great time to try it, with a 15% OFF discount for ALL San Diego Moms. Use code 15FF51 at checkout.