Summer is upon us! Despite ALL of our collective joy that this insane 2nd year of pandemic and online learning is finally over, we now we enter the period of MORE free time. The constant grunts and sighs of kids of all ages, exclaiming "I'm bored!" echo through the halls.
In walks Mission: DJ to save the day! Mission: DJ is San Diego's Premier Private DJ Educator.
I mean, who doesn't love an awesome DJ? Let's be real—haven't most of your favorite memories involved music and events where everyone was laughing, dancing, and singing? And who was at the helm leading the energy and keeping the party going? The DJ!
This fun hobby is actually an amazing skill that not only channels one's creativity but also requires technical skills. People of all ages can learn, and even turn this activity into a career.
If you are looking for a creative outlet and music-inspired activity, look no further than classes and camps with Mission: DJ. Greg is the director and solo educator. Not only is he an amazing instructor, he is also a professional DJ himself, working the San Diego music scene. His passion for music and sharing with others is evident in the first moments you meet him! His private classes are currently offered in Pacific Beach out of his home studio. His setup is comfortable and professional and lessons are offered for all ages.
This is an ideal activity for pre-teens & teens!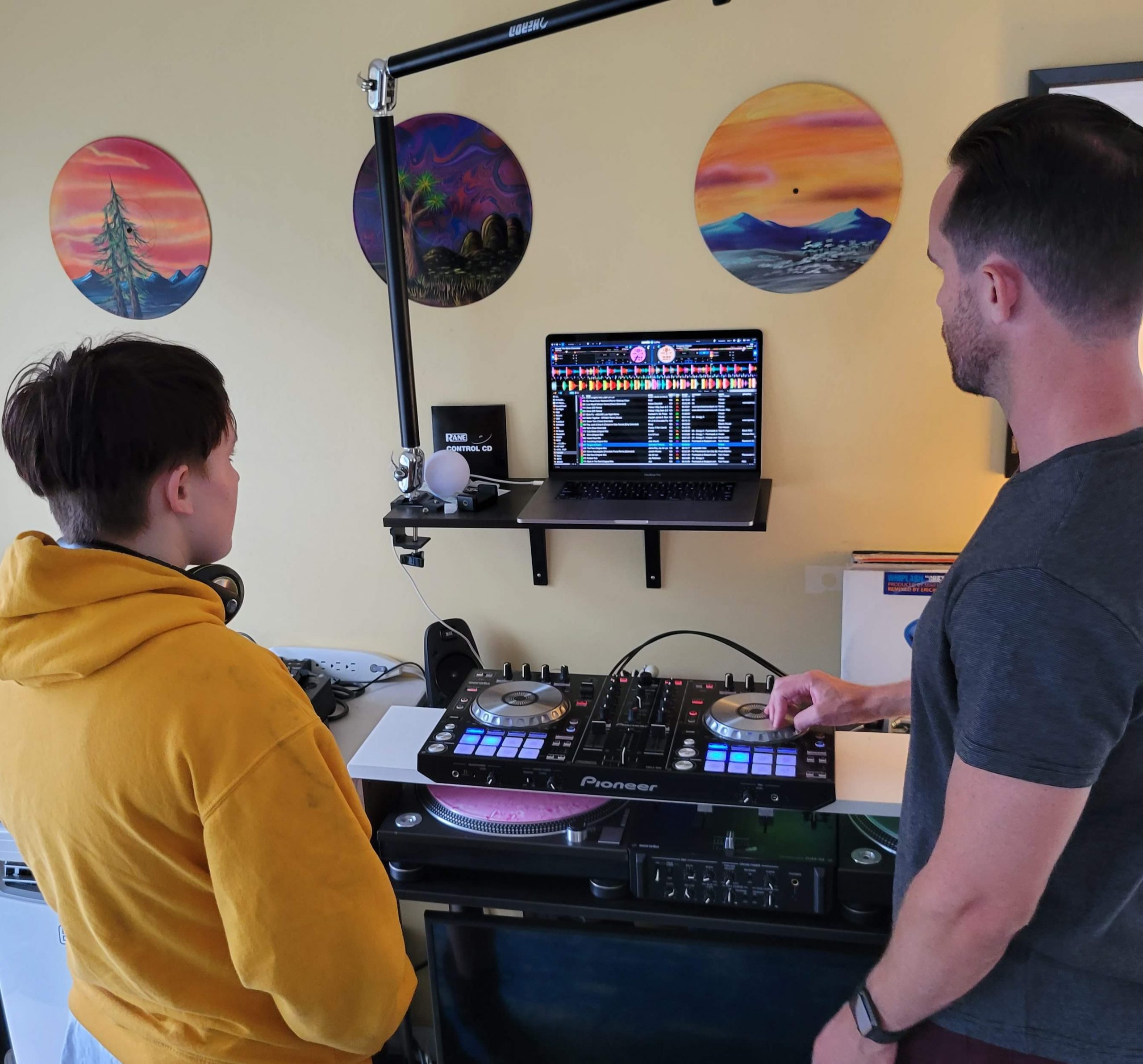 Through "Music Discovery," Greg's lessons educate on essentially all aspects of the "art of DJing." He explores the technical details of music, along with descriptions of hardware and software, the tools of the trade. Engaging and informative, Greg also offers great advice. His positive attitude and energy are contagious. A fun-filled hour in his space is filled with so much, and yet you do not want to end! When you walk out of the room and the kid exclaims "I liked it!" it was definitely a success.
Mission DJ offers private lessons available throughout the week. This summer he is also expanding and currently offering camps (see below). For more information, and to sign up, check out Mission DJ.
"We can't wait to go back. It is such a fun and unique experience – I highly recommend it and am giving it our coveted SDM stamp of approval! #SDMomsApproved" ~KT Cahill, San Diego Moms Contributor
SPECIAL OFFER
When calling to sign up, mention SD Moms for 10% off your first lesson!
Deluxe

DJ

's Discovery Camp, Aug 2-6th 2021
$350 • 9:00am-12:00pm • 7-11 years
Min 4 max 6
Mix it up and join the most lively music class of the decade! Taught by a real working DJ, students will use professional equipment including DJ controllers and laptops to create unique and exciting mixes! Beat-matching, sound effects, song selection, and transitioning are just a few of the skills the students will learn. By the end of the session they will have used their skills to produce a clean 5-10 song mix they can keep and enjoy!
---

About Mission: DJ
Mission: DJ began with a simple goal in mind — to provide access to the best DJ instruction that San Diego has to offer for all ages and all walks of life! Students will use professional equipment to create unique and exciting mixes. Beat-matching, sound effects, song selection and transitioning are just a few of the skills the students will learn. Founded in 2017 by a local working DJ, M:DJ is the product of past endeavors, passion and best practices. We offer mainly 1-on-1 private DJ sessions as well as camps during the summer. In 1-on-1 lessons, students are able to learn quicker because all of the focus (instructor and student's focus) is on that student's progression, not anyone else's.