PLAN IT OUT
The popcorn bowl was full, and the excitement was high. In front of me, I had an empty poster board, a cup full of colorful markers, and four excited kids. We were planning the year ahead and we wanted to go WIDE in our exploration of sports this year.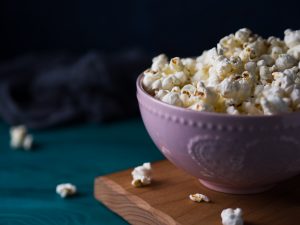 Sports are not just about the competition. They are also about growing courage, exploring coordination, and problem-solving. They are about setting goals and building life skills.
Is it worth it to invest in putting kids into sports while they are young? Absolutely.
ONLINE SPORTS TRAINING
But, the pandemic! It's true that not all sports are open at this stage of COVID-19, but kids are still growing their sports skills in all kinds of safe ways. Online athletic training is a very real thing, and it works. And, psst… the best part is, that we moms don't have to race across town to get back and forth to lessons and practices. It's as simple as popping onto a Zoom call. Mom win!
On any given Monday, you'll find my four kids on four different iPads doing four different sports classes. Since we travel full-time to various countries, I love that all it takes is a Wi-Fi connection and a little bit of space, and voilà! The kids are in training. No matter if we are in Greece, in Scotland, in Hawaii, or France, Mondays mean my four are enjoying sports.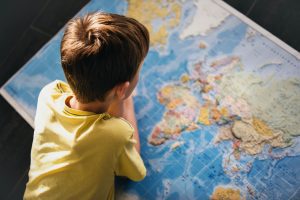 Of course, that's the more formal version of sports training. There is the lifestyle training, too, which is just as important.
LIFESTYLE SPORTS TRAINING AS A FAMILY
Lifestyle training takes a concerted effort as a family. We make goals of what we want to explore together as well as individually throughout the year. For us, it works well to map it out. So here we are, planning out six sports that each child wants to learn in the coming year, then we mesh those all together with our travel plans to see where we can work each in – either as a family or in classes.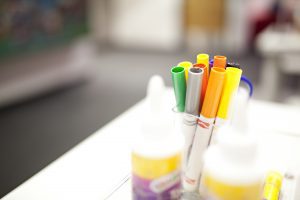 To date, we have 46 sports that our kids – ages 4, 6, 8, and 10 – have worked on. We practice spiral learning, a method of learning where a child keeps revisiting and topic or sport and skill-building again and again over time. Sports training, like many things, really doesn't have to be progressive, ongoing classes. We keep it playful and dynamic, always changing and very exciting. Our goal is for our kids to be excited about moving their bodies, and be able to confidently tackle new sports without fear.
Last year, it looked like this:
January: We were living in Switzerland and Italy, and as a family, we worked on sledging, sledding, ice skating, and hiking, while the girls took online classes in gymnastics.
February: We were living in Croatia, and as a family, we worked on trampolining, rock climbing, running, sand-boarding, swimming, and boating. The kids took online classes in jazz dance.
March – June: We were living in Montenegro during the first COVID-19 lockdown, and as a family we experienced white-water rafting, caving, boating, biking, 4x4ing, zip-lining, hiking, fishing, roller skating, biking, scootering, and rock climbing. The kids took a masterclass in ballet.
July – Sept: We were living in Greece, and as a family we swam every day, did lots of hiking, boating, tubing, and the kids took lessons in scuba diving, wind surfing, and horseback riding.
October – December: We were living in Ireland, Scotland and England, and as a family we did rock climbing, hiking, and swimming, while the children took a masterclass in gymnastics and online classes in yoga.
January: We were living in Colorado, and as a family we went skiing and snowboarding at least three days a week for four weeks, and lots of ice skating and hiking in between. The girls took online classes in strength and conditioning, gymnastics and ballet.
February: We were visiting family in California, Arizona, and Colorado, and focused on swimming, biking, and golf as a family. The kids took a masterclass in skateboarding and an online classe in yoga.
March: We are heading to Hawaii next, and plan to focus on surfing, sailing, tennis, hiking, parasailing, and water skiing. They will be taking online classes in rhythmic gymnastics, tap dance, and Brazilian capoeira.
A BIG LIST OF IDEAS WITH RECOMMENDED AGES TO START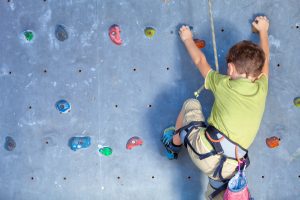 Recommended to Start Between Ages 3 – 5 Years
Bouldering
Dance
Ice skating
Rock climbing
Snow tubing
Skiing (the younger the better)
Swimming (very important to start this early!)
T-ball
Tumbling
Yoga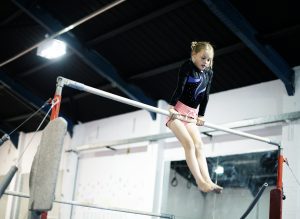 Recommended to Start Between Ages 6 – 8 Years
Bike riding
Boxing
Bowling
Canoeing
Gymnastics
Hiking
Hockey
Horseback Riding
Fishing
Frisbee
Kayaking
Martial Arts
Parkour
Rhythmic Gymnastics
Rock Climbing
Roller Skating
Roller Blading
Soccer
Snowboarding
Softball
Surfing
Tennis
Trampolining
Windsurfing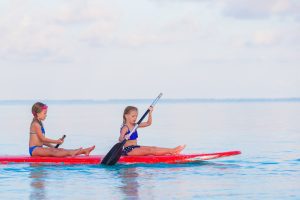 Recommended to Start Between 8 – 10 Years
Archery
Badminton
Basketball
Cheerleading
Diving
Indoor Skydiving
Football
Golf
Ice Climbing
Paragliding
Sailing
Scuba Diving
Snowshoeing
Snowmobiling
Table Tennis
Track
Volleyball
White-Water Rafting (group)
GET YOUR SPORTS ON
Okay, mamas. It's your turn! We challenge you to select six sports from the above list and make a plan for how to incorporate them into your life as a family this year. Have some fun with it! Let us know in a comment below which ones you are going to try for your kids or with your kids.