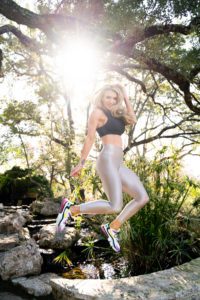 After 15 plus years in the fitness industry Ashley King has tried just about everything when it comes to diet and nutrition. Her unique, yet simple approach has served hundreds of women and moms across the country. So, get ready to forget the restrictive and cliché diet plans you see filling up your social media feed. (applause!)
The key to a successful diet and nutrition program is CONSISTENCY.
And that is what Ashley King's online fitness program and community helps you achieve. The ability to consistently make the right food choices, consistently feel motivated and focused and consistently make the decisions that get you to your fitness goals.
As a mom to three boys, Ashley understands the daily struggles moms face. Whether it be time, schedules, eating out, whacky schedules, exhaustion or you name it, Ashley's program is designed to help us stay consistent.
"I'm here to cut the fluff and tell you it's never going to work without a plan that you can actually stick to. I have the only diet plan you will ever need for the rest of your life! I strive to keep it simple, straightforward, and easy to maintain so you can achieve your goal body and KEEP IT!" ~Ashley King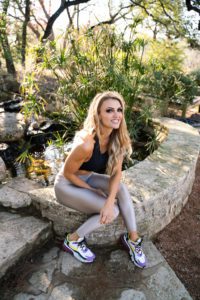 Ashley's program is focused around one simple word: BALANCE.
If you can teach your mind and body that balance in all foods is the most efficient, healthy, and sustainable way to hit your goals and retain them, you will win the diet game and be able to stay consistent.

Balance in portions, balance in sugar, balance in protein, balance in carbs! You are giving your body all the tools to work optimally, yet not feeling completely deprived. You might be asking yourself, but how can you still lose weight and eat carbs and sweets? Because you learned balance!
So, you stick to the plan, you keep getting results and you do not feel like you're missing out! Nobody wants to believe it is that easy, but consistent practice in moderation and balance in your diet will yield long-lasting results and a relationship with nutrition that will last a lifetime!
Ready to #GetFitWithAshley?!? Register by Sunday and receive her Free E-Cookbook to Clean Eating.
To implement these tactics in real life, try these five simple steps:
Stock up on lean proteins, veggies, fruits, and clean complex carbs (eg. sweet potatoes, brown rice, whole grain pasta).
Try to keep only clean whole foods stocked up in your fridge and pantry.
Save the purchase of small treats for the allotted day you choose and only eat that treat outside of your home.
Keep your treats out of your house, less temptation, and fewer triggers.
Keep the treats just that: Treats! Treat yourself to a reasonable amount of a cheat food. For example: two cookies, one slice of pizza, one small serving of fries. I use this rule for myself as well as my children. We all need help learning and navigating food discipline and self-control with portions and choosing the right foods.
Every meal she sets up in her weekly client meal plans follows these standard, straightforward and easy guidelines. Below are some real 'Clean Eating Guidelines' She shares with all of her clients:
Choose 4 oz of Lean Protein. This includes options such as: Lean ground turkey, chicken breast, and white fish. Optional vegan proteins: firm tofu, edamame, lentils, seitan, tempeh or plant-based ground.
Choose 1 ½ cups of fiber and nutrient dense vegetables. These vegetables provide major vitamins and minerals in its purest form. Plus, the added benefit of fiber. Fiber provides extra satiation and helps aid digestion. Examples: Broccoli, cauliflower, snap peas, green beans, spinach, carrots.
Choose ½ cup of clean complex carbohydrates. Look… carbs are not the enemy. Just be smart about the amount you're taking in each meal. The other major factor is quality. You need to include whole, clean complex carbohydrates, not simple, refined, and processed ones. With these complex carbohydrates you get much more long-lasting energy as opposed to refined carbohydrates such as breads, baked goods, and cereals. Examples of good carb options: Sweet potatoes, quinoa, farro, brown rice, whole grain pasta, plant-based or brown rice pasta.
Need help finding out how to implement these nutritional guidelines into your life? Check out the fitness and nutrition plans she offers to get started toward your goals today! Her Online #GetFitWithAshley Program is accepting New members till this Sunday!
Register by Sunday and receive her Free E-Cookbook to Clean Eating.
Visit www.AshleyKingFitness.com to connect and ask any nutrition, fitness, and life questions you may have.