San Diego's North Pole Limited Train Ride with Santa
Santa Claus is coming to town… and he's riding your train! Have you been looking for something new to do with your kids for Christmas in San Diego? Well, the North Pole Limited Train Ride with Santa at the Pacific Southwest Railway Museum in Campo, CA might just need to be added to your list.
With Santa's elves leading you in Christmas carols, giant chocolate chip cookies and hot chocolate for everyone, and of course the unforgettable ride to The North Pole to pick up Santa and Mrs. Claus from their home — this train ride is something you won't want to miss! Santa spends time visiting each train car on the ride back, and if you're in the private Robert Peary train car like us – he'll hang out right there in the living room with you and your loved ones. Quite the experience.
FUN FACT: The Pacific Southwest Railway Museum and North Pole Limited train ride is a 100% volunteer-operated organization.
I'm not going to lie, it's quite a drive to get out there, but it's worth it if you plan right and make the experience amazing. Here are my tips and tricks on how to make your trip to San Diego's North Pole easy and stress-free.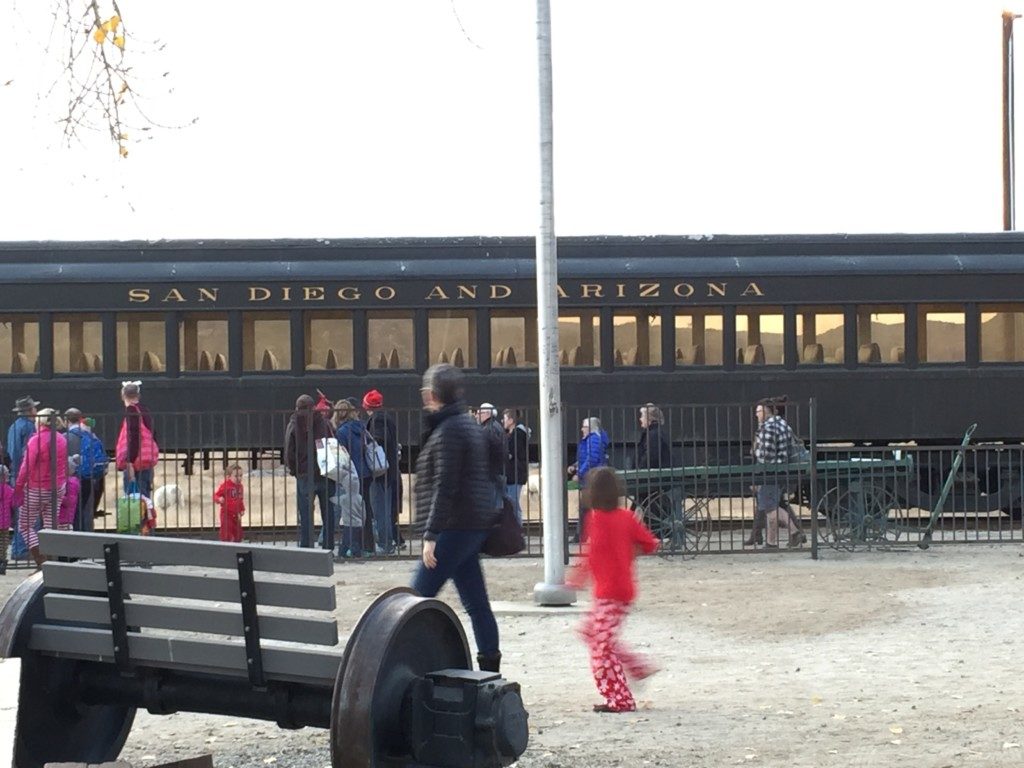 1) Plan Ahead
Because of the growing popularity of the train ride with Santa, these tickets sell out fast. In fact, we bought our tickets 2 months in advance! So if you're going to commit to this event and you're planning on doing it with others you need to buy your tickets early. All tickets must be purchased in advance, so please don't drive out to Campo without buying ahead.
2) Pick Your Tix
The North Pole Limited train has three ways for you to enjoy your ride with Santa. As you can imagine, Coach tickets are the lowest-priced and you will get to ride in a restored 1920s vintage commuter car with bench seating.
Toddlers (under age 3 on lap) – $10

Children (ages 3-12) – $25

Adults (ages 13+) – $35
If you're looking for a little more legroom and larger seating, First Class tickets are worth the little extra for your family to spread out and enjoy the ride. Especially if you're thinking about holding a toddler on your lap – good luck!
Toddlers (under age 3 on lap) – $10

Children (ages 3-12) – $40

Adults (ages 13+) – $50
Got a big group of friends and family and want to make sure you're all riding together? Reserve the Robert Peary private train car! Seriously this is riding in style, and it can fit 20 adults plus kids on laps if you really want (we had 25 in ours and we had plenty of room). The cost is $1200 to rent the entire car, which ends up being almost the same cost as the First Class tickets with SO MANY more perks. Not only do you have the entire train car to walk around freely, but it is decorated Moulin-Rouge-style with a living room, dining room, kitchen and private seating rooms (great for moms with little ones), and also a step out onto the open-air rear platform. Mind-blowing for those Thomas the Train fans out there!
FUN FACT: Built in 1929, the Robert Peary train car was used by President Franklin D. Roosevelt, and then later by movie stars, singers, and other high-profile guests. So needless to say, it's Victorian-era styling and comfortable seating make you feel extra special.

3) Eat Before You Go
Make sure to eat a meal before you make the drive! There is nothing out past El Cajon for the last 45 minutes of your trip except some questionable Mexican food (a few of our friends regretted it all night). We made the mistake of trying to eat in the car on the drive there, and since I wasn't able to monitor the kids that well I don't think they got down enough "real" food before they were shoving their faces full of cookies, hot chocolate and candy canes (AKA stomachaches later).
NOTE: You might be able to bring some snacks onto the Robert Peary train car, as long as you keep the mess to a minimum. And bring a bluetooth speaker to play holiday tunes off your phone too! We really wished we had that for the ride.
4) Get There Early
Get there at least 45 minutes before the train leaves just to get your bearings. Pick up your tickets, take a bathroom break, take a few family photos, swing at the playground, and maybe even have a little picnic. It's a lot to take in and the train conductor will want you to board 15 minutes early, especially if you're in the private Robert Peary train car. It was a photo finish for a few of us!
If you're taking the later train after it gets dark, definitely give yourself extra time because it's a zoo out there! There's plenty of free parking, but the lot isn't lit up at all and there aren't a lot of visible signs guiding you to the Campo Depot. So plan ahead and keep the stress levels low.
5) Dress Festive & Warm
It will be surprisingly cold at night so bundle up! Our kids all had on their new Christmas jammies, but they were way too thin to wear alone on the train and especially when we were waiting to board the train. So make sure you wear socks (strange for some San Diegans), bring hats and warm jackets. And for those of you on the Robert Peary private train car, you can go out on the open-air rear platform and watch for Santa at the North Pole. But it's chilly out there!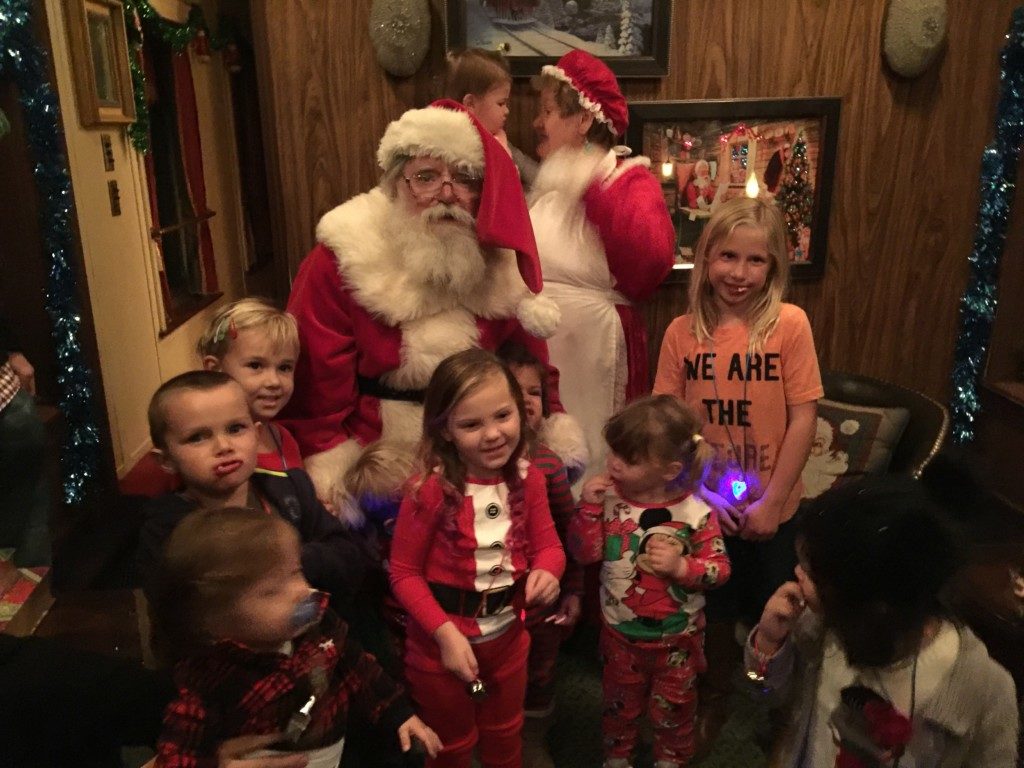 6) Bathroom Break
Take those bathroom breaks before boarding the train. The train ride can last anywhere from 1-2 hours, depending on how crowded and how much time it takes Santa to get to the last car. There is a bathroom on the train, but it isn't the standard flushing toilet you're thinking of. Emergencies only really. 🙂
7) Map It Out
It's a long drive no matter where you're coming from, and bad weather or traffic can make things worse. We drove from North County which took about 1.5 hours, from downtown San Diego about an hour, and from El Centro probably 1.5 hours.
750 Depot St., Campo, CA 91906
Phone: 619-478-9937
I highly recommend taking the 8:
Take Exit 51 for Buckman Springs Road (about 30 minutes East of San Diego or 60 minutes West of El Centro)

Head southwest on Buckman Springs Road and continue for about 10 miles

Turn right onto State Highway 94 where Buckman Springs Road ends and continue for about 1.5 miles

After passing over the railroad tracks, turn left onto Forest Gate Road and follow the signs to the Pacific Southwest Railway Museum.
HAPPY HOLIDAYS!