If you've read my most recent blog post, Movember Mustaches: Raise Awareness for the Special Men in Your Life, then you get it.
You know Mo. You want Mo. You're ready for Mo.
So here are my best tips on how to throw an amazing themed fundraising event in honor of Movember, and how to get your guests excited to attend, donate, and participate! And of course, raise awareness for men's health issues such as prostate and testicular cancer.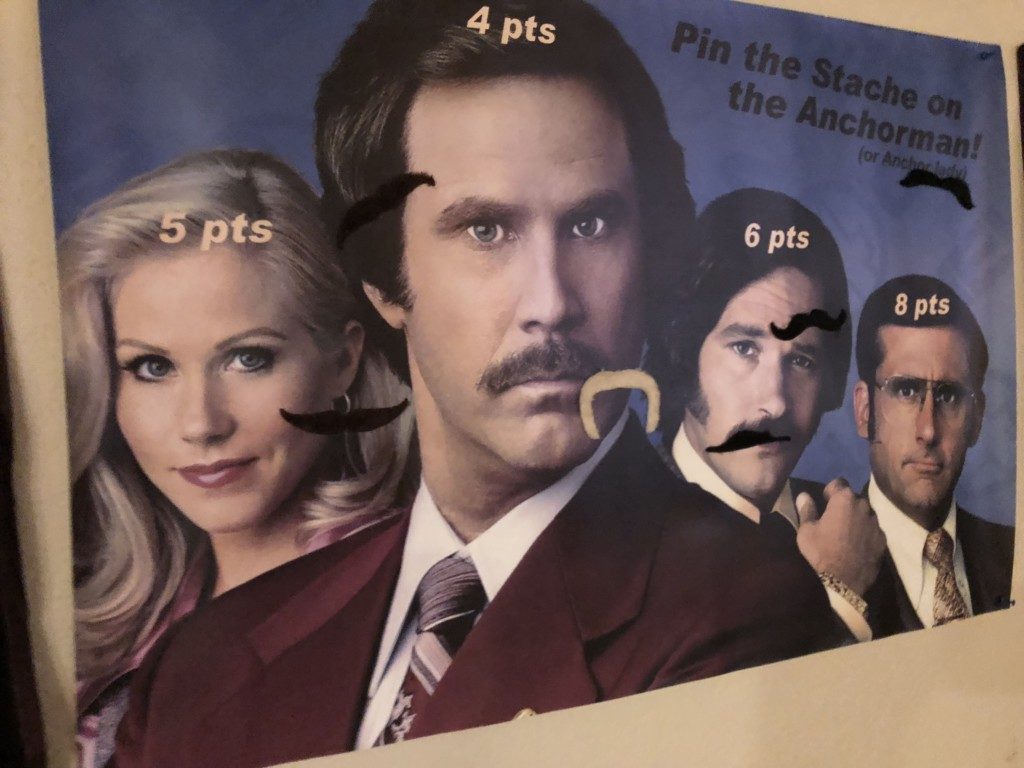 CHOOSE THE THEME
Everyone loves a good theme party. And when paired with a mustache, costumes just seem to come a lot easier. We chose to do an Anchorman themed party because of our love of the San Diego-based movie, and also because of the great soundtrack of 70s tunes that we would be able to listen to all night long! We set up the Channel 4 News desk in our living room with a remote controlled camera on a tripod and let the shenanigans happen. So much fun to share with everyone after the event and continue the laughs!
TIP: Pick a theme that everyone can get into and can shop for fairly easily and affordably (aka what can you find at a thrift store).
GENERATE INTEREST & EXCITEMENT
If you didn't know, I'm a Marketing & Creative Director, so most of my life is focused on coming up with creative ideas and promoting the hell out of them. This is no different. My personal life events get just as much attention as an expensive ad promotion—especially when it's raising money for a charity I believe in! So promote it like you own it!
I invited my guests to the party via Evite and connected a donation button directly with the Movember Foundation.

I posted pictures from past events, pictures of the kids in the photo booth, and even my husband growing his mustache throughout the month to stir up some competition for the Mr. Movember award.

I promoted the event on social media and also had my husband post his growth pictures at 10, 20 and 30 days, along with links to my donation page throughout the month.
TIP: The Movember Foundation website offers free "mospace" web pages for everyone hosting an event, which you can use to gather donations and provide information about your party.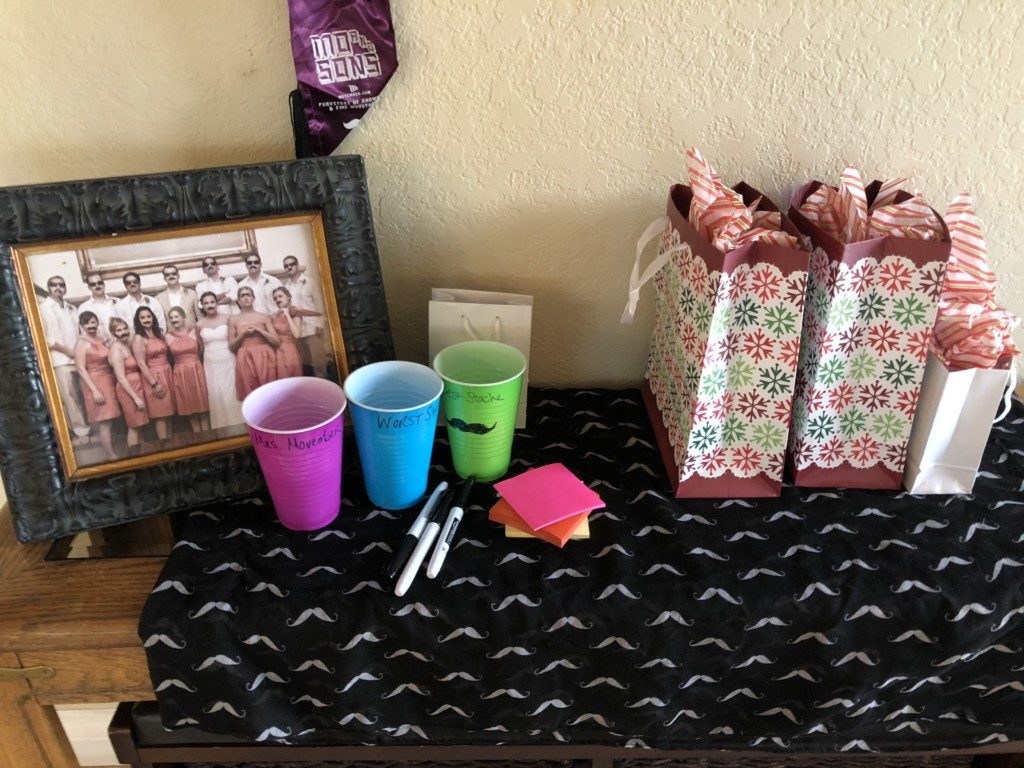 DECORATIONS, GAMES & PRIZES
Since I've been a fan of mustaches for as long as I can remember, I have an arsenal of mustache items to decorate with. To boost participation to dress up (and especially with the men to grow actual mustaches) we awarded prizes for the Best Mustache, Mrs. Movember, and Worst Mustache. All guests had to vote during the party, and then the winners (or losers) won prizes like mustache coffee mugs, socks, keychains, and ornaments. We also had a "pin the stache on the anchorman" game where guests were blindfolded and had to put mustaches on the poster to get the most points and win prizes.
TIP: Make sure you have handfuls of stick-on mustaches laying around the party for the non-mo growers, the ladies, and any games that might require extra mustaches (i.e. pin the stache on the anchorman).

BYOB & SNACKS
For larger parties you're not expected to foot the bill. Have guests bring an appetizer or a creative drink to share. You could even try and tie in the theme to the food selection. For example, we had a cheese fondue station and an old-fashioned bar set up for guests to create their own drinks. Or if you'd rather coordinate the entire event, let guests know to bring cash or venmo money to chip in for catering.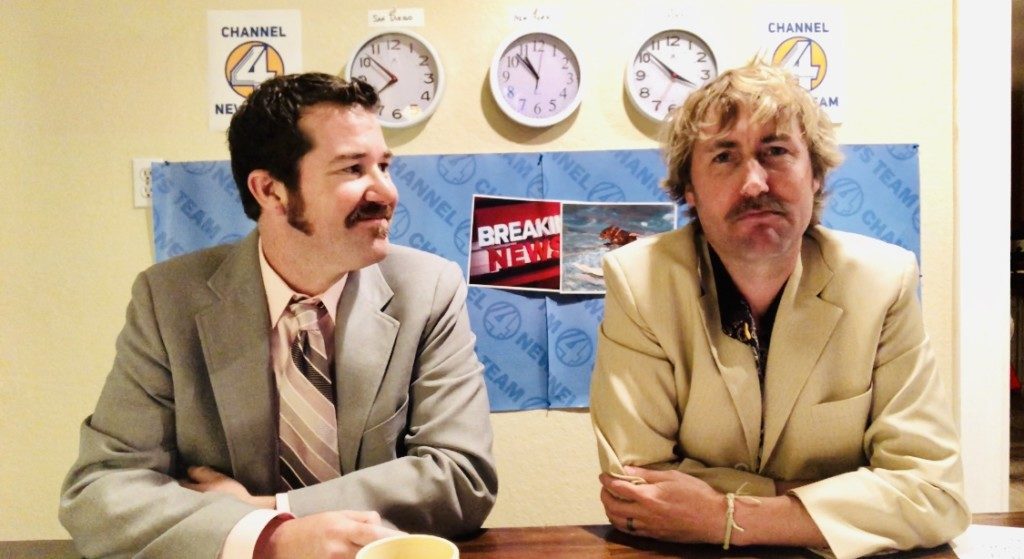 CONNECT & REPEAT
Make sure that you have contact info for all of your friends and neighbors so that you can share pictures and videos after the party, and so that you can also thank them and remind them to donate. Afterall, this is a themed charity event! Even small donations help, and it reminds everyone what you're raising awareness for. It'll catch on!
TIP: Start conversations with guests about future theme ideas. For example, we're going to do "mustaches through the decades" and possibly have a 20's themed flapper girl / pencil thin mustaches party next year, or an 80's Miami Vice themed party. The possibilities are endless!
Have fun doing good!