"I hate receiving a nice card in the mail", said no gal ever!
Every now and again I'll get a little surprise in the mail from a friend- it's the freakin' sweetest! To know you're thought of, and that your friend took the time to send you a little happy mail is basically the same as getting a personally delivered hug and a high-five.
So now that we're in the official month of all things love, and we all get busy finding that perfect something for our significant other, let's not forget to show our friends some love too.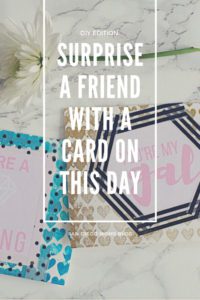 Turns out February 7th is dedicated especially to sending a card to a friend. It's been officially dubbed: National Send a Card to a Friend Day.
To get ready to celebrate I dug into my craft-stash and came up with a simple DIY for you to make your very own card to send to your friends.
What You'll Need:
3 Simple Steps:
Stamp away on the front side of your blank card.

If you don't have any stamps you could simply use colored pencils to draw a pattern or get artistic. Be sure to let the ink thoroughly dry. (Tip: use dye based ink pads rather than pigment ink pads- they dry much faster)
As the ink is drying,

print out your graphics sheet

and cut out the image you like best.
Apply your cut-out to the card

and secure with your favorite

washi tape.
It's that easy!
Seal the deal by writing your own special message inside to let your friend know how much they mean to you and that you're thinking of them. For extra brownie points, include a gift card to their favorite coffee + tea spot too.
Now that your card is complete, snap a quick pic and tag us so we can see the beautiful cards you're sending to your friends.
Let's continue spreading kindness + love and I hope this has inspired you to send some more happy mail today!